Steve Khan's lead sheet:
"The Blue Man"(Khan)

To the best of my memory, "The Blue Man" was fundamentally written at my old suitcase-model Fender Rhodes. And, without question, the influence of early Weather Report is too evident to deny. A piece like Joe Zawinul's "Orange Lady" is probably the main influence because of the mood created by meandering major and Lydian chord sonorities. Though I've said this about much of my writing from this period, the Columbia years of the late '70s, I don't know how well these tunes hold-up as compositions, when measured by time and perspective, especially when one considers their derivative nature.
The fundamental building block is the little keyboard figure which begins the tune at [I], and the most important element to performing properly is the rather liberal usage of the pedal which would allow the notes to run together. As he always did, Don Grolnick performed these parts beautifully. Though Will Lee's electric bass was only written to 'mark' what the left-hand of the keyboard was doing, Will, as he always does, looked for the 'groove'/the 'feel' and contributed a part which locked well with Steve Gadd's drums. So, what you now see, on this new-and-improved lead sheet, is a composite of what Will played in various repeats of these sections.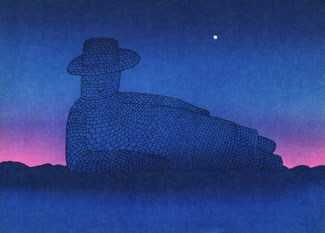 One of the important melodic 'voices' of this tune was always to have been the Arp Pro Soloist synth, which was one of the few synths Don felt comfortable with. If I recall it only had a couple of useful sounds. The one which we loved the most was what you hear now improvising over [I2] and then doubling the melody with my steel-string acoustic guitar at [A]. The keyboard to this particular synth was 'touch-sensitive' and, when you pressed any key down progressively harder, the 'vowel' sound(a 'wah' of sorts) would open-up, speaking like a human voice. I believe that my David Russell Young steel-string acoustic was an afterthought for the [A] melody; because I might have felt that it would be a long time to wait to hear a melodic 'voice' of mine until letter [B] appeared. But, these two disparate instruments created a nice blend for the main melody. If you look carefully at the keyboard part to [A] you can see that it changes ever so slightly. In the right-hand, the 'C' and 'F' have been changed to Ab and Bb. And, in the left-hand, the 'C' has been changed for an Eb. You might be wondering why did the 'C' have to removed from the accompaniment? Though the melody is based upon a very folksy sounding F minor pentatonic line(F, Ab, Bb, C, Eb), the points of resolution for this line always includes a Db. And it is the inclusion of this note which necessitates the removal of the 'C's from the keyboard part because on a major 7th chord when the root(Db) is being used in the melody it can really 'rub' against the major 7th(C) and actually sound 'wrong' at times.
When we arrive at [B], the screaming fusion guitar sound is introduced and truly separates this tune from the Weather Report sound. The keyboard part is released from its repetitive nature, and alternates between one bar of sustain and then, in bars 2, 4, and 6, marking the guitar melody with open voicings. The piece is really supposed to 'take off,' in other words, 'get a lift' here, and enter into an area which is much more akin to rock music than it is to the 'jazz' part of 'jazz-rock fusion.' I remember listening and listening, and listening to this track after we had recorded it, and trying to figure out just why it didn't seem to lift off in the way I had envisioned. I know that Steve Gadd was absolutely bashing the drums, beating the livin' crap out of them. But, I soon realized that it was his ride cymbal, an old 'K' Zildjian I believe, that just didn't really have the kind of 'life' to its sound that this tune required. Though I might not have known it at the time, it probably needed a 22" ride with a lot of shimmer to its sonic quality. Paiste cymbals come to mind. It's amazing how little details become so very, very important. Also important to this section are the contributions of Will Lee's bass. What you now see written is a combination of what Will played when [B] first arrives and what he played when the same section reappears for a fade ending. Will utilizes lots of 'powerbass' effects with slides and slaps which you can hear on beat 4, usually in bars 2, 4, and 6. Upon hearing what Will was doing, you can hear that Steve Gadd begins to catch those accents as well, adding to the power.
When we emerge from this section, [C] was composed as a means of coming back down in volume and scope and to serve as a 'send-off' into the guitar solo section at [D]. The solo changes here are derived directly from [B], but the recorded solo is only three repeats long of this 8-bar section with Steve Gadd switching to his ride cymbal on the 1st repeat. After the solo, [D2] serves as a condensed version of [C] with the first 6 bars becoming only 3. However, the final Ab7(b5, b9, #5) chord still had to be 2 bars long. Having this little interlude brings us back down from the volume and intensity of the solo section, and prepares us to take the D.S. and return to [I3] and Don's essential Rhodes part. This time, [A] is played, but we go directly to the 2nd ending, before moving directly into [B] which is then used as a fade.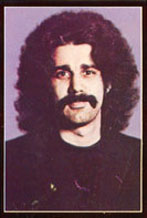 There were a couple of techniques used to orchestrate the basics on this track. One, an obvious one, was the presence of Bob James and his Oberheim Polyphonic synth. Wow, it's amazing what one had to do in those days to just be able to play with 8-voices. Bob did a great job in adding 'beef' to the accented 'stabs' during [B], [C], and [D2]. In addition to those colors, I also played my Gibson ES-335 12-string arpeggiating broken chords at [I2] playing the last 3 16th-notes on beat 4 of bars 1, 3, 5, 7 and 9. A similar device is used at [A] for bars 1, 3, 5, and 7.
When all is said and done, "THE BLUE MAN" remains as probably my most popular CD from that period of time, and each of the tunes plays an important role in that. I remain grateful to all the players who participated, and to engineer Doug Epstein for his efforts and care with the overall sound. I am also now able to share with you the specific Jean-Michel Folon image, titled, "Le Rêve de Pierre"[or "Pierre's Dream"] which inspired the title of the recording. Of course, I never imagined that Folon would actually be commissioned to draw a new double-sided watercolor image for the cover. It remains a great honor to this day.
I must take the time to offer my congratulations to the good people of Athens, Greece for putting on such a fantastic and safe Olympic Games 2004. As always, there is great drama, and some fantastic stories do emerge. Among the most special moments for me were the triumphs, on various levels, of athletes like: Deena Kastor; Kelly Holmes(Great Britain); Hicham El Guerrouj(Morocco); Gal Fridman(Israel), and my absolute Olympic hero, marathoner Vanderlei de Lima(Brazil)!!! I also must acknowledge the Men's Basketball team from Argentina; the Men's Soccer team from Iraq and, the Women's Softball, Soccer, and Basketball teams from the good old U.S. of A.!!! Bravo to everyone who just participated, you made your countries very proud!!!



[Photo of Steve by: David Gahr ca. '79, with Steve's hair being done by the four winds of New York, and Mr. Sticky Fingers]