Steve Khan's lead sheet on:
"Botero People"(Khan, Jackson, Badrena, Weckl, Jordan)

I think that I have been fascinated by the work of Colombian born artist Fernando Botero since I first saw one of his pieces in a poster gallery. Of course, he seems to be best known for his images of portly people, but his work does not exclude obese objects, and corpulent creatures.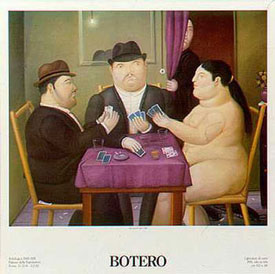 O.K., enough with my little exercise in alliteration. One of the nicest features of working at Skyline Studios in New York City was the selection of art posters which adorned the lounges and hallways, where musicians must go to escape the constant sonic assault of the music itself. I recall coming to the studio each day and being greeted by a Botero poster of fat flower pot[Oops, I lapsed into it again! Sorry!]. I grew so fond of this poster that, when the recording was finally done, I worked out a barter with the studio manager, and traded two of my Folon posters for it. This very same Botero flower pot now adorns the wall of my dining area. When it came time to apply titles to some of the tunes on "PUBLIC ACCESS", these images were on my mind. And so, "Botero People" was born, and now, it becomes the third long-form piece which we are presenting here at Khan's Korner 2. I have also selected a few of Botero's other images to adorn this page in hopes that it might inspire some of you to investigate his work.
When I was little boy, growing-up in West Los Angeles, I remember vividly my father, Sammy Cahn, and his first trip to Rio de Janeiro, Brazil to meet with Antonio Carlos Jobim. My memory is very sketchy on the details, but, it now seems that perhaps Jobim might have been looking for another English lyricist for some of his wonderful songs? To my knowledge, I don't believe that they ever actually wrote something together. But, to this day, I still have two Brazilian "figas" which my father brought back for me from that trip.

One is a beautiful Brazilian rosewood carving, which sits on one of my night tables. And the other is a small silver amulet, which has been on a chain for ages. As a matter of fact, Manolo Badrena actually gave me a third figa, which more closely resembles the one pictured to the right. Depending upon with whom you are speaking, I have been told that the figa is for "good luck." But, I have also been told that it represents "fertility" too. So, you'll have to choose which of those two options you need most!!!
Of course, my father also returned home with countless Brazilian LPs of artists whom I had never heard of, but, from that moment on, I was enamored of the music from this faraway place. Where his songwriting is concerned, the best result of my father's Brazilian adventure was when he supplied the lyrics to Benny Carter's great tune, "Only Trust Your Heart." It is treated as a bossa nova, and appears on the Stan Getz recording, "GETZ AU GO GO" which featured vocals by Astrud Gilberto and was recorded in 1964. For decades now, it seems that whenever someone hears wordless vocals, what we sometimes refer to as 'vocalese,' their initial reaction is to say that the music is Brazilian in origin. If there is one passage that has appeared in any of this group's recorded work, letter [B] of "Botero People" truly echoes a great love for the music and the people of Brazil.
There is also another obvious influence on this piece of music and it can be felt right from the top, at [I]. The small 3-note muted guitar groove is perhaps a slightly harmonically "jazzier" approach, owing a great deal to the supergroup of that time, The Police. Once again, just as it was on "Mama Chóla", "Kamarica", "Sis&eacute" and "Mambosa" as well, my ESP Strat was the instrument of choice for this piece. Dave Weckl's drum groove reflects a Jamaican touch too. When the [A1] melody was written, I knew that it would have to be played by Anthony Jackson and his contrabass guitar. Of course, I demonstrated for him just how I would have played it if the guitar could have done both parts live and at the same time. Originally, I played it snapping the notes, using the fingernail of my index finger.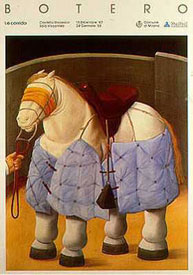 As you might imagine, Anthony ignored that, and went in his own direction. He was, however, relatively free to phrase the melody as he heard it. On the repeat, which we have labeled, [A2], the bass melody is joined by Manolo's wordless vocals. Here, the melody must be more strictly interpreted. As before, we again come down in dynamics, and repeat [I2].
Now we have arrived at the aforementioned [B] section which, without question, speaks to everyone affection for the superb and unique music emanating from Brazil. As their best composers might do, the dreamy nature of the melody is supported by lush and wandering harmonies. When we finally arrive at the Cmaj7(9) chord, there is a sense of resolution, and the little unison figure in the last bar becomes a thematic exit device, which will appear again later. This takes us to another small [I3] section, before moving on to letter [C]. Once again, the Anthony's bass voice is used as the source of melody. For contrast, you can hear Dave Weckl shaping the section with a broader use of force and power from his drums. The last bar reprises our unison figure as a lead in to [I4] which precedes the guitar solo at [D].


[I]
[A1] - Bass melody
[I2]
[A2] - Vocalese w/ Bass
[I2]
[B] - Vocalese melody
[I3]
[C] - Bass melody
[I4]
[D] Guitar solo
[D2] Guitar solo continues
[I5] after Cue - D.S.
[A2] Vocalese w/ Bass
[I2] Fade


The guitar solo section at [D] is marked by some interesting usage of the contrabass guitar as a chordal instrument. As you listen you can hear Anthony applying the root of each chord plus a small two-note voicing on top to fill out the harmony. As each chord arrives and the intensity builds Dave and Manolo guide us to a most majestic moment when the B9(sus) chord arrives and Anthony abandons the chords while striking his low open B-string. It is a truly gorgeous moment. Then at [D2], it is as if there is a 'break' in the solo section as we return to the 'feeling' of any of the [I] sections except here we are now on an Emaj7(6) chord for 4 bars followed by an Em7(9) chord for 4 bars. After these changes are introduced, the solo section continues. In truth, this is one of my favorite solo sections on the recording. The Strat is used for one of its most unique and expressive features, the tremolo arm, the whammy bar! For my style, it is combined with the chordal and harmonic properties I always like to employ. A most special moment occurs between 4:35-4:47 when everything seemed to come together in a most glorious way. I can't say enough about the interactive and conversational playing of Anthony, Dave Weckl, and Manolo Badrena. It is yet another example of why it is such a pleasure to make music with these three spectacular musicians. Here, Manolo again provides sounds that are absolutely other-worldly. In re-listening to this section, for the first time in a long time, I am struck by the percussive power of the chords on the Strat. I can also tell that I was banging the livin' crap out of the instrument during those moments. Maybe this is something I should be doing more often?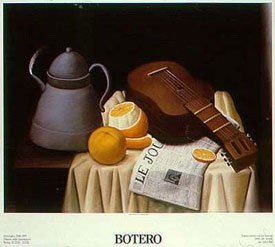 Once I have given everyone the 'cue' we make the transition to the Cmaj9(7) chord, and, once again, the little unison figure signals the reprise of [I5] and then a D.S. back to [A2] and a final statement of our main melody. To try and coerce some of Anthony's special improvisational skills out of him, another Fade is employed via endless repeats of [I2]. Of course, he gets looser and looser with what surrounds him and plays the kinds of passages that only seem to come to this most unique and special of musicians. It is also obvious what a great musical simpatico exists between Anthony and Dave Weckl.
One of the greatest things about living in New York is the access to the wonderful museums which seem to be everywhere. And, when I have chosen to take advantage of this great cultural luxury, I am always fascinated to listen to the commentaries of all the various "art experts" around whom I find myself standing. As it is in most artistic fields of endeavor, it is almost more of a curse to enjoy some success. It is as if this, the fact that the work reaches large numbers of people, somehow diminishes the quality of one's work. I have to admit that, on more than one occasion, I have heard people saying to one another that artists like both Botero and Folon are, in fact, not "artists" but that they are mere "illustrators." I guess that this is their punishment for having "style" and for having struck a resonant chord with the public? In this light, maybe it was good that "PUBLIC ACCESS" never became too successful? That might have ruined everything!