Steve Khan's Lead sheet:
"Mama Chóla"(Khan, Jackson, Badrena, Weckl, Jordan)
When the song "Casa Loco" was composed and recorded, it opened a huge door for Eyewitness as a group. We never lost nor abandoned the improvisational nature of the music, but the addition Manolo Badrena's lyrics and vocals expanded the world of "the possible" where song form was concerned. This was the direction in which the group was headed had we been able to continue with the original four members, including the brilliant and very special, Steve Jordan on drums. Before we had to disband, we had already recorded "CASA LOCO" and, we continued to rehearse/jam as we had in the past. But, it just seemed like doing that, getting together once per week to rehearse, had become so very, very difficult. Eventually, Manolo stopped coming in from New Jersey, and all this caused me to become totally dispirited, and led to the end of the group as it had been.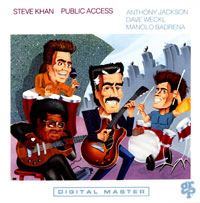 However, as I had in the past, for as long as we rehearsed, I continued to make cassettes of our improvisations, and, it was the germs of tunes, contained on those cassettes, that became the cornerstone pieces of the "PUBLIC ACCESS" recording. Specifically, I am speaking of tunes like: "Sisé"; "Botero People"; "Kamarica"; and "Mama Chóla."
In 1988, I knew that I could not allow the unrealized music on those cassettes to just die, never to be heard by anyone. One of the signature moments was Steve Jordan's incredible groove, yes GROOVE, over what you now see as letter [I]. When Steve began to play this bizarre, James Brown-esque little repetitive groove at his loft, Anthony Jackson soon heard, and developed the bass line you now see. As usual, I was the last one to find the groove, and to come-up with a part that worked. While the three of us were busy with this labor, Manolo was seated close-by, with one of Steve Jordan's extra guitars, and practicing his Eddie Van Halen licks!!! For which he was roundly chided by Steve Jordan! At that time, I wasn't really thinking about what I was actually playing, and it wasn't until much later that I actually tried to notate it, and realized that, the most clear way to communicate the rhythmic essence was to write it as one bar of 4/4, followed by a bar of 9/8, which is sub-divided for 'feel' into a bar of 3/4, plus 3/8. The latter part really just translates into three 8th-notes. It is that one little extra 8th-note that gives this groove a little 'limp' in its stride! When writing out music, my philosophy is unchanged. You want the written music to visually communicate the feeling of the rhythm, and I believe that this is the best way to do that. What Steve invented was incredible, and truly unforgettable. Through the miracle of a digital transfer, and with the help of my dear friend, Lloyd Landesman, I am now able to share with everyone what Steve invented. He is truly a most unique conceptualizer of music. What you can now hear, for the first time, is the genesis of a group composition. First, you'll hear Steve playing the basic groove alone. Then, there is a piece where Anthony is arriving at a bass line he likes, while I search in futility. And lastly, you'll hear something close to the finished product with Steve improvising around a more secure tandem of Jackson and Khan! It would not be too much of a stretch to say that, without this ingenious piece of drumming, there would never have been a "Mama Chóla." For all you drummers out there, I urge you to compare and contrast these two unique approaches to the same musical problem by two of the greatest drummers ever to stomp off a tune!
When Anthony Jackson, Manolo Badrena, Dave Weckl,
and I assembled for a week of rehearsals at Big Mike's in New York City, I had written out very detailed charts on everything, including the four 'extended song form' tunes previously mentioned. We were only ready to rehearse, because I had made several trips out to New Jersey on the bus to work with Manolo on just what the vocal melodies and lyrics would be for those tunes. Because of the complex nature of everything involved with "Mama Chóla", I knew that it was going to very, very special. Before we played a single note of it, I took Dave Weckl aside and played him Steve Jordan's original groove. I have to be honest here, it was my hope that Dave was going to say something like: "Wow, that's really incredible! I'll do something very much like that." But, as much as Dave probably admired Steve's unique approach, he chose to go down his own path. It goes without saying that he performed brilliantly on the entire recording and especially this tune. It cannot be overstated just much I admire a drummer's ability to negotiate such a complex piece of music, contribute one of the most incredible drum solos ever recorded, and then, come out of it and drive the piece home. All spanning more than 10-minutes. But, there's a great, great story here too, so allow me to now share that with everyone.
When we began to rehearse "Mama Chóla", I explained to Dave that there would be a drum solo at letter [E] over the [I] feel. He just looked at me as if I were completely and totally nuts and said: "Forget it!" That was Day #1 of the rehearsals. Two days later, he came in and told me, "You know, I would like to try to play over that thing in 'Mama Chóla.'" From that moment forward, he totally killed it every single time. I remember that, during the recording, I was totally knocked out by what I was hearing, experiencing, but, more than this, I felt an incredible sense of responsibility to hold it all together for Dave because he, of course, deserves that from Anthony and me. Like Steve Jordan's drum solo on "Casa Loco", Dave's solo knocks me out every time I hear it. It is simply brilliant, and a miracle to me that a drummer, any drummer, can perform throughout all the composed sections with grace and creativity, react to a guitar solo, and then, perform a solo over an odd meter, and still finish off his last responsibilities to the composition. Wow! For those of you who hold Dave's talents in the highest regard, as I do, this small anecdote should give you some hope. Hope because, at least for a brief moment in time, there was actually something that he felt that he couldn't do. But, after thinking about it, look what he was able to do. It is a tribute to his talent and his will. The lesson here, for all of us, is to simply never give up on anything. There's always a way!
I have also, at various times when writing about our work together as a group, commented on just how damn stubborn each of us can be. Well, the way that [I2] and [I3] developed is all due to the particularly stubborn proclivities of Anthony Jackson. When I look at, and listen to, what I play at [I2], it seems obvious that I heard this 'groove' as being in 4/4. But, for some reason, and I now can't recall the specifics of it, Anthony decided to not come in at bar 1 of [I3], and his strange instinct, to enter in the latter part of bar 2, caused there to be a 5/4 in each bar 2 of every 4-bar phrase. Only adding to the complexity of the piece. I remember being really frustrated by this development. But, as I've had to do in the past, I just learned that it is best to make the adjustments and go with the flow. As I previously attempted to explain in the analysis of "Sisé", Manolo contributed some truly unique lyrics over a melody which I sang to him and even recorded on his multi-track cassette deck. The lyrics are a combination of who knows which dialects, but might combine some African and Spanish roots. Just remember that in "Manolo-speak" all the vowels have Spanish pronunciations, so: a = ah; e = ay; i = ee; o = oh; and u = oo. This holds true everywhere, except for the vocalese sections at [C2] and [C3]. For these sections, I wrote the syllables and dictated them to the group of singers dear Lani Groves helped to assemble in order to beef-up what Manolo had done, giving more weight to the chants. That group included the great Vivian Cherry! So, here are the lyrics for those of you who might want to play this tune with your own group.



[A1][A2]
Mama chóla, kolowo
oru secu, sampao
Mama chóla, ariwo
mariwanga, jeri jei

[A3]
Why is it that we make you feel this way?
Mama chóla, ariwo
Could it be something that we do or say?
Mama chóla, olodo

[A4]
Mama chóla, ariwo
Mama chóla, kolowo
maru yeye, olodo
oru secu sampao

Mama chóla, kolowo
oru secu sampao
Mama chóla, ariwo
mariwanga, jeri jei

[A5]
Simbi yembereken
Mama chóla, olodo
Simbi yembereken
Mama chóla, kolowo

[C2][C3]
Ye de day, yah oo day
Ye de day, yah re
Ye de day, yah oo day
Ye de day, ya re de

Ye de day, yah oo day
Ye de day, yah re
Ye de day, yah oo day
Ye de day, ya re yah

[F1][F2]
Mama chóla, kolowo
oru secu sampao
Mama chóla, ariwo
mariwanga, jeri jei

[F3]
Mama chóla[Manolo]
oru secu sampao[Coro]



Speaking of [C] sections, which appear on Pg. 4 and function as a contrast or a 'bridge' to all the Phrygian droning[created by the sonority of Am(sus)/B] of the [I] and [A] sections, a most interesting thing occurred at [C1]. You'll notice that I had written that this prelude to the vocal sections should have 8-bars, but, for some reason, the last 4-bars were obviously edited out. The only thing that makes any sense to me is that somehow we made an error and did not correct prior to mixing. So, those bars were just edited out instead. However, were we to perform the tune, those 8-bars would be there, or another solution would be for bar 8 to become bar 4. Beyond that, I have to admit that the 'spirit of Brazil' somehow filtered into the composition with the breathy vocals at [C2] and [C3].
As it was with all the four 'epic song form' tunes, I just felt that playing my ESP Strat was the right guitar voice. In truth, I haven't used that guitar in this manner since. Though I would choose this guitar again for such a piece of music, I do miss the body of the sound that only a Gibson can provide. The guitar solo section at [D] is all played in 4/4 and over the Am(sus)/B harmonic attitude. Here, as I did several times on this recording, I used my Korg DVP-1 Harmonizer which was installed in my Bob Bradshaw, refrigerator-sized rack. Again, the key principle is to note that all the various programs I created for that device have my guitar note as the top note in each voicing and everything is harmonized below and moves in parallel. The 'shout' figure which I play at [D2], believe it or not, owes more than a debt of gratitude to my hero, Wes Montgomery. I am especially speaking of the little 3-note voice grouping you see in the quarter-note triplet pick-ups to the section. That chord is a classic Wes voicing used for any minor chord having the 5th on top. Here though, I am thinking in A Dorian, or A minor, although 'B' is the root, and so, the high 'E' is the 5th of 'A' as a tonal center. Out of this section, we take the D.S. and go directly to [C2] where the group vocalese enters immediately. From here, we take the Double Coda and go the [E] and Dave Weckl's aforementioned, incredible drum solo!!!
Out of Dave's drum solo, he cues Anthony and me into [E2] and a break figure for the guitar which brings us to [F1] and [F2] which reprise the [A] vocal sections. But, as a 'surprise', we came up with a 'false ending' break, for which I re-used another Coda sign. This serves to shoot us into the Fade which, for a piece like this, is most effective. As we hit the fade, Manolo only sings "Mama Chóla" one last time. As I had Lani and her beautiful voice there, I asked her and Vivian to sing "oru secu sampao", but in 3/4, which would float over the time, and the meter changes. It adds a sensuality to everything, and an air of mystery. It is one of my favorite touches to the piece as a whole.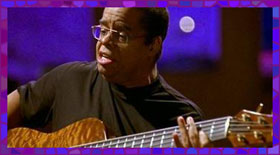 Over the years, I have been asked on countless occasions, "Why don't you let Anthony Jackson play solos on your recordings?" Well, this is not the case at all. Anthony has always refused to do such things. So, I have to come-up with other strategies to create spaces where he is, in a sense, improvising, or what some might call soloing, yet he doesn't perceive it as being so himself. In the case of "Mama Chóla", Dave and I knew that Anthony would fully take advantage of the Fade, and 'go for it' while I held together the basic figure. As you can now hear, this is exactly how things played out. For recordings, generally speaking, this is fine. But, for live performances, especially in a trio context, this can be a major headache because I lose the option of the group having a third solo voice. We are then reduced to an evening of guitar and drum solos on almost every tune. This is fine with me, and with many fans too, but, it is not, in my opinion, making the best usage of those assembled. But, after so many years of playing together, one can only slam their head against the brick wall so many times, and then, one must relent.
I am also often asked why we haven't made another recording, which would feature these kinds of 'epic song forms' again. I would love to do that, but it would require a kind of intense and long preparation process that is now just too difficult, and too expensive to attempt. And then, there would be the arduous process of trying to again produce these kinds of vocals out of Manolo. This alone is much more difficult than one can imagine! So, I rather doubt that we will see this kind of music, from this group, again. "PUBLIC ACCESS" remains as my best selling recording since the CD age began. It is hard to attribute this to anything other than the broad scope of GRP's international distribution network. No matter where I might be, during any tour, this seems to be the one CD, cassette or LP that people have. When I am asked to sign these items, I am always a bit shocked, but, it is most predictable. It is especially gratifying that the recording reached so many people in South America. It is a sad reality that so many of our recordings do not have access to generations of hungry ears on this great continent. The power of music to reach out over the miles, the borders, the language barriers is truly remarkable.



[Photo of: Dave Weckl on the April 1998 cover of MODERN DRUMMER
by Alex Solca]