Steve Khan's "Don't Worry Baby(No te preocupes nena)"
Lead sheet

When I was initially approached by guitarist/producer, Tim Weston, about contributing a track to his tribute to the music of Beach Boy, Brian Wilson, which was eventually titled, "WOULDN'T IT BE NICE"(Blue Note/Contemporary), I really wasn't at all certain that I could even find one tune of his that I would want to interpret. After some time passed, I thought that I could do something interesting with "In My Room" but that tune was already spoken for. Then, I came up with an idea for "Good Vibrations," to be recorded w/ Eyewitness, but Tim didn't want that particular song to be included in this tribute.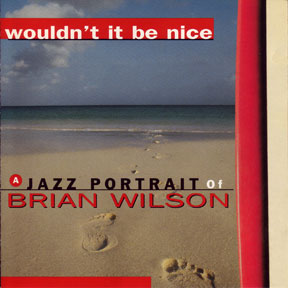 So, at that point, never having been a fan of the Beach Boys, nor one who could be included amongst those who think that "Brian Wilson is a genius," I was at a complete loss as to what to do. Then Tim called and suggested that I think about doing "Don't Worry Baby." So, I went over to my friend, Al Gorgoni's studio, and borrowed his Beach Boys CSTE, and listened to the tune, which I probably hadn't heard in years.
After some listening, I realized that Tim's instincts were right, and this particular song would present me with an opportunity to pay my own tribute to a couple of things: [1] to my then growing love and knowledge of Latin music, after spending years in the Salsa clubs of New York City; and [2] to create an arrangement that would demonstrate my love for the electric keyboard harmonies of Clare Fischer. In sharing my original lead sheets to this arrangement, the best part for me is that you get to view all the keyboard voicings, which were carefully thought out and then played with grace and beauty by my dear friend, Rob Mounsey. The basic track was created at Rob's studio and, in addition to his beautiful Rhodes-like keyboard, we included some synthesizer horn 'stabs'; a foot-closed hi-hat; and the bell of a ride cymbal. Those were the only tracks we would end-up keeping.
The actual recording was done live one afternoon at Avatar Studios, where I was joined by some of my Salsa heroes: Rubén Rodríguez on bass; Papo Pepin on congas; and the brilliant Mark Quiñones on timbales and güiro. I was lucky enough to have my dear friend, pianist/arranger, Oscar Hernández present at the session to make certain that everything was done as I would have desired. Not too long afterwards, after a brief meeting, I was lucky enough to have vocalist Gabriela Anders lend her very special talents to the necessary vocals which I wanted to have done in Spanish, in order to stay in keeping with the 'sabor' of the track. Gabriela, as you will hear, has a very special quality in her style and voice. But more than that, she has a great spirit of adventure; and is one of the few singers who could have sung the complex 4-part harmony voicing which appears in the 2nd ending of [B].
Where the arrangement is concerned, first I felt that I wanted to change the key from E major to C major. Perhaps because my keyboard talents are so remedial that this would be easier for me, or in reality, because the melody seemed to lay in the more 'meaty' area of the guitar, and would be more expressive there. The opening at [I1] is, to me, pure Clare Fischer! For quite some time prior to this recording, I had been studying the lead sheets to many of Clare's tunes from his "LEMBRANÇAS"(Concord Picante) CD. By the way, anyone can order these piano lead sheets by visiting Clare's website, clarefischer.com. Anyway, after awhile, I felt that I had a reasonable understanding of how he approached harmony on an electric keyboard, and I was ready to give it a try. One must remember that, sometimes, many of these same voicings would not actually sound good on an acoustic piano. I suppose it simply has to do with the overtone set-up on an electric piano. At least that's my guess. [I2] in sharp contrast to the Clare Fischer influence, is pure Sergio George, and probably owes something to one of his early arrangements for, the then virtually unknown, Marc Anthony. Sergio is also one of my favorite Latin keyboard players and arrangers, and his tremendous success as a producer is no accident.
When the melody is finally stated at [A], the accompaniment gradually becomes more harmonically dense, retaining some of the Sergio George elements while adding my own touches here and there. However, when we arrive at [A2] and the ii-V7-iii-VI7 progression begins, it's back to the wonderful world of harmonic lushness which only Clare Fischer's harmonies seem to provide. Each voicing caresses some portion of the melody with love and care. It is, as I like to say, like putting the jewel on a beautiful satin pillow of harmony. I knew that I had done a good job when Rob Mounsey first played through the lead sheets and phoned me with the sound of joy in his voice. He's a brilliant musician and has certainly seen, written and played just about everything so, to have his endorsement of my little Clare Fischer tribute was a great boost to my spirits.
When [B] arrives, so does Gabriela's voice, singing beautifully in Spanish and capturing the element which is so fundamental to this tune. In my view, that is, when stripped down, it is a simple "love song." And this is something anyone can relate to! Gabriela also helped out by revising my original translation of the lyrics, and of course, as she is originally from Argentina, she only made them better! ¡Gracias mi amor! From a keyboard harmony perspective this section brings in my own sense of harmony to stand side by side with Clare(bars 7-8) and Sergio(bar 4). As I mentioned before, after the repeat, when we take the 2nd ending, here the harmony becomes totally "Claresville," and I thought it would be a wonderful touch to have Gabriela sing all the voices, not unlike what the Beach Boys did, but their sense of harmony, in this case, was simply stacking 3rds on top of one another. As Clare had done many of the vocally gymnastic arrangements during the '50s for the Hi-Lo's, Gabriela's vocals, for this one brief moment, were a tribute to that part of Clare's legacy too!
After the repeats of [A] and [B], we take the Coda which brings us to a little 4-bar send-off into [C], and the solo section which is loosely based around the changes to letter [B], with a small harmonic twist in the turnaround bars of 7-8. Here, Rob Mounsey was freed to play loosely over the changes while still adhering to the arrangement in the last two bars. After the solo, we have another 4-bar transition which brings us back to [I1] and our Intro. When we arrive at [A3] for the final statement of the melody, the guitar plays it in octaves, while bars 5-8 are reharmonized. That reharmonization probably owes as much to Randy Brecker as it does to Clare Fischer as each melodic note is bathed in rich harmony. Then, we move along to [A4] which is unchanged, and then the eventual D.S. to [B], where we finally take the Double Coda which brings us to Pg. 6, letter [D]. Here we arrive at what I would describe as a 'breakdown' section in the relative minor key of the [B] section, which had modulated to D major. So now we find ourselves in B minor. I used this very open section to have Gabriela whisper a portion of the lyrics in Spanish, hoping to add to the sense of romance. I also employed another rather traditional arranging device in Salsa as the keyboard outlines a simple descending movement in 10ths. Finally landing on the mysterious sonority of a C7 voicing over F#/Gb in the bass. Then in bars 13-16 of this section, the melody of [B] is offered in minor which Gabriela also sings beautifully in vocalese.
Marc Quiñones' fill shoots us into the [E] sections which makes up our Fade and provides an opportunity for some more guitar improvising supported by Gabriela's background vocals. Here we both had different ideas and took advantage of the differences in perspective, arriving at something with which we both could be very pleased. Though I wish I had actually thought of it at the time, with the editing help of Malcolm Pollack, we created a 'false' ending which occurs at the end of the 4th time through the section. On the 'hit' of the accent on the and-of-3, all the tracks were muted and brought back in at the repeat of bar 1 on the and-of-2. Again, I only wish that I had thought of this in the 1st place; it's very effective and helps to blur the sense that we are simply in a 'fade.' At that moment, Gabriela's vocals were totally of her own making, her own creativity, and I am most grateful to her for all that she contributed. She's a great, great singer!!!
When all is said and done, this arrangement stands as one of my best, and was totally inspired by my love for Latin music, Salsa, and the keyboard harmonies of Clare Fischer. I thank producer Tim Weston for affording me this opportunity to express my appreciation for those things. I suppose that it also demonstrates, in some curious way, that you can go through your entire life, especially growing up in Southern California, not even liking the Beach Boys, and still find something beautiful in one of their songs. But again, if one simply views it as a 'love song' the rest is really not so difficult to imagine.
And so, as we have arrived at August, and mercifully the summer of '03 is one-half over!!! So, for those of you still heading to your local beaches: Don't forget your sunblock!!! As always, we at KHAN'S KORNER are wishing you a happy and safe summer.