STEVE'S GEAR
GUITARS:
Most often used....
[1] Gibson ES-335('82) w/ honey sunburst finish from the Heritage Series
[2] ESP Strat w/ EMG pick-ups
[3] Martin MC-28(Steel-string acoustic w/ cutaway)
[4] Yamaha APX-10N(Nylon-string acoustic w/ cutaway)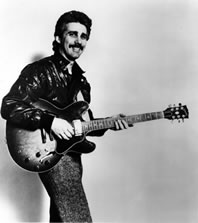 Other guitars at home: Gibson Les Paul('82) Heritage Series; Gibson Super 400; Fender Stratocaster('63); Charvel Strat; Gibson ES-335('59); "New" Gibson ES-335('01); Gibson ES-335 TD-12(12-string electric); David Russell Young 6-string steel-string acoustic; David Russell Young 12-string acoustic.
Note 1: I do not "collect" guitars.....all these guitars have their functions and I do use them. But, when I travel, the ONLY guitar I take with me is the Honey Sunburst Gibson '335.'
Note 2: When "EYEWITNESS" was recorded, on the tune "Dr. Slump" I used the '63 Strat but, at that time, it was equipped with a Bill Lawrence pick-up in the neck position which gave the instrument a very deep, rich and full bodied tone. I now regret replacing it! An additional detail, all my Strats are now equipped with a DiMarzio bridge with "Gibson spacing." Another little "trick" shared with me by Bill Connors so that the switch from a '335' to a Strat would not feel so foreign to my left-hand.
Note 3: All the Columbia recordings were done with my Fender Telecaster Custom which had a Charles Lobue designed Guitar Lab Custom "Hot Humbucker Pick-up" in the neck position. These pick-ups were made just ahead of the DiMarzio craze which began shortly thereafter. The '63 Strat made its first appearance on several tracks from "ARROWS"
Note 4: "EVIDENCE" was recorded with my David Russell Young steel-string 6-string acoustic as were all the acoustic guitar tracks on the Columbia recordings.
Note 5: In the extreme trivia department, my Gibson ES-335 electric 12-string was once owned by Gene Cornish of the Young Rascals. How 'bout that?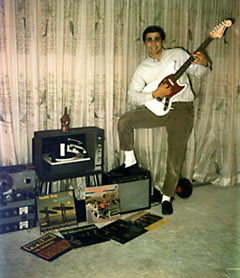 Guitars which have come and gone: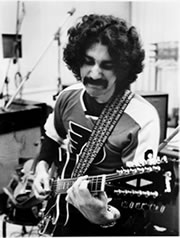 PICKS:
Fender Extra Heavy
Over the years I've gone up in pick gauges, beginning with a medium gauge when I first moved to New York in 1970. Now, I find that my attack has greatly softened, using less picked strokes. So, for me, the heavier the pick, the softer my attack gets.
STRINGS:
DEAN MARKLEY "SLP" Light Gauge(.009-.042)
I have used this set of strings on all my electric guitars for years, and have been extremely happy with their tone and their lifespan. I rarely break strings, and I actually like it when the tone gets less brilliant and a bit "dulled out." I have, on occasion, tried to switch to the higher gauge beginning with a .010 to increase the body of the tone, especially on the high 'E' and 'B' strings, but I always return to the set of .009s because they just feel better to me.
Recently, Dean Markley stopped making the SLP Strings and they have told me that their SUPER 'V' NICKEL WOUND strings will keep me happy. So far, I'm still going through my old boxes of the SLPs. But, if I live long enough, I'll let you all know exactly what I think when I try the new ones for the first!
Where my acoustic guitars are concerned, I use:
DARCO NEW YORKER EXTRA LIGHT GAUGE(.010-.047)
What gives me my own personal sound and approach to playing a steel-string acoustic is that I substitute a plain 'G'-string(.016-.017) for the wound .023 which comes with the set. This gives me a little more "twang" to the feel of the instrument and the ability to apply my vibrato more than I could with the higher gauge.
FRET WIRE:
DUNLOP #6140
At some point during the 1980s, I came to realize that this particular fret wire made my guitars feel the most comfortable for me. Gradually, over time, as fret jobs became necessary. I converted all of my most used guitars to this particular fret wire. For my vibrato and bent notes, for my touch, this is the best one!!!
AMP:
Walter Woods Stereo Power Amp/Pre-Amp
For many years prior to a very painful back injury, a slipped disc(L-5), I was using a pair of Pearce G-1 amp heads to achieve stereo. However, when loaded into a heavily padded and supported road case, these amps and their weight caused me physical problems and too many problems with the airlines, dealing with the overweight. However, recordings from "LET'S CALL THIS" through "GOT MY MENTAL" were all done with the tone of the Pearce G-1s.
My problem with most contemporary amps is in having too many midrange controls to deal with! I don't think that I ever fully figured out the Pearce heads, and I'm still learning how to best use all the EQ possibilities on the Walter Woods. I'm a pretty simple person and better suited for amps which only offer: volume, treble and bass controls. Now that is for me!
The early Columbia recordings("TIGHTROPE"; "THE BLUE MAN"; and "ARROWS") were all done with various Fender Amps. Some, which I still own today include: a Fender Super Reverb; Fender Deluxe Reverb; and a Fender Princeton Reverb. During the '80s, I owned a pair of Roland JC-120 amps which I used during the recording of "CASA LOCO." A very primitive, and noisy, Ibanez CS-9 Stereo Chorus pedal was used to go out to the amps. Both Rolands were also stolen out of the equipment truck during "The Great Weather Update Truck Heist" of '86 just outside a Holiday Inn while in Chicago.
The "PUBLIC ACCESS" recording is the only one done entirely with my Bob Bradshaw designed rack which included a Soldano 3-stage Pre-Amp and a Carver PM 1.5 Amp, plus many effects units including: Korg DVP-1(which provides the "harmonizer" effects heard on that CD, and others which followed); Ibanez SDR-1000 Stereo Digital Reverb; dbx-166 Compressor; Yamaha SPX-1000; ADA/STD Stereo Tap-Delay; TC-1210 Spatial Expander.
SPEAKERS: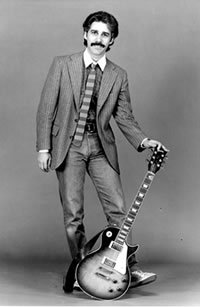 Two(2) Marshall Model #1966A 2x12" Cabinets(8 ohms)
Two(2) Marshall Model #1912 1x12" Cabinets(8 ohms)
PEDALS/EFFECTS:
Ernie Ball Stereo Volume Pedal
ZOOM RFX-300
Tom Peck Pedalboard

The main source of my "sound" is the Ibanez DCF-10 Digital Chorus/Flanger Pedal(Metallic Blue in color), a simple 9-volt pedal. Yes, the pedal has the word digital in its name, but, don't be confused, it is an analog pedal, only the switching mechanism is digital. What this also means is that, if you decided to buy the same pedal, the settings are going to vary slightly from pedal to pedal, so you have to work with it, and experiment to achieve the desired result.
In my case, as the years have come and gone, I continue to back-off on the 3 main controls. I have given you the latest settings from the most recent album.
The specific settings I use are as follows:
MODE DIAL: Position [3] (4-32 m/sec.)
DELAY TIME: 11 o'clock
SPEED: 12 o'clock ["BACKLOG" 10 o'clock]
DELAY LEVEL: 2 o'clock ["BACKLOG" 1 o'clock]
WIDTH: 2 o'clock ["BACKLOG" 11 o'clock]
REGENERATION: Off
SOUND CONCEPT: What I have been able to achieve with this sound is to have the single notes sound as if they are unchorused, but, when a chordal voicing is played, the chorusing should 'open-up' and exist as a huge sound of beauty. At times, I have hoped that it sounds like Larry Young's incredible organ sound......even though I know that I'm not even close!!! To this day, I have not found a single other pedal which gets me closer to this sound.
There are two digital delays in the board which were wired-up by Harry Kolbe with a micro-mixer so that the two delays ping-pong LEFT & RIGHT. They are set randomly, but in general, if I were trying to be specific during a recording, one would be set to the quarter note and the other would be set for quarter note triplets depending upon the tempo.
Where distortion/overdrive is concerned, nothing sounds better to me than when I am able to use the 2nd and 3rd stages of the Soldano Pre-Amp.....but, carting that damn rack around New York is so difficult and very rare for me. The 2nd stage has that "crunchy" kind of distortion, and the 3rd stage has that really beautiful singing, sustained type of overdrive. Both are spectacular sounds.
However, in 2006, I had my entire Bradshaw Rack disassembled, and now, all the individual rack-mounted pieces are residing in a closet!!! But, I swear, someday, I am going to find a way to put that Soldano Pre-Amp into a smaller rack, and use it again, because it was absolutely fantastic sounding!!!
So, to save space, I simply have an old Ibanez Tube Screamer with the three controls set in the following manner:
LEVEL: 2 o'clock
DRIVE: 9 o'clock
TONE: Shut off completely!
In conjunction with this pedal, I use two sounds on the '335' which are different than the way my guitar tone sounds normally.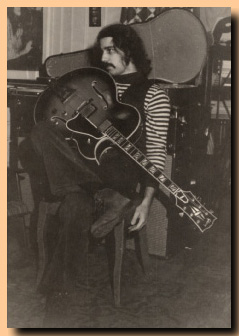 Sound [1]: I put the pick-up selector switch in the middle position so that both pick-ups are on. Then I have the bridge pick-up set with the Volume control knob on '10' and the Tone control knob set at about '8.' The 'trick' here is that the Volume control knob for the neck pick-up is only set to '5.' I owe this setting, and its sound, to my good friend, Carlos Rios!
Sound [2]: This is simple, I just use the bridge pick-up with the volume cranked!
For things requiring a more sustained and 'singing' overdrive, I often use the Morley Deluxe Distortion pedal which Bill Connors shared with me and he even went so far as to install it into a Morley Volume Pedal for me as well. It's all a bit clunky to cart around but a very effective sound when I use it. The pedal and sound can be very noisy, so be prepared for complaints from engineers if you're using it in the studio.
TUNER:
D'Addario Planet Waves PW-CT-10

GEAR GUARDIAN ANGELS:
Fred Walecki(Westwood Musical Instruments); The Goldrich Family(Manny's Music); Pat Aldworth; Bruce Bolen; Jimmy Archey; Lou Vito; & Darrell Gilbert(Gibson Guitars); John Marshall(Martin Guitars); Masaaki Naito & Shigenobu Miyake(Yamaha Guitars); Dave Lienhard(Dean Markley Strings); Rudy Pensa & Dean Moody(Rudy's Music Stop); John Suhr; Charles LoBue & Steve Blucher(The Guitar Lab); Roger Sadowsky & Ken Fallon(Sadowsky Guitars); Norio Imai(Imai Guitars); Walter Woods(Walter Woods Amps); Mike Soldano(Soldano Amps); Harry Kolbe & Eric Bradley(Soundsmith); Ralph Skelton; Mitch Colby(Korg/Marshall); John Lomas(Ibanez); Larry DiMarzio; Bob Bradshaw(Custom Audio Electronics); Colin Schofield(Zildjian Cymbals); and Martin Cohen(LP/Latin Percussion).