Steve Khan's lead sheet:
"Los Gaiteros"(Steve Khan)

"Los Gaiteros" was originally composed for, what would have been, my third CD with the Caribbean Jazz Project, which also featured Dave Samuels and Dave Valentín. We were scheduled to record in early 2002, but some personal and musical problems caused me to quit the group, before I could record this tune. Of course, these kinds of decisions are never made in haste, they brew over time. In the ensuing years, at times, I have certainly questioned my own decisions, but, sitting here now, and resting easy that all four of the tunes that I then submitted have finally been recorded, I feel that this was the best choice for me. I always liked "Los Gaiteros," because the piece is written in 3/4, but the bass tumbao makes it sound as though it is in 4/4.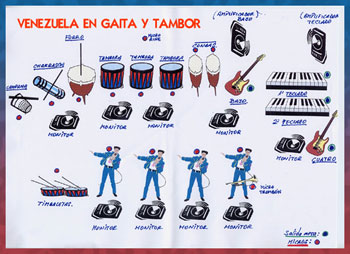 Just take a look at letter [I]. Anthony Jackson's bass, linked to Dennis Chambers' bass drum, makes it all feel completely normal when it is obviously not!!! After much thought, now I believe that I should have written the tune out in 6/4.
However, just how "Los Gaiteros" and "Zancudoville" ended-up being recorded for "PARTING SHOT"(Golpe de Partida) was not as simple as it might seem. In truth, as I was assembling the music for the recording, I had not even thought of either of these two tunes, but then, fate intervened. I received a phone call from the great Venezuelan timbalero and percussionist, Luisito Quintero, asking me if I had a tune for him as he was going to be recording a CD as a leader in Venezuela. I thought for a moment and suddenly, "A-ha!!!!" Of all things, "Los Gaiteros" came to mind, and so, I sent Luisito an mp3. It wasn't long before he sent me an e-mail telling me how much he loved the tune, and that he wanted to record it. I was very happy about that. But, I was also inspired to revisit the original demo that I had made in Venezuela with the immense help of saxophonist Rafael Greco. Suddenly, this tune, once again, began to sound very good to me, and I realized that I would be a fool if I did not record my own version of it. And though the piece had been written to include Dave Samuels' vibes and Dave Valentín's flute, I felt that the guitar could actually handle all the melodic and chordal responsibilities, and the other solo spots would be filled by the percussionists, or by Dennis Chambers.
The title is, perhaps, a word that, I thought that I had made-up in tribute to the great musicians from Venezuela, often times from Maracaibo, or that vicinity, who play a style, a genre of music known as "gaita" which most Venezolanos associate with the Christmas holidays. To me, rhythmically, gaita is often so complex that I have no idea where 'one' is, nor what else is going on. I recall once asking my dear friend, Rafael, a master of this music, to build a track for me from the bottom up, to show me just how 'gaita' is constructed, from a rhythmic perspective. As he created the track, I was following along pretty well - but, when he began to place the vocal, I was, as usual, completely and totally lost. So, this piece is my most humble tribute to the great musicians who play this kind of music so effortlessly. I admire them so much!
When we began to rehearse this tune, Marc Quiñones begged me to please record this tune last - he just could not get comfortable with what was going on. It all felt so backwards for him. If you study letter [A], after listening of course, you can see that the rhythmic chordal passage covers 8 bars of 3/4.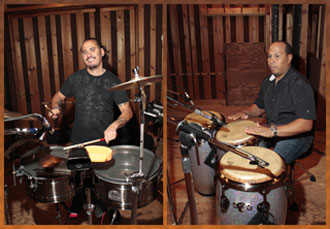 In other words, 24 beats in total. But, each unit of the chords is really 2 bars of 4/4 and that pattern repeats 3 times. And so, 8 beats played 3 times equals 24 beats in total. And there you have it. But, the all important thing to remember is that this section was composed by feel and certainly not by mathematics! But, what feels good, or interesting to me, became a nightmare for Marc.
In addition, at that same rehearsal, Bobby Allende told me that he didn't want to solo over the last solo section created for conga. Needless to say, that was about the last thing that I wanted to hear. Yet, when we recorded this tune, at some point on Day #2, November 7th, in Avatar's Studio 'A' - for some reason, all the players assembled found something within, and this performance is now one of my personal favorites on the entire recording. I have always told people, when they have asked me, that if the music I play has mood and attitude then this is exactly what I am hoping to create. This piece, in its way, has plenty of those two elements! In the end, both Marc and Bobby played beautifully in all the ensemble sections, and contributed great solos as well.
The origins of this particular compositional style date back to a piece that Rob Mounsey and I composed together for the first of our two CDs as a duo. That album was titled, "LOCAL COLOR"(Denon), and was recorded in 1987. The specific tune was "Tafiya" which opens that album. In essence, the mood is set via a rhythmic chordal passage, heard on "Los Gaiteros" at letter [A], and that is followed by a very melodically active single-note line section, here this becomes our [A2] section. Those sections are repeated, and then the piece moves forward to a third section, [B], with a far more singable melody. For "Tafiya" that section was obviously composed by Rob. Where the soloing was to have taken place within the original arrangement of "Los Gaiteros" for the Caribbean Jazz Project, Dave Samuels would have probably played a marimba solo over the [D] section. But on this version, [D] became a timbal solo for Marc Quiñones. One of my favorite small details of this section is the bass part. Initially, I had written something a little different, but, in performance, Anthony Jackson altered it just slightly, and what you now see is a hybrid between the original written part and Anthony's interpretation, played on the fly. I really love the way that this now feels. As it would have been for the CJP too, letter [E] became a conga solo.
Before I sing the praises of my dear friend and bandmate for many years, Dennis Chambers, I want to connect to it with a brief anecdote, if you will allow me that. I promised that this all fits together. Not too long ago, someone at Facebook posted a link to a YouTube clip of James Taylor performing a song from his "ONE MAN BAND" concert/DVD, accompanied only by his guitar, and the superb Larry Goldings. I was so moved by what I heard that I immediately purchased the DVD. When it arrived, I sat up one evening, and watched the entire performance. Afterwards, I sat and read the DVD booklet where James wrote beautifully about Larry Goldings, but he also wrote about how a song often takes shape for him. He wrote the following:

"It's a strange reality of the modern popular song that the first time it's played is when it's recorded. Sometimes a song will be finished for a deadline in the studio the day the thing is cast in stone forever. I know that songs and arrangements evolve and develop over time; that somewhere around the twentieth time it's played for a live audience, a song finally completes itself." Well, I spent the rest of the evening thinking about what James Taylor had written, especially because "PARTING SHOT" had already been mixed and mastered. I realized that this was exactly what this recording was about too. Yes, we had a couple of rehearsals the two days before we went into Avatar Studios, but, truth be told, we have never really performed any of these tunes all the way through until we recorded them!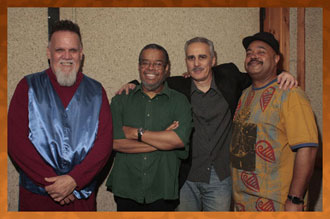 Sometimes, when musicians don't really know exactly what they are doing, or what's going to happen, the results, born of a kind of innocence, can still be wonderful. For me, "Los Gaiteros" is a superb example of exactly that, because we were all still finding our way. For example, what Dennis Chambers played, on this performance, was really brilliant in its simplicity. When you listen carefully to what he's playing, the independence alone that is required, is pretty remarkable, at least to me. Let's examine what is going on. His right-hand is playing quarter-notes on a 20" heavy flat ride with rivets which I had asked him to play, because I wanted a very clear 'ping' sound for the pulse. As I stated when this analysis began, his foot, the kick drum, is in essence married to Anthony's bass tumbao. Finally, his left-hand offers syncopations on the hi-hat which opens and closes via Dennis' left-foot. On the 3rd beat of each 2nd bar, he gives us a huge backbeat on the snare drum. So, put all that together and I believe that any drummer would find it most challenging. Of course, now that Dennis has heard this version many, many times, one can only imagine what would happen if we went to play the piece live! And I believe that this is the point James Taylor was making. The song, this song, would evolve and develop and, over time, it would morph itself into something else. It might lose some of the 'innocence' but it would gain something else in the process.
I think that the same kind of examination could be applied to how Marc approached the tune, from the perspective of the timbal and hand percussion. As we did a couple run-throughs before actually recording, Marc and I talked about what I thought might work best. I was never certain as to just how the cha-cha bell or the mambo bell would or would not play a role during the performance. As it turned out, you hear Marc playing the cha-cha bell during most of the [A] sections. I asked him to play cáscara on the shells of the timbal during the [A2] section, and to accent the downbeats of the odd numbered bars with a crash. I did not even realize it at the time, nor when we were listening back in the control room that, he didn't really play anything rhythmic the first time that [B] appears. When that section returns after the guitar solo [C], Marc continues to play the cha-cha bell, which sounds great to me. But, after the timbal solo, when we reprise [B2], Marc doesn't begin the cha-cha bell pattern until about 4-bars into the section. Perhaps here, he would have just kept playing as the section began? When we play [A3], which early in the tune had been the section with the cáscara, Marc just continues on the cha-cha bell making all the crashes as he had done before.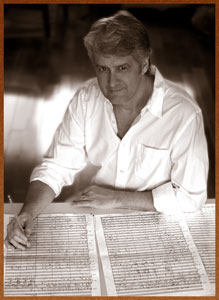 If we were to play the tune again, I wonder what he would hear now? To add a bit of propulsion from the hand percussion, Marc added a beautiful touch, muy Venezolano to these ears, by playing the maracas throughout the tune. I love this too, as it is a warm reminder of so much of the wonderful Venezuelan folk music that I used to hear there.
In Latin music, in Salsa, often times sharp, punchy, percussive sounding single-note and chordal instruments work the best, and fulfill a rich part of the music sonic heritage. Of course, the acoustic piano is part of the percussion family, and the brassy sounds of trumpets and trombones are almost always included in any arrangement. But, in sharp contrast to those tried & true sounds, I like the way that more sustained and romantic sounds offer a contrast to the percussive rhythms and sounds. So, on this tune, we have the first appearance of Rob Mounsey's orchestration talents, which are vast. Often times, when musicians referring to these types of enhancements, we tend to use the word pads. But this kind of slang expression does a disservice to the amount of care that a musician like Rob Mounsey puts into such an orchestration. Initially, I had asked him to enhance the guitar harmonies during all the [B] sections where they appeared. It is my recollection now that Rob described those rich textures as being fundamentally flutes and woodwind sounds. During the Guitar Solo section at [C], at a chosen point, I asked him to add one of my favorite devices under the solo. As I was essentially just soloing over a C-pedal, a C7 chord, which I could have interpreted in any number of ways, I just asked Rob to play a C and Bb together, a whole-step apart, from middle 'C' down, and that's what you now hear at about the 3:02 mark of the piece. I believe that we decided to use pizzicato strings to accentuate some percussive chordal hits during Bobby Allende's conga solo at [E], and in the first and last bars of the [Tag].
Just before I was about to post "Los Gaiteros" here at the site, I had a wonderful exchange of e-mails with Arturo Gómez, the highly regarded, and very creative, Music Director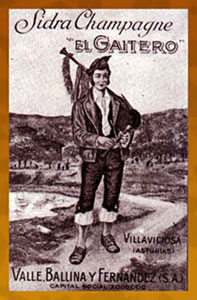 for jazz89 KUVO 89.3 FM serving the greater Denver, Colorado area, and he wrote me the following: "I'm curious about Los Gaiteros - the bagpipe players. Northern Spain, especially the Galicia province, as well as Colombia are the 2 areas of Latin América where bagpipes are used. What's the scoop?" Of course, I had no facile answer for that, and it caught me completely unaware. Once again, showing just how little I really know about the history of everything involved in Latin music. I then sent Arturo the link to this page, and he responded with the following story: "Although I have some familiarity with the Venezuelan rhythm gaita, it didn't occur to me to associate it with your song title, as I am much more aware of the other use of gaita in music, the bagpipes. Although I am Cuban, my father migrated to Cuba from Northern Spain after WW2, his favorite alcoholic apple cider was a brand El Gaitero which depicts a bagpipe player on its logo." Arturo was also kind enough to attach the wonderful image from Sidra Champagne which adds an extra special touch of color to this analysis. This all adds a most interesting additional and very personal touch to the story of this tune, even if a bit disconnected. Thanks so much to Arturo for sharing this story with me, and of course, for the wonderful radio support that KUVO-FM has given "PARTING SHOT."
And, speaking of radio in the USA, initially, my feeling had been that "Los Gaiteros" was going to be sequenced towards the back portion of the CD, meaning that out of 10 tracks, it would appear somewhere like Trk. [7] or [8]. But, after being forced to listen to it so many times, and being told by a few people how great they thought the tune was - the feeling that it generated, my opinion began to slowly change. As James Farber and I were assembling all the final mixes for the recording, the tune had risen to be Trk. [3] on the CD. In the final analysis, it became Trk. [2] because I just had a good feeling about it. Perhaps that instinct has been rewarded a bit, because the tune has become very popular at Jazz radio across the USA. And for that alone, I am most grateful!



[Photos: Marc Quiñones and Bobby Allende;
Manolo Badrena; Anthony Jackson; Steve; and Dennis Chambers
Photos by: Richard Laird @ Avatar Studio 'A' on November 6th, 2010
Photo: Rob Mounsey by Paul Mounsey]