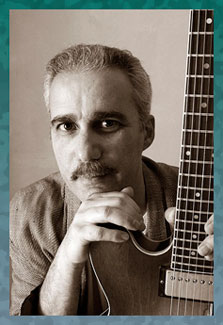 In a special 1998 issue of Japan's "JAZZ LIFE" magazine, they selected the 22 All-Time Greatest Jazz Guitarists. Of course, legends like Charlie Christian, Django Reinhardt, Wes Montgomery, Kenny Burrell, and Jim Hall were included alongside more recent giants George Benson, Pat Martino, Larry Coryell, and John McLaughlin. But right there, amongst contemporaries John Abercrombie, Pat Metheny, John Scofield, Mike Stern and Bill Frisell, was Steve Khan! Testament to a large body of work, which now spans more than 40 years. In his headline to a 2018 interview, journalist Antonio Gandía wrote that, Steve is now "The voice of the guitar in Latin Jazz!"
Hard to believe that this dream began at a rather late age with Wes Montgomery held as the model to which to aspire. Steve admits that, when he was a teenager, "I was a terrible drummer with no musical training. I had developed a love for the guitar, and when I was 19, I switched instruments. I promised myself that I would not make the same mistakes that I had made with the drums, and studied hard in college, along with private lessons from Ron Anthony." During these years, Khan always found himself in fast company and, from such situations he learned, developed and survived. By the time he graduated from U.C.L.A. in 1969, he felt ready to make the move to New York City.
From this point forward, so much of Steve's career is well-documented. In 1974, he performed in one of the first contemporary Jazz guitar duos with Larry Coryell. During this same period, he became a key member of the Brecker Bros. Band. His first recordings as a leader were a trio of well-received albums for Columbia Records titled: "TIGHTROPE"('77), "THE BLUE MAN"('78), and, "ARROWS"('79). These recordings featured Michael and Randy Brecker, David Sanborn, Don Grolnick, Will Lee, Steve Gadd, Mike Mainieri, Bob James and others. In 1994, Sony Music/Columbia released a CD compilation drawn from these three LPs titled, "THE COLLECTION."
In 1980, Steve began to make a great transition when he recorded a brilliant solo acoustic guitar album, "EVIDENCE," which paid tribute to his earliest Jazz inspirations, and served to establish him as one of the great interpreters of the music of Thelonious Monk. But it was his new quartet, formed in 1981, which included Anthony Jackson, Manolo Badrena, and Steve Jordan, that forged a new musical concept and direction. Together, they made three recordings: "EYEWITNESS"('81), "MODERN TIMES"/"BLADES"('82), and "CASA LOCO"('83). This groundbreaking group, which became known to fans as Eyewitness, and its recorded work, came to be regarded as amongst the most innovative of its time!
When the group needed a break, Khan joined Joe Zawinul's WEATHER UPDATE for its one and only tour in '86. This was followed by an innovative duet recording with keyboardist Rob Mounsey.
The Grammy-nominated CD was titled "LOCAL COLOR" and was released in '87. In 1989, Eyewitness was resurrected with Dave Weckl replacing Steve Jordan for the "PUBLIC ACCESS"('90) CD. Because of the powerful distribution of GRP Records, this became Steve's most widely known recording after the Columbia Records years.
During the '80s and through the mid-'90s, Steve contributed performances to various "special projects." The first was in 1984 when he teamed with Steely Dan's Donald Fagen to interpret Thelonious Monk's "Reflections" for the "THAT'S THE WAY I FEEL NOW" recording which was a tribute to Monk and his compositions. Steve's unique medley of two George Harrison tunes graced Mike Mainieri's NYC Records "COME TOGETHER": A Guitar Tribute to the Beatles. Here he was accompanied by Marc Johnson, Peter Erskine, and Naná Vasconcelos. Special Olympics and the Holiday Season reunited Steve with the Brecker Bros. for a Salsa-styled interpretation of his father's one Christmas song, "The Christmas Waltz," which appeared on the "JAZZ TO THE WORLD" CD. 1996 saw Steve teamed with vocalist Gabriela Anders, Rob Mounsey, and, New York Salsa All-Stars Rubén Rodríguez, Marc Quiñones, and Papo Pepin to contribute "Don't Worry Baby"("No Te Preocupes Nena") to "WOULDN'T IT BE NICE," a tribute to Brian Wilson.
During '91 and '92 respectively, Steve has added two acclaimed straight-ahead Jazz recordings, "LET'S CALL THIS" and "HEADLINE" which featured Ron Carter and Al Foster. "HEADLINE" brought Steve back together with Anthony Jackson, Manolo Badrena, and Dennis Chambers on drums for 3 tunes. In '94, that same quartet plus Michael Brecker recorded "CROSSINGS," which was dedicated to the memory of Steve's late father, lyricist Sammy Cahn.
Recorded in 1996, "GOT MY MENTAL" saw Steve team with John Patitucci on acoustic bass and Jack DeJohnette on drums for the first time. Once again, his his unique playing and arranging perspectives colored the works of Wayne Shorter, Ornette Coleman, Lee Morgan, and Eddie Harris, plus standards by Rodgers & Hammerstein, as well as Steve's father with Jimmy Van Heusen. 1997 saw Steve reunite with Rob Mounsey to record "YOU ARE HERE." Like their prior recording, their music tends to defy categorization, but this recording seemed to sit comfortably between contemporary Latin Jazz and World Music Jazz and, in keeping with their prior work, Steve is only heard on acoustic guitars. One brand new dimension for "YOU ARE HERE" was the presence of Latin percussion virtuoso, Marc Quiñones.
In August of 1998, Steve toured Japan as part of Dave Samuels' "Tribute to Cal Tjader" Group. The tour was to have far reaching consequences as it was here that plans were made for Steve, Dave Samuels and Dave Valentín to become the co-leaders of the reformed Caribbean Jazz Project.
Together, they recorded "NEW HORIZONS"(2000) and "PARAÍSO"(2001) for Concord Picante. These recordings served to redefine just what the role of the guitar could be in Latin Jazz.
After a nine year absence from recording as a leader, Steve entered Avatar Studios in May of 2005, reunited with John Patitucci and Jack DeJohnette to record "THE GREEN FIELD." The return of longtime colleague, percussionist Manolo Badrena added a most welcome and familiar dimension. In addition to the 6 quartet pieces, the basic "trio" was joined by Ralph Irizarry(timbal) and Roberto Quintero(conga & percussion) for Latin treatments of: "Riot"(Herbie Hancock); the standard, "You Stepped Out of a Dream"; and "Nefertiti"(Wayne Shorter).
2007 saw the release of the Grammy nominated "BORROWED TIME." The recording was an extension of Steve's work with both John Patitucci and Jack DeJohnette, and sought to fulfill the promise of "THE GREEN FIELD." Manolo Badrena was on hand again, as well as Ralph Irizarry and Roberto Quintero. All these players were joined by Bob Mintzer(bass clarinet) and tabla master Badal Roy for Steve's very original "El Faquir" which seeks to blend Jazz; Indian and Latin genres with spectacular results. No less unique was Steve's interpretation of "Have You Met Miss Jones?" and his own "Face Value" with both serving as tributes to Clare Fischer's harmonies. These spectacular tracks featured old friends: Randy Brecker(flügelhorn), Rob Mounsey(keys), Rubén Rodríguez(baby bass & elec. bass) and, Marc Quiñones(timbal) & Bobby Allende(conga).
After years of bootlegs and illegal downloads, 2008 brings with it the release of the 2-CD set, "THE SUITCASE." As was the case for the prior two CDs, the initial releases were on: 55 Records(Japan); Tone Center Records(USA) and ESC Records(Germany/Europe). Alongside longtime bandmates, Anthony Jackson and Dennis Chambers, the trio was originally recorded by WDR for a live radio broadcast from Köln, Germany in 1994. With the superb sound quality and the spectacular performances, this CD has been being hailed as: "...a landmark contemporary Jazz trio recording!!!"

Recorded in 2010 and released in May of 2011, "PARTING SHOT" featured Eyewitness veterans: Anthony Jackson, Dennis Chambers, and Manolo Badrena, alongside the tremendous Latin percussion team of Marc Quiñones and Bobby Allende.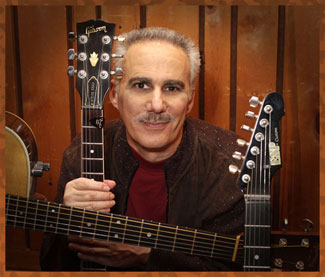 Together they perform 7 new compositions from Steve, and his interpretations of "Bye-ya" by Thelonious Monk, and both "Chronology" and "Blues Connotation" by Ornette Coleman. Recorded by James Farber at Avatar Studios, this spectacular sounding recording features performances by guest artists: Rob Mounsey(keyboard & orchestrations), and, Steve was honored to have both Andrés Beeuwsaert(Aca Seca Trio) and Brasilian vocalist, Tatiana Parra singing the vocalese section on Steve's tune, "Influence Peddler." This was the first Latin Jazz recording led by a guitarist in 50 years!
Recorded and released in 2014, "SUBTEXT" is Steve's spectacular, if unexpected, follow-up to "PARTING SHOT," and it features Dennis Chambers, who is joined by three superstars of New York Salsa, Marc Quiñones, Bobby Allende, and the incredible bassist, Rubén Rodríguez. Guest artists include: Rob Mounsey(Keys & Orchestrations) and Randy Brecker(Flügelhorn), and together, they perform interpretations of some of Steve's favorite composers: Ornette Coleman, Thelonious Monk, Wayne Shorter, Freddie Hubbard, and Greg Osby. Highlights include the luminous ballad, "Never Let Me Go" and, a cumbia driven Vallenato epic collaboration between Steve and vocalist Mariana Ingold(which features Gil Goldstein on accordion).
During 2015, BGO Records(UK) released a reissue package that offered Steve's 3 Columbia albums: "TIGHTROPE"-"THE BLUE MAN"-"ARROWS" on 2 CDs. This reissue was a wonderful surprise as old fans and new ones could now have all of these great records from the late '70s in a digital format for the first time. It was not long after that, in early 2016, that BGO Records, decided to release the 3 classic Eyewitness albums: "EYEWITNESS"-"MODERN TIMES"-"CASA LOCO" packaged together on 2 CDs.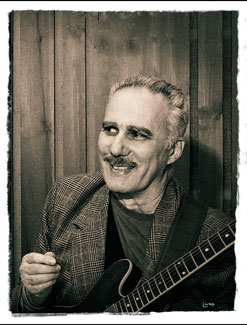 This marked the first time that "MODERN TIMES" had ever been available outside of Japan in the CD format. This release was greeted by an incredible reception from music writers and fans alike.

At some point during late 2015, Steve made the huge decision to try to record again during 2016. Months of preparation and pre-production began, and the recording took place in late April, once again at Avatar Studios in New York, with James Farber behind the console. The music for "BACKLOG," with another distinctive cover from Michel Granger, was carefully chosen and would follow along the lines of both "PARTING SHOT"(2011) and "SUBTEXT"(2014). Once again, Steve was joined by his core colleagues: Rubén Rodríguez, Marc Quiñones and Bobby Allende. This time, Mark Walker joined the group on drums. Rob Mounsey(Keys & Orchestrations) headed the list of guest artists, which also included: Randy Brecker(Trumpet); Bob Mintzer(Tenor Sax) and Mike Mainieri(Vibes). Brazilian singer, Tatiana Parra was also kind enough to contribute her special voice to Steve's brilliant treatment of Andrew Hill's "Catta." Other material was drawn from many of Steve's favorite composers including: Thelonious Monk, Ornette Coleman, Bobby Hutcherson, Greg Osby, and even Stevie Wonder. Two gorgeous ballads were included, "Our Town"(Cahn-Van Heusen) and "Emily"(Mandel-Mercer), making this a truly spectacular package of music. Now, standing together as one, these last three albums are considered to be classics in the world of Latin Jazz, and completely unique as they are led by this most remarkable guitarist.

During 2018, BGO Records(UK) released a 3rd reissue package that offered Steve's 3 Eyewitness2 albums: "PUBLIC ACCESS"-"HEADLINE"-"CROSSINGS" on 2 CDs. Once again, the reissue became a surprise gift for the core fans as they could finally have all of these great records from the early '90s on CD. These recordings featured Steve alongside Anthony Jackson and Manolo Badrena with Dave Weckl on drums for "PUBIC ACCESS" and then, Dennis Chambers is on drums for the 3 tunes from "HEADLINE." On "CROSSINGS." you have Anthony, Manolo and Dennis joined by the great Michael Brecker for 3 of the tunes. A reissue serves as a great career energizer during periods when it can seem like not much is happening. A bit of an illusion, but a good and most useful one.

RELEASED SEPTEMBER 20TH 2019!!! "PATCHWORK" is the title of Steve's new recording, and there is, of course, a subtitle in Spanish, "Medio Mezclado." This new recording represents the 4th in a series where Steve continues to enhance the role of the guitar in the context of Latin music and Latin Jazz.
Once again, the core group features: Rob Mounsey (Keys & Orchestrations);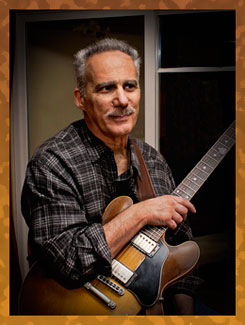 Rubén Rodríguez (Baby Bass & Elec. Bass), Bobby Allende (Conga), Marc Quiñones (Timbal, Bongo & Perc.), and the great Dennis Chambers (Drums) returns. The guest artists should be familiar to all those who have followed these albums, and their contributions were immense, they included: Randy Brecker (Flügelhorn); Bob Mintzer (Tenor Sax) and Tatiana Parra (Voice). For the first time, composer and keyboard artist Jorge Estrada appears on his own composition, "Huracán Clare" which is, of course, dedicated to the wondrous Clare Fischer.
In all, they perform Steve's arrangements of compositions by: Thelonious Monk, "Epistrophy"; Ornette Coleman, " C. & D." and "T. & T."; Joe Henderson, "A Shade of Jade"; Bobby Hutcherson, "Bouquet"; and an unforgettable version of Keith Jarrett's "The Journey Home." As always, the recording features a gorgeous ballad: "Too Late Now" written by Alan Jay Lerner and Burton Lane. This time, there will be a "BONUS TRACK" for downloads only, a spectacular interpretation of Eden Ahbez' "Nature Boy" featuring the glorious voice of Tatiana Parra.
The music was recorded by James Farber at Sear Sound Studios on March 18th-19th, 2019, and mastered by Greg Calbi at Sterling Sound on June 6th, 2019. Michel Granger's beautiful image graces the cover, and gives this 4th album in the series its own unique look. The design is, as always, by the super-talented Janet Perr.

ARRIVING MAY 13TH, 2022!!! Following a period of some 2 years of special projects, Steve, featured here on his Martin steel-string MC-28 acoustic guitar, and Mark Kibble, the singularly brilliant vocalist/arranger from Take 6 completed and debuted their interpretation of Shuggie Otis' "Island Letter," a song which dates back to 1974.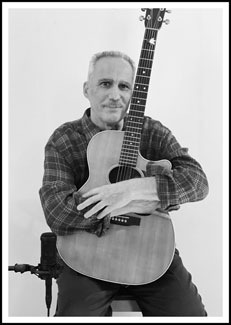 This recording is very much connected to Steve's work putting to use Latin rhythms, but arrives as completely unique, because of Mark's soulful vocals and unparalled harmonic creativity. The performance brings together the familiar names of: Rob Mounsey (Keys & Orchestrations); Rubén Rodríguez (5-String Elec. Bass) and Marc Quiñones (Timbal, Conga, Bongó & Percusión Menor). Each adding his own special touches.
Recorded between December, 2020 and January, 2021 in cities as varied as: New York, NY; Nashville, TN; Brooklyn, NY; the Bronx, NY; and Miami, FL, this most unique collaboration was mixed by Malcolm Pollack and mastered by Greg Calbi. The most effective and evocative video was seamlessly edited by Jimmy Branly. Everything was brought together by the very courageous Joseph Patrick Moore and his Blue Canoe Records who had, to that point, never ever released a one song project.

Throughout his long and distinguished career, Steve has found time to lend his talents to recordings and appearances by such diverse artists as: Miles Davis, Steely Dan, James Brown, Aretha Franklin, Chaka Khan, Billy Joel, Ashford & Simpson, Michael Franks, Phoebe Snow, Patti Austin, Al Jarreau, Quincy Jones, Michael Jackson, George Benson, Grant Green, Billy Cobham, Freddie Hubbard, Lou Rawls, Gladys Knight, Diana Ross, Randy Newman, Rickie Lee Jones, Kenny Loggins, Eddie Palmieri, Gil Evans, Buddy Rich, Maynard Ferguson, Bob James, Dexter Gordon, Woody Shaw, Stan Getz, Hubert Laws, the Brecker Bros., Steps Ahead among others (too numerous to list).
He has also produced recordings for fellow guitarists Larry Coryell, Mike Stern, Biréli Lagrène, and Bill Connors, as well as pianist Eliane Elias.
In addition, he has published four highly-regarded books: "WES MONTGOMERY GUITAR FOLIO", "PAT MARTINO-The Early Years", and Steve's own innovative instruction books: "CONTEMPORARY CHORD KHANCEPTS"(1996) and "PENTATONIC KHANCEPTS"(2002) which is intended to serve as the linear adjunct to its chordal predecessor. And, JUST PUBLISHED 2022!!! The "STEVE KHAN SONGBOOK" from Chuck Sher Music - a 20-song compilation from Steve's long and storied career.
Photos: Top left: Mark Wohlrab(2003) | Middle right: Paul Aresu(2002)
Middle left: Richard Laird(2011)
Lower right: Richard Laird(2014) | Lower left: Photo: Richard Laird(2016)
Bottom right: Richard Laird(2019)
Bottom left: Simon Berg(2022)