Steve Khan's Lead Sheet for:
"Masala"(Bakithi Kumalo-Steve Khan)



I suppose that I first heard about South African bassist Bakithi Kumalo when Paul Simon's "GRACELAND"(Columbia) album took the USA by storm in 1986. I don't think that I actually had the privilege of meeting Bakithi until many, many years later. I never would have anticipated that he and I would end-up working closely together and creating, co-writing two interesting pieces of music for what was to become his first album as a leader, "SAN BONAN"(SIAM), released in 1998.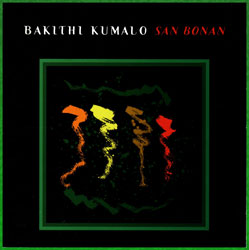 Virtually all of the work that I did for and with Bakithi was done during the calendar year of 1997. I just spent some time with my reliable datebooks from those years and researched when various events took place. It was fascinating looking back at that period of my life. I had just recorded "GOT MY MENTAL"(Evidence) in 1996, and Rob Mounsey and I had begun our second collaboration that resulted in one of my favorite albums, "YOU ARE HERE"(SIAM). I was some 3 years past my divorce, though still having a difficult time of it - that I recall very well.

As it so often does, working with Bakithi began with a phone call - and it came from then GRP Records staff engineer and head of post-production duties for the label, Mike Landy. Like so many people in the music business, Mike had many dreams, bigger dreams, and sought to produce and perhaps, someday, have his own label - benefitting from his experience with the immense success of GRP. My memory is a bit hazy where the exact chronology is concerned, but I believe that Mike first contacted me to see if I wanted to play some guitar on a couple of the tunes for Bakithi Kumalo's album. I ended-up playing on and enjoying both "Makhaya" & "Zululand" and I especially liked "Makhaya" - written for a dear friend of Bakithi's. I imagine that, in conversations between Bakithi and Mike Landy afterwards, they liked what I had done, and Mike approached me to see if I had any tunes that I thought would be good for Bakithi and his album.
As it turned out, I had been working on two particular pieces of music, very keyboard oriented - and they represented more of the explorations of my then ongoing study and love for the harmonies of Clare Fischer.

As I was working away at what became known as "Lalela Kahle"(Listen Up!), simultaneously I was also experimenting with a completely different keyboard style of montunos or guajeos for another piece that was to become known as "Masala." I had been listening to a lot of older Oscar D'León recordings, and there were so many great songs with simple keyboard parts, often in 3rds or 6ths, which sounded so great to me. I wondered what I might be able to do using similar ideas, but having the left and right hands playing notes from more sophisticated altered chords. It is this kind of idea that introduces this piece in the Intro, letter [I]. From there, the 'song' becomes pretty much a one-chord montage in and around C7(9/13) with punctuations coming from other sonorities, often two major triads stacked on top of one another - but these sounds still reflect dominant 7th chord colors. However, in order to actually get everything to sound like a truly musical keyboard player was performing it, i was very fortunate that Mike Landy had the computer technology skills to help me sequence everything so that it sounded and felt pretty great - even if I had to play it into the computer at half-speed. I had notated everything at home, but the various sections were sometimes scattered across several piece of music paper. This was a process, in a sense, of composing as you go. I had a form in mind for the piece, but as Mike and I labored over it - I am certain that there were many moments of cutting and pasting sections, and moving them around in a musical way. As all this was going on, I can't say for certain that I had a vision in mind of what kind of lead vocal I was looking for from Bakithi, and I can't say for certain that I had a horn section in mind. As I was writing this piece for KORNER 2, I explored the large envelope containing all of the written music related to Bakithi's album. I found that I had actually notated the melody, such as it was, for Bakithi to sing and compose lyrics.
If you follow the chronology presented below, you will see that it wasn't all that long thereafter that we were ready to add in a most important musician and ingredient to everything that I was hoping to create, and culturally merge for this project.
Unlike "Lalela Kahle," I knew that this particular tune was going to call upon a kind of Salsa expertise, and for that I was going to need the presence and superb musicianship, groove and knowledge of all things Latin music, the great, great timbalero and percussionist, Marc Quiñones. Marc and I had already done a couple of significant projects together, and I just knew, I felt in my soul, that he and I were embarking on a journey that would see us recording together many times. Lucky for me, this came true! Working together with Marc has been one of the most fruitful collaborations in my musical life. So, it goes without saying that, Marc came in to the GRP Studios on April 19th, 1997, and after having completed his labors on "Lalela Kahle," Marc took a completely different approach to "Masala"! He recorded conga, timbal, bongó, campana and güiro. While doing all of these percussion parts, with his flawless musicianship, he negotiated all of the tricky little break figures and personalized them in the best possible way. When someone, like me, is working in a new area of music, serious music, you have to depend on the people that you bring in for the flavor, the sabor to make the music come alive - and Marc did that and so much more! His performance on this tune was simply spectacular!

Below, you can follow through with a view of just how a project like this, put together in various pieces could and did span in essence a full year to arrive at its completion. Well, at least completing the work on these two tunes.



[January 11th, 1997] - Meeting w/ Mike Landy & Bakithi Kumalo
[January 18th] - Recording guitar for Bakithi @ GRP Studio on "Makhaya"; "Ulwandle" & "Zululand"
[February-March] - Keyboard Sequencing @ GRP w/ Mike Landy
[April 4th] - Transfer Keyboard Sequence to Tape
[April 19th] - Marc Quiñones records conga, timbal & güiro
[May 21st] - Horn Section w/ Oscar Hernández(Arr.), Barry Danielian, Bob Franceschini, Ozzie Melendez & Pablo Calogero
@ Unique Recording - Malcolm Pollack: Engineer
[July 22nd] - Keyboard Sequencing @ GRP Studio w/ Mike Landy
[July 29th] - Keyboard Sequencing @ GRP Studio w/ Mike Landy
[October 6th] - Keyboard Sequencing @ GRP Studio w/ Mike Landy
[October 16th] - Bakithi records his vocals @ GRP Studio
[October 20th] - Background vocals w/ Bakithi, Armstead Christian & Bernie Minoso
@ GRP Studio
[October 25th] - Meeting w/ Bob Franceschini - "Masala" Horn Arrangement
[October 27th] - Horn Section w/ Bob Franceschini(Arr.), Barry Danielian & Noah Bless
@ Unique Recording - Malcolm Pollack: Engineer
[November 13th] - Bakithi records his bass @ GRP Studio
[November 15th] - Mixing "Masala" & "Lalela Kahle" @ GRP Studio w/ Mike Landy
[October 6th 1998] - Release Date on SIAM Records



Of course, collaborating/songwriting with someone that you really don't know much about can be really tricky - challenging, but once you find a way to communicate about ideas and concepts, things can begin to flow in a meaningful and wonderful way - not to mention, become lots of fun. This piece of music needed many things from the melodic and vocal standpoint. So, Bakithi and I had to come-up with a concept. The lyrics to so much Salsa, and many other kinds of music including our own R&B and Blues, can be about the most simple things in life. This piece did not feel like it was crying out to be a song about someone damn done me wrong. So, I thought for a moment, and I said to Bakithi, "What if this song became a celebration of food? Foods that you like!" He smiled at me, and said: "Yes! I can do that!" And so, the process was off and running. I don't know exactly when Bakithi and I had that conversation,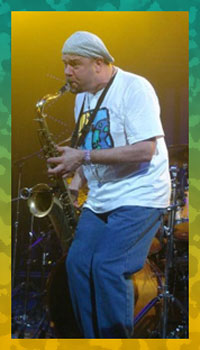 but if you look at the chronology again, Bakithi did not record his vocals until the 20th of October!
Just as it was with "Lalela Kahle," I knew that I was going to need Bakithi's wonderful speaking voice and beautiful energy to perform some spoken passages. You hear these elements in both [I] and [I2]. Then, at [A], the vocal begins in full, and from there, and off we go. I know that I am repeating myself but, after looking through the huge envelope that houses all of the music from "The Bakithi Project," I found music work sheets that contained my sketches for the [A] melody sections that you now hear. Honestly, I didn't recall that I had done this. Now do I still remember what Bakithi told me about what he was saying in those lyrics? No, not even close to it - but, I do remember him mentioning something about tomatoes, onions, and cabbage. What else was going to go into this "stew" of elements? I still don't know. But, I know that we were all having a lot of fun, and smiling a lot. When we finally get to letter [B] and [B2], a new element, instrument, enters with a kalimba playing a kind of guajeo, while the bass is playing some very specific staccato punctuations. When I hear this section now, it becomes obvious to me that I was very much influenced by Cuba's Issac Delgado's great band of that period, which played many brilliant arrangements by Joaquin Betancourt. I now hear that this section, rhythmically speaking, is bearing the flag of Issac's "Deja que Roberto te toque"! I just loved that song, and that whole album, "OTRA IDEA"(RMM). Bakithi's then wife, Robbi, does some nice vocalese to a melody that I found that I had indicated on a page within the aforementioned 'huge envelope' - I did not recall doing this either. That same vocalese dances around Bob Franceschini's amazing horn writing - or perhaps it was the reverse, and Bob's arrangement danced around Robbi's vocalese? I can't recall this detail either.
From there, the arrangement offers a breakdown with the Intro reappearing. This time when we reprise letter [A], the background coro enters in support. And then, a new wrinkle is added for a section that I labeled, on Pg. 5, as [A'], and here I asked, or pleaded with Bakithi to come-up with a "rap" in his own language that would be rhythmic and a bit monotone - but effective. And so, he came-up with something terrific, and both Armstead Christian and Bernie Minoso joined him for this wild little ride which was all percolated by Bob Franceschini's horns. I have to point-out the remarkable tongue-clicks, as I would describe them, that Armstead and Bernie tried to master - but, lucky for us all, I think that Bakithi's clicks were so loud, that you hear enough of him that it doesn't matter if anyone else could do it or not. It was pretty funny. From this point, you have several sections that then repeat: [I3]-[B](Kalimba)-[B2]-[I2]-[A]-[A'](Rap) and finally, we get to a brand new section [A3], which in Jazz terms is probably some kind of a "Shout Chorus," but perhaps in Salsa terms, it could be the moña. No matter what you call it, it was some great writing and playing from Bob and the horn section. And this joyous Horn Shout brings us to the [Tag] and another crisp ending! You see? I can come-up with endings!!!

But let us address these amazing horns with greater detail and respect. With the musical success of adding Oscar Hernández' horn arrangement to "Lalela Kahle," I felt that we could surely do something similar for "Masala"!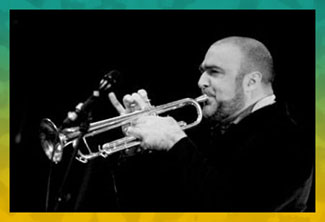 There was certainly a lot of empty melodic space that needed to be filled-up. When I contacted Oscar to see if he could do a 2nd arrangement for the project, he was busy working on something else, and wasn't going to have the time. So, and this was so fortunate for me, he told me that Bob Franceschini, the great saxophonist, whom I knew and already loved his writing and playing for timbalero Ralph Irizarry's incredibly innovative group "Timbalaye." I had a strong feeling that Bob would do something great - and, that it would be very creative! So, not dragging my feet for an instant, I contacted Bob, and sent him the track, and he was excited to do it. He had plenty of time to craft his arrangement.
Bob's arrangement, for which I still have all of the parts, calls for: 2 trumpets, 2 tenor saxes, 2 trombones, and baritone sax! On that late October day when we recorded the horn section for "Masala," we had Bob to play tenor and baritone sax, Barry Danielian(trumpet) and Noah Bless(trombone). To get all of the parts done, they had to play through the arrangement twice. And then, once that was done, Bob added in the baritone sax. And finally, we had it. That particular session was engineered by the magnificent Malcolm Pollack at Unique Recording here in Manhattan.
I can't thank Bob enough for his contributions to this piece of music. His horns and writing turned "Masala" into something far better than I ever could have envisioned.It became a truly unique piece of music, fusing so many cross-cultural elements. I would also hasten to add that Bob has also been one of my great teachers, and gave me so much advice that has led to my own better understanding of the vast genre of Latin music, if still growing slowly. filled with so many intricacies and beauty. He is the one who told me that I had to learn how to tap out the patterns for cáscara and the clave with both hands - and then switch them. I still practice this while sitting in quiet movie theaters. No one really hears me, because I am not doing this very loudly. Don't worry, it's O.K. to laugh!


I wanted to share with everyone what Bakithi wrote about this particular song in the CD booklet. He said the following:

"It was great fun working with Steve Khan, so we did it again. Steve came with the topic of food. And I said, "Food! Wow!?!?!?!" Food is one of my favorite things, next to the bass. I thought of the foods that I like to eat. But whatever I eat, I want it now!!!"

While preparing this page, I looked through the CD booklet for "SAN BONAN" and saw that I had played on a tune of Bakithi's called, "Zululand," but I didn't remember anything about it. While listening to it, after all of these years, I fell in love with it again. It's just wonderful, and so, I wanted to share the story that Bakithi wrote about this particular song in the CD booklet. He wrote this:

"When I was a teenager, a big break came my way, and I went on tour with a band called the VIP's. Unfortunately, we got stranded for 18 months in Zululand. Because our van broke down, we couldn't get around to do shows. We had no money, not much food except for sugar cane and oranges from the farms, and some of the musicians met their wives and left the band! I had no way to contact my mother for help, so I stayed. I practiced the bass. I lived off of the beauty, kindness & peacefulness of the South African countryside and the Zulu people. Still today, some of my fondest memories of music come from this time in Zululand."

When one embarks down the road of a collaborative project like this one, through all the ups and downs, the end result is really the only thing that matters. I remain ever so grateful to both Mike Landy and Bakithi Kumalo for their faith in me - and for allowing me the freedom to follow my own particular muse in order to produce a result that, in the end, would be the best for Bakithi and his album - and give his many fans a chance to hear a most unique fusion of elements, genres and cultures coming together in a once-in-a-lifetime way.
One thing that I do want to address here is the obvious fact that nowhere did I play any guitar on this tune! You might be wondering, "Steve, why is that?" Well, it's pretty simple. At that time, I just didn't hear anything, the thought never even entered my mind - so I left things as you now hear them. When I listen now, nothing feels like it's 'missing' to me. Yes, I suppose that I could have invented something, using a Strat would seem to be the best choice for the sound and feel of this tune. Sitting here now, I am happy to let this piece of music stand as it is.
It remains a most bitter and sad, sad irony that about 2 weeks after both "SAN BONAN" and "YOU ARE HERE" were released on Mike Landy's SIAM Records, the company had to go out of business - leaving both albums flying on the winds of cruel fate - and, in essence, lost forever. To this day, it makes me so sad I can barely speak about it. To have worked that hard on two projects and to see them gone in an instant. It was really crushing. I'm sorry for ending on such a note - but, it is also a part of this story!



[Photos: Bakithi Kumalo - Photo by: Guy Keren
Marc Quiñones
Bob Franceschini
Barry Danielian]