Steve Khan's "Got My Mental"
Lead sheet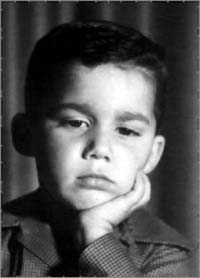 Initially written as a blues "with a bridge," "Got My Mental" was one of the last pieces we recorded. It is intended to appear as if the 'head' has the form of a 32-bar A-A-B-A standard, even though each [A] is 12-bars in length, and [B] only has 8-bars functioning like the bridge in a 'rhythm changes' tune. I chose the key of Ab solely because we don't often play a blues in that key. If you've heard the recording, then you already know that John Patitucci and I play all the [A] melodies in unison. But, if you look at the lead sheet you can see that I had a very specific bass part in mind to be played in half-time. Because John's musicianship is at such a high level, his musical instincts immediately gravitated towards playing the head with me....and, he even read it in treble clef. Again, a tribute to his tremendous musicianship. When one is faced with recording and mixing an entire CD in two days, you must try and be as flexible about 'small details' as is possible! You will notice that I had indicated that we should play [B] between each of the solos, but, as we were only able to have ONE 3-hour rehearsal the day before the sessions, I just felt it best to let that part of the arrangement go. Were this tune to be played live, I would certainly use the 'bridge' between solos. At the rehearsal, we played the tune at a very brisk tempo and it felt great, but, somehow when we got into the studio, it was a different day and another feeling prevailed. So, Jack DeJohnette counted it off at the tempo you now hear, which felt good to us, and that was that! Like many of the tunes on the CD it was done in one take. Here my philosophy is that IF the performance basically captures the 'intent' of the piece then doing it once more, or 6 more times, isn't going to change it in any significant way. If it is a good representation of where everyone was at on that particular day then it should be fine. Jack's playing throughout is brilliant, and his subtle commentary during the melodies makes it seem like we had actually played this tune for a solid week in a club before recording. Prior to Jack's drum solo, and after the bass solo, Jack and I traded some 'fours.'
Over the years, I've learned that NO piece of music is 'completely' original, and that everything can sound a little bit like something else. Things we've heard, even though it might have been years ago, can creep into a new tune.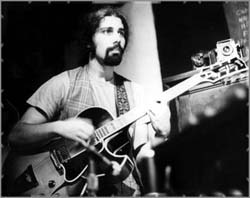 In hindsight, "Got My Mental"(a phrase or two) reminds me of the angular lines from an old blues, "Uptown Ed," composed by Mike Brecker which we recorded for the "BLUE MONTREUX"('78) LPs by the Arista All-Stars(which included Randy Brecker, Mike Mainieri, Warren Bernhardt, Eddie Gomez, and Steve Jordan). In our earliest years in New York City, I remember spending a lot of time in Mike's Chelsea loft and his showing me a book he kept which contained only blues heads. He told me that he went through periods where he would try to write 'a blues a day!' This seemed like a great idea to me, and at various times, I've done the same thing. As a teacher, I have advised my students to try this device too. Generally speaking, I always have doubts about some of my own tunes, and this one almost didn't make it, but Jack & John really seemed to like it, so we recorded it.
I will hope that these notes and insights add to your enjoyment of the tune, and that IT gets your "mental!"


[Photos: "pensive" Steve and
Steve "live" @ the Focus Gallery, New York, 1970]