In 1995, my dear friend, pianist/composer/arranger Don Grolnick recorded his final CD "MEDIANOCHE" which was eventually picked-up and released by Warner Bros. Sadly, it was not too long after that we all lost Don to a battle with lymphoma. To this day, Don is missed tremendously by his family, friends, and by all those who loved his playing and compositions. Don and I were close friends and musical associates for nearly 30 years and, in some small way, I feel like I had a hand in this recording. You see, it was many years before when I gave Don my 'extra' LP copy of Cal Tjader's recording, "SOUL BURST"(Verve), which features some brilliant playing by Chick Corea.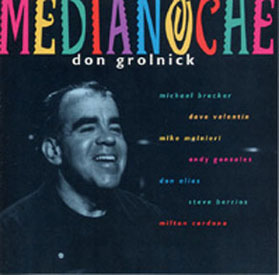 Don always loved this recording and when he decided to explore the world of Latin jazz, this recording, its feel, its attitude and even many of its tunes, became the model for the band he assembled. A band which included longtime colleagues like Michael Brecker, Mike Mainieri, Don Alias and, from the Latin world, Dave Valentin, Andy González, Milton Cardona, and Steve Berrios. Of the four originals on this CD, Don's composition "Rainsville" seemed to immediately resonate with everyone who heard this medium tempo cha-cha, and it is marked by a fundamentally understated but brilliant Michael Brecker tenor sax solo which is just four choruses in length. Let's take a closer look at some of the fine details.
Though the composition itself is far more complex in form and harmony, the solos are taken over a most simple Bb 12-bar blues form. When Mike begins his solo, one has the feeling that he has taken a deep breath, reminded himself to relax and to just 'let the music play HIM!' The first two choruses feel so relaxed and composed, marked by phrases which organically grow from one another. When taken in total, this brief improvisation is a model of saying MORE with LESS....and seemingly with less effort and energy too. Mike begins chorus [1] with a very simple motif and allows it to take him into its development. In chorus [2], another small motif is begun and developed, but this time it's a bit more of a rhythmic idea featuring varied groupings of 8th-note triplets. One device which makes Mike's playing here so effective is his usage of purposefully playing behind the beat with extremely 'laid-back' passages. For example, listen to his phrasing in chorus [1], bars 8-10; and then in chorus [2], bars 8-11...all played with beautiful feeling.
In chorus [3], the solo picks-up in intensity and activity and it's my feeling that the 'singing' quality of that first high concert 'C' gives this chorus an extra push. In bar 4,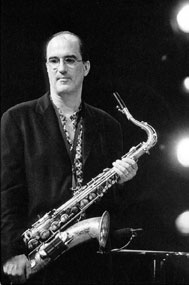 Mike employs the Coltrane-esque device of alluding to Bm7-E7 as a means of creating tension while passing to the IV7 chord in bar 5. Then, in bars 10-12, we are given the only double-time flurry of 16th-notes, which offer a blend of some pentatonic shapes and chromaticism as well.
In chorus [4], Mike offers, what could be called, an 'accompaniment' of himself by using the device of saxophone 'multiphonics'(more than one equal sounding pitch) and what I've done in the transcription, which is written in the register of the guitar, is to indicate the 'primary' sounding pitch. This device is a bit reminiscent of Eddie Harris' tune, "Listen Here." Mike answers the multiphonic punctuations with short pentatonic or bluesy bursts. The solo drives to its conclusion by again using the device of laying back slightly behind the pulse in bars 10-12. Perhaps of special interest for its notes is the phrase which closes out the solo from beat 4 of bar 11 through bar 12. Even though the chord is a Bb7, it's so interesting just where Mike has placed an 'A'-natural. That pitch, the major 7th, on a dominant 7th chord shouldn't sound so good and yet Mike makes it sound completely natural while one senses that something unusual has happened. In general, I think chorus [4] is also marked by Mike's wonderful and very understated sense of humor.
If you enjoy this solo, then I can only say please, PLEASE take a moment and go out and purchase this wonderful CD by Don Grolnick. It is a consistently well written and arranged recording with brilliant performances from all these tremendous players. I know you won't be disappointed! Also, if you're interested in obtaining the lead sheet for "Rainsville," you might want to purchase "THE LATIN REAL BOOK"(Sher Music Co.) which contains classic tunes from both Latin jazz and Salsa.
From all of us who knew him: Don, we love you and miss you very much!!!

Addendum: As my mind was wandering this morning, Thursday, June 17th, 2021, I was remembering Don Grolnick's incredible performance and eventual live album "THE LONDON CONCERT" from 1995, which featured: Michael Brecker (Tenor Sax);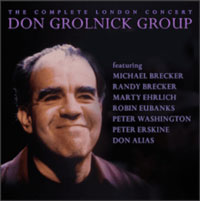 Randy Brecker (Trumpet & Flügelhorn); Marty Ehrlich (Alto Sax & Bass Clarinet); Robin Eubanks (Trombone); Peter Washington (Ac. Bass); Peter Erskine (Drums); and Don Alias (Percussion). All culled from the Peter Erskine Archives, and graciously released as a limited edition CD of Set 1 with the "COMPLETE LONDON CONCERT" only available as a digital download from Pete's Fuzzy Music label, featured at his website.

Remembering this wonderful recording, I returned to it today, and had to listen to the performance of "Rainsville" which featured incredible solos from Mike, Don and Randy, all graced by Don's newly added horn arrangement, now for 4 horns. As I listened, I just could not believe the majesty of this performance, which clocks in at 15:33 and only appears as part of Set 2 within the digital download. I can only urge anyone and everyone who is a Don Grolnick fan or a devotee of any of these great musicians to PLEASE click on the links supplied here, and go to Peter's website and purchase this music. It is a must have!
I found this performance to be so inspiring and moving that I just sat there transfixed by this music and yet again, the losses of both Don and Mike, not to mention Don Alias. Please make the effort to listen, it will be worth every second of it.


---