Steve Khan's "Sisé"(Khan, Jackson, Badrena, Weckl, Jordan)
Lead sheet
I don't believe that I've actually sat down and listened to "Sisé" from the "PUBLIC ACCESS" CD('89) in 10 years or more! I'm writing this on a beautiful summer's day in July of '03 and, though this lead sheet will not appear at KORNER 2 until February of '04, I am still amazed that I was a participant in the compositional and recording processes of this most unusual piece of music. I continue to say that, sometimes, when a group composes together, when something is the product of 5 minds, as in this case, you can come-up with things which no one person could have invented.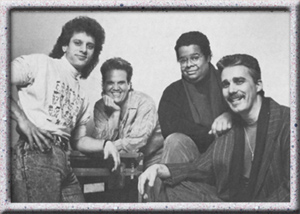 After we, Eyewitness, had recorded "CASA LOCO" in '83, things really seemed to unravel for the group. Though our recordings were released in chronological order in Japan, in the U.S. and Europe it was much more difficult to get things off the ground. As a matter of fact, all three recordings had been released in Japan before "EYEWITNESS" was even released here!!! "CASA LOCO" was not released in the U.S. until '85. It was very frustrating. And, when you add to that the fact that it was easier for us to go play in Japan than it was to play anywhere outside of New York City, well, it just seemed like the message was all to clear, "this music did not appeal to enough people to keep the group alive!" And so, somewhere during late '85, without a real formal announcement, we just stopped working on new music together and I went and joined Joe Zawinul's Weather Update for a 7-week tour of Europe and the U.S.! However, the story of Eyewitness was far from over.
During some of post-"Casa Loco" rehearsals at Steve Jordan's loft, we continued to explore that type of extended song form which would still include all the "jazz" and "Latin jazz" elements alongside Manolo Badrena's inventive vocals and lyrics. I continued to record those 'jams' on a portable cassette deck. But, when the band seemed to be at an end, those CSTEs were just stored away, neatly and safely, in a closet.
In '88, after getting married, I realized that I had not been thinking much about music at all, and so I remembered those old rehearsal CSTEs and spent an afternoon listening through all of them. During those hours I located 'jams' which were to become the 'germs' of four of our most interesting compositions: "Sisé"; "Kamarica"; "Botero People"; and "Mama Chóla." At that time, I had no record deal, as usual, and decided that I would self-finance, for the 3rd time, my own recording. I phoned Anthony Jackson and Manolo to see if they would do it with me so that we not allow these potentially unique compositions to die on a rehearsal CSTE. They agreed and we decided to call upon our close friend, the brilliant Dave Weckl to play drums with us for this project.
I spent virtually all my time trying to complete the musical side of the compositions, plus writing new pieces. More than this, I began traveling back-and-forth to New Jersey(where Manolo had moved) to work with him on just where and how his vocals would fit; and to monitor the progress of the lyrics. I had no idea how very special it would all be once it was completed. And, in January of '89, we entered into one week of intense rehearsals, and then we recorded and mixed, "PUBLIC ACCESS."
The fundamental 'germ' of this tune is set-up by the very simple guitar figure which appears in the [Vamp]. It is, in essence, a "guajira" which, on the surface seems to be going to-and-from Abm7 to Db7. However, with the beauties of the guitar's open-strings, when you add the open E-string to this, in this key an F-natural(#9), you get a rather unique sounding guajira. Then, when you add to this the brilliant bass mind of Anthony Jackson suddenly a two-chord montuno has touched upon harmonic areas like Gmaj7(#4) and Emaj6/9. And in the letter [A] sections we brush by Dmaj7(6) as well. Again, this is why 'group composition' can be so remarkable. I never would have thought of those harmonic touches! NEVER!
Of course, what can I say about the lyrics? I am probably NOT the best person to attempt to explain any of this, but, I'll try. Manolo once explained to me that "Sisé" is supposed to be some kind of play-on-words, and related to "Circe" from "THE ODYSSEY" who tempted sailors to veer off course! So, make of that what you will. The rest is a combination of God knows which dialects, which combine some African and Spanish roots. Just remember that in "Manolo-speak" all the vowels have Spanish pronunciations, so: a = ah; e = ay; i = ee; o = oh; and u = oo.
I can't escape sharing with you a little 'studio humor' from our assistant engineer for the project, Pat Dillett, who, like the rest of us, not understanding a damn thing about what Manolo was saying, made-up his own lyrics based upon the sounds he was hearing, and they began something like this:


"Sisé, the Casio is borrowed,
Jelly roll, and some bagels"


Fortunately, or unfortunately, depending upon your point-of-view, that's all I can remember from some 14 yrs. ago!!! But, you get the picture, and hopefully you had a good laugh too! Sorry for that diversion, but now, here are Manolo's actual lyrics.


[A]
Sisé, kasiambara
njaribo, se sempego
yembu bata, anaribo
Sisé, se sempego

Sis&eacute, anaribo
kasia, yarewo
yembu bata, kolowo
Sisé, ariwo

[A2]
Sisé, kasiambara
njaribo, se sempego
yembu bata, anaribo
Sisé, se sempego

[C]
Hey, yay yay de,
Sisé, sabe donde están
Hey, yay yay de
Ha de ha de

Hey, yay yay de,
Sisé, ya notificó
Hey, yay yay de
Ha de ha ah


I suppose that I should mention something about the guitar improvisation. Here again, we are incorporating elements of 'free' playing though there is a basic harmonic tonal-center of Db; and that center is probably most connected to the Db7(alt.) sound which appears at [B1]. However, if you listen closely to the brilliant and unique mind of Anthony Jackson plundering the depths of the lower registers, you can hear a lot more than a pedal, or a vamp! During such improvisations, I usually try to give them substance by alluding to pieces of melodic material, which might have appeared before, so you can clearly hear this as the solo unfolds. Some of what you hear now was recorded with the help of my Bob Bradshaw rack, and the KORG DVP-1 harmonizer which I explained in some detail in the analysis for "Blue Zone 41." However, here I used a couple of different programs which I made. The first sounds you hear are of the guitar playing in m3rds. And this is one of the only programs I use where the harmonized voice plays ABOVE the note I'm actually playing! So, you would simply program your harmonizer to add a note at [+3]. As the solo continues I used a much more dense voicing, which adds the notes BELOW the melodic pitch I'm playing. Basically this is a voicing which sounds out a dominant 7(9b5) chord and to get this effect you would program four voices in your harmonizer to: [-2] [-6] [-8] and [-10]. And, when you couple exotic harmonic sounds like this with the explorations of Anthony Jackson, miraculous things can occur.
Though I would now definitely change just how I labeled some of these sections, if you wanted to map out the form of the piece in an "alphabet soup" manner, here's how it might look:


[I1]
[Vamp]
[A] Vocal
[Vamp]
[A'] Vocal
[B1]
[B2] Guitar Melody
[B1]
[B2] Guitar Melody
[Vamp]
[A2] Vocal
[C] Vocal
[I2]
[D] Guitar Solo(w/ [B1] feel)
[I2] On cue
[Vamp]
[A2] Vocal
[C] Vocal
[E] Percussion Solo
Repeat & Fade
Again, if I were to rewrite this lead sheet, I would not label any section by calling it the [Vamp]. This section would have been labeled as [I2] and what is now [I2], it would have become [I3]. But, for now, this lead sheet is already too damn long and complex to do it all over again!!! And, for the sake of 'history,' you are looking at the exact lead sheet that we all used when recording.
From a compositional standpoint, what I like the most of [C] is the fact that it is a brand new, and contrasting section, but in bars 4-5 and 11-12 the 'attitude' of the original guajira you hear in the [Vamp] is reprised but reharmonized. It's a nice touch and one which serves to glue the composition together as a unified whole.
After the reprise of [C], we arrive at [E] for the percussion solo and the eventual fade. Rather than just keeping the same guajira for this section, I stumbled upon utilizing the same guitar fingerings in conjunction with the open high E-string and came-up with two additional harmonic areas which are played for 8-bars each. Anthony's bass line moves up accordingly with each change of sections. I suppose that you could label each 8-bar section this way: [E1] [E2] [E1] [E3] and that 32-bar section would repeat until a cue was given for the ending.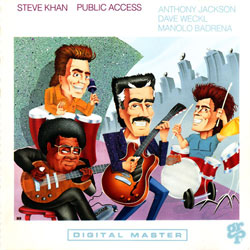 And, by the way, I don't remember what we came-up with for an ending. The only time this tune was performed live was at Dave Weckl's performance for "MODERN DRUMMER" Magazine, it was really funny too, NOT(!!!!), because we kept vamping and vamping, waiting and waiting for Manolo to come in with his vocals. But, he was either so spaced-out or nervous that he almost never came in. It's only 'funny' in hindsight! Believe me, Anthony, Dave and I, we were all dying a slow death up there!!!
From the 'business' side of things, because everyone involved put in so much love and energy into the composing/arranging and recording processes, these tunes were split equally with 20% going to each person. The idea was that we would either get 'rich' together or we would stay exactly as we were, but that no one would walk away with more than anyone else. Needless to say, we are all just the same as we were!!! But, being fair, that is the best way to attempt to keep a group together when times are difficult.
As this was written during November, the month of our holiday of "Thanksgiving," I would again like to give thanks for the joys of friendship. Without the long-lasting friendships of Anthony, Manolo, Dave, and Steve Jordan, none of this music would have been possible. I remain grateful to them all for their generosity and selfless contributions, which are and were massive. From here at KHAN'S KORNER we continue to wish everyone the best of everything, especially good health!!!


[Photo of Eyewitness by David Tan, at American Sound Rehearsal Studios, New York City.]