Having already expressed my feelings about the Broadway Musical, it must also be noted that, prior to the excesses of 'schlockmeisters' like Andrew Lloyd Webber, the genre has produced some of our most memorable songs. Songs which the great jazz masters of the past and present have called upon time and time again for inspiration and interpretation.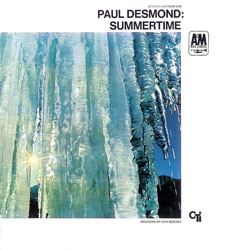 Though the song "Where is Love?"(from the Broadway show, "OLIVER") is rarely played by jazz artists, Paul Desmond's interpretation, supported by Don Sebesky's touching arrangement, stands as a thing of great beauty, now and for always. This particular song is from Desmond's LP/CD "SUMMERTIME"(A&M) which was recorded in 1968.
As guitarists, it is extremely important to reach out beyond our own instrument and examine how other instruments approach improvising and the problems presented by any particular tune. This transcription is written in the range of the guitar. Therefore it is written one octave above where Paul Desmond's alto sax actually played it. Perhaps were it not for the huge success of his composition "Take Five," it's possible that Paul Desmond's body of work, his warm sound and his always musical solos might have been ignored because he played during the years that "Cannonball" Adderley ruled the instrument. I decided to present this particular solo because it is such a perfect example of what makes Paul Desmond so special.
Let's first take a quick look at the interesting and different form of this tune, because it is not an A-A-B-A form, nor is it, what I might call, an A-A', each usually being 32-bars. "Where is Love?" has three distinct sections, A-A-B, with each [A] having 16-bars and [B] concluding with 24 bars. I've written the transcription in cut-time(in two) because it best indicates where we feel the pulse. Often times a transcription, such as this, will begin with a 'pick-up' to the solo, usually not more than a bar or two. However, here I decided to include the last 8-bars Desmond plays leading-up to the downbeat of the actual solo. Although the tune is essentially approached as a ballad, there is a kind of implied 'groove' to it. It even seems to float between what could be described as lightly 'swinging,' to an even-8th note feel, yet, it is neither. The 'groove' seems to come from the figure Herbie Hancock employs at various times and you can see it indicated in the 4-bars which precede [A].
One thing about virtually any Paul Desmond solo is that he always sounds so totally relaxed, in a sense, at peace with himself, playing within his abilities and strengths. Each phrase of this improvisation seems to flow effortlessly from what came before, possessing an intuitive logic. Though Desmond would probably never be accused of being the bluesiest player to ever come down the pike, his employment of the 'blue note'(in this case the minor-third on a major 7th chord, EbMaj7) Gb is really a nice touch. You can see this in the pick-up bar to [A], bar 2 of [A] and once again in bar 2 of [A2]. Notice how he develops small ideas such as the phrases which begin two bars in front of [A2] and continue; or the phrases in the first 8-bars of [B]. Don't miss the small motif in bars 11-12 of [A2] as well. Throughout the entire solo, Desmond sticks pretty much to the modes/scales(which comply with each chord) or with arpeggios of chord tones. The seeming simplicity belies his harmonic sophistication; just notice how he slips in the outline of a 13b9 chord in the bar before [A2].
On various analysis pages at the site, I have tried to encourage everyone to become familiar with the lyrics to some of these wonderful songs, especially the ballads. "Where is Love?" is a most touching song, and this comes from someone who loathes the Broadway musical. Take a moment to read the lyrics and capture the feeling that guides this song.



Where is love?
Does it fall from skies above?
Is it underneath the willow tree,
that I've been dreaming of?

Where is she?
Who I close my eyes to see
Will I ever know, the sweet "Hell-o"
that's meant for only me?

Who can say where she may hide?
Must I travel far and wide?
'Til I am beside the someone who,
I can mean something to
Where?
Where is love?



Sometimes we tend to measure the greatness of a solo by its sheer length, you know, how many choruses were played. Late in his career, Wes Montgomery was accused by critics of not playing as much as he used to on his earlier recordings,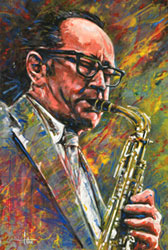 but, what stands to this day is that he always played beautiful and melodic solos, AND, played the melodies with individuality and warmth. Here, Paul Desmond has just played one simple chorus, and yet, it is filled with tremendous grace and personality. Truly a lesson for us all. How well I recall listening to the Desmond-Jim Hall recordings while traveling with the Brecker Bros. Band in the '70s, and when David Sanborn would hear Paul Desmond, he would yell at me to turn it off and ask, "How can you possibly listen to that guy?!?!?!" Not too long ago, I read somewhere that David had changed his tune and had expressed how much he liked Paul Desmond. I couldn't believe it! Actually, I would have to hear him say that in person to believe it. But, for me, I'm a Paul Desmond fan where these recordings are concerned!
Recently, while searching around the internet, I stumbled upon another beautiful version of "Where is Love?" performed by Cal Tjader and Clare Fischer on Cal's CD titled, "HERE AND THERE"(Fantasy). What is so special about this version is that there is an incredible solo Fender Rhodes Intro by Clare Fischer which is worth the price of the CD!!! If you've become a fan of this song, don't fail to check this out, now right here at the website! Thanks to you all for your continued visits to KORNER 1, we have appreciated your supported and positive feedback so very much!