Steve Khan's "Eyewitness"
Lead sheet
I recall, sometime during the very early '70s, going to the Village Vanguard one night to hear Chick Corea's trio with Dave Holland(Ac. Bass) and Barry Altschul(Drums), and I remember that this was truly one of the most enjoyable evenings I've ever had listening to music. This perception did not change when multi-reedman Anthony Braxton was added to the group. However, one of their group devices was most striking to me and left a lasting impression, this was their constant experimentation with the art of the "free ballad." At least, once per set, they would completely improvise a ballad; and to do this it would obviously call upon their collected experiences playing all the 'normal' ballads one plays as a musician over a career. My impressions of what I heard on those nights have never left me and, at varying times, the influence of this group on me is felt in my own writing and concepts about making music with my bandmates. In a sense, such is the case with the composition, "Eyewitness" which appeared on the '81 recording with the eponymous title, "EYEWITNESS"(Antilles).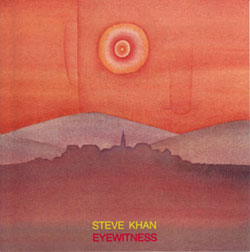 Here, as you can clearly see, there is an actual "composition." However, the 'improvised' section, what some might call the 'solo section' is totally 'free' and only has a sketchy tonal center, a point of departure, and an agreed upon target destination. But, more than this nothing else, and nothing is discussed about what is to happen. For me, having the good fortune to have been working with two masters of the unexpected, of moods, attitudes, of textures, of space and colors like bassist, Anthony Jackson and Manolo Badrena(Percussion) made this experiment all the easier. The performance which appears on the recording is the only take we did that weekend in November.
At [I], the central guitar figure and the double-stop bass figure, which seems to respond to it, were just enough of a representation of a mood, an attitude, to have supplied drummer Steve Jordan with the inspiration to employ a particular kind of pulse, using brushes(with the snares turned off), but hardly in any kind of a traditional method for a 'ballad.' What he contributes is just as unique and special as any of the other elements. Perhaps, as a composition, what makes this piece work is unconscious usage of space. For it is within [A] that the space allows for a note like A-natural(the #5) drifting through a Db major sonority to sound perfectly normal. It is this same sense of space that allowed Anthony to overdub some beautiful harmonics which appear in bars 3 and 7 of each [A] section, and again in bars 3 and 7 of [B].
Though it was something which 'felt right' to me at the time, the arrival of [B] signaled the appearance of the harmonic device of simply moving up a half-step, in this case to D major. Obviously, this gives the piece a lift and a sense of compositional direction. Here it was based upon instinct more than a grand sense of composition. As we arrive at [C] and the harmony becomes more of a suspended dominant 7th feeling(F#/E to D/E), the music takes on a more majestic tone. This is also the precise moment that Steve Jordan switched to his sticks, and away from the brushes. Again, his instincts were perfectly in tune with what was necessary. No one had to say anything!
You'll notice that [C] has 9 bars, an extra bar added on to the held chord D/C. However, I should note that, in live performances, since the recording, that 'hold' is now of indeterminate length. And, when I finally do cut-off the chord, there is, for a moment, an audible silence(if one 'hears' silence). To return to tempo, I simply play the 2-beat pick-up, and we return to [A].

So, prior to the improvised section, we have a form that looks like this:



[I] 8 bars
[A] 16 bars
[A2] 16 bars
[B] 8 bars
[C] 9 bars
[A] 8 bars
[D] Open(solo section)



Though I don't believe that there is, nor should there be, any particular 'road map' or 'guide' on how to improvise in a 'free ballad' setting or any 'freely improvised' setting, I do believe that certain 'devices' which are found in all good music(certainly including classical music), would include the simple usage of thematic pieces from composed material which has previously appeared. So, as you're listening to [D], this particular improvised section, try and make note of passages which allude to something you heard during the [A] sections.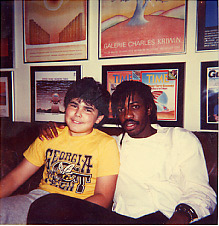 For the recorded version we had agreed that the improvised section would not be particularly long and that as my 'cue' to move on, I would begin to play the figure from [I] which is central to the piece. I would play it for 4-bars, and then we would make the little modulation up one half-step to D major, building towards a return to [C].
The last repeat of [A] contains an amazing error by ME!!! In performance, I had forgotten that we had all agreed that the last [A] would only be 8-bars long and then we would transition, taking the Double Coda, and moving to [E]. If you listen closely you can hear Steve Jordan clearly begin a fill on beat 2 of bar 8 to move us to [E]; and you even hear him begin to play the cowbell with his brush on what would have been the downbeat of the new section. However, he gracefully 'went with the flow' and saved the day(and my behind too!!). Normally, an error, such as this, would be cause for another take, but I felt that we had captured what this piece was all about, especially the improvised section and I felt that we could do it again another 100 times and never touch that feeling again. At least not on that particular afternoon. So, we let it stand as is.
I only wish that I could take credit for what harmonically transpires at [E] but I truly can not!!! I owe this all to the spontaneous brilliance of Anthony Jackson and his sense of harmony. The idea to suddenly play an F-pedal through the first 6-bars was totally his and remains as a most amazing touch which helped to take this piece of music to another level of intensity. With the pedal, what I am and have been playing takes on a different harmonic sense and the motion now becomes an F triad to an F7(sus) sound which opens up a new world of possibilities. If I had the patience, I would probably transcribe everything Anthony improvised during [E] and [E2], because I believe it was truly remarkable what he played. So, if you're a bassist, or a composer who wants to study what the bass could or might do, please take the time, and study this section and the work of one of our greatest musical minds, Anthony Jackson!!! In [E2] I only wrote out a loose approximation of what he's playing as the track fades. Wow! Anthony, you're too much, really too much!!! Bravo!!!
Over the many years that have passed since 1981, I have been asked about the sound that I used on this tune and the "EYEWITNESS" album in general. The fundamental guiding principle for me, after the Columbia years(1977-1979) was to go back to a more pure and simple guitar sound. In essence, that was to be a Gibson ES-335 guitar played direct into an amp, and with a little reverb for treatment. As the music for this particular album developed, it just seemed that certain sections needed a little something extra, and so, on this album, that sound was produced with the help of the BOSS Flanger(BF-2). It was a rather primitive sounding effect in mono, but people seemed to respond to it. If you read below about the performance of "Eyewitness" on the "THE SUITCASE" from 1994, the major sonic difference is that then I had graduated to what became my true sonic voice, where effects are concerned, the Ibanez Digital Chorus/Flanger(DCF-10) which I have written about extensively at the EQUIPMENT page here.
As "Eyewitness" is being presented in November of '03, a month, a season which, in the U.S., marks our celebration of Thanksgiving, I can only yet again give my "Thanks!" to Anthony, Steve, and Manolo for the gifts of their musicality and friendship for now over 20 years. I am grateful to you for these gifts, now and forever!!! In closing, Blaine and I would like to wish a very Happy Thanksgiving and, a Happy Holiday Season to everyone who visits KHAN'S KORNER on a regular basis. If you're here for the first time, "Welcome!" and please, visit us again!!!

Addendum: With the release in 2008 of "THE SUITCASE" a double live CD with Anthony Jackson and Dennis Chambers recorded in Köln, Germany on May 17th, 1994, originally for a WDR radio broadcast, I believe that it becomes necessary to revisit the analysis pages related to the 9 original tunes which appear.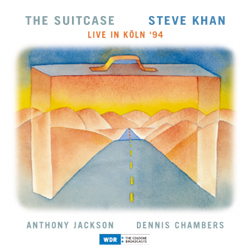 Yes, for the tunes which appeared on the original "EYEWITNESS" recording from 1981, some 13 years had passed, but the performances you now hear represent the growth of the music through live playing and improvising. In most cases, what you now hear on this CD will be much closer to the lead sheets you've been viewing since the launching of the website in September of 1998.
If there's a flaw over the course of the two discs which bothers me the most, there's no question that it is the fact that my 'B'-string was ever so slightly flat during "Eyewitness." Perhaps, because it is a ballad and there's so much space, it becomes all the more noticeable when the note is struck on that string, which is often, and Anthony and I play something precisely together. Had it been any worse, I don't know that I could have allowed the performance to have appeared on the disc. However, on the plus side, the improvised section in the middle is so wonderful and so very, very different from the one which appears during the original version that, I could not leave this one off. On top of that, Anthony's improvised work, especially during [E] and [E2] is so uniquely Anthony Jackson, that it would be criminal to have left the tune off of the disc because of a tuning problem of mine. Honestly, I don't know how that could have happened, or have escaped me. I know that I try to make certain that I check my tuning before each song. But, no doubt, I missed something this time. Please forgive me!!!
I would also hasten to add that you must take note of the very sensitive and expressive brushwork of Dennis Chambers. There are only three of us here and his contributions to the mood that we are trying to create and to swim within are simply immense!!! Dennis is a musician, a drummer, of far, far more scope and depth than he is sometimes given credit. Pay attention to these things over the course of both discs!!!



[Photo: Steve Jordan with my son, Heath ca. 1983. Ah, those were the days!!!]