I wish that I could understand how and why certain life events seem to escape me, but when I just learned that, one of our greatest composers, Carla Bley had left us on October 17th, 2023, I was stunned. I couldn't believe it. And so, here I sit trying to piece together some form of an homage to her, and to her wonderful body of work. The photo that appears here comes from the booklet that accompanied the Box Set LP for "THE JAZZ COMPOSER'S ORCHESTRA" from 1968, an album that was recorded during her marriage to trumpeter/composer, Michael Mantler, which had followed her marriage to pianist Paul Bley.
How well I recall playing a quartet concert @ Columbia University with Paul Bley on February 28th, 1974 with a band that included: Dave Holland (Ac. Bass) and Bruce Ditmas (Drums). Within that program of music, we played several pieces of Carla's including: "Ida Lupino"; "Ictus"; "Around Again" and "And Now The Queen." I've always seen "Ida Lupino" as hauntingly beautiful. I'm not at all so sure that, at that moment, I did any of her pieces any justice. Years later, I believe during the '80s, Carla actually phoned me to see if I could play some gigs with her group, an ensemble, but sadly, I had other work at the time and couldn't do it. I have always regretted not having been available to have worked with her and played some of her music.
I saw her as a person of immense principles and ethics, both musical and personal. She had a conscience and I had so much admiration and respect for that. I remember seeing her tune, "Vashkar" as played by the Tony Williams Lifetime on "EMERGENCY" and then a number of her wonderful pieces interpreted masterfully by vibist Gary Burton. Tunes such as: "Sing Me Softly of the Blues"; "Mother of the Dead Man"; "Dreams so Real"; "Vox Humana"; "Wrong Key Donkey" and the very beautiful and haunting, "Reactionary Tango." Burton recorded a couple of albums of Carla Bley's music including: "A GENUINE TONG FUNERAL." Carla was also an integral part of Charlie Haden's "LIBERATION MUSIC ORCHESTRA" from 1969 and featuring a monumental collection of players. A partial listing would have to include: Dewey Redman; Don Cherry; Perry Robinson; Roswell Rudd; Bob Northern; Howard Johnson; Paul Motian; Andrew Cyrille and Sam Brown.
In July of 2020, I was inspired to record a version of Carla's "Reactionary Tango" which I had first heard on Gary Burton's 1981 album, "EASY AS PIE"(ECM). In order to present the piece, I brought the Gary Burton version, which is nearly 12-minutes long, into Protools to see if I could edit out the 3 solos and then, it would become just one long melody statement. By some miracle, I was able to do it and suddenly the piece was about 4:20. I wrote that person a message and included my hand-written lead sheets and the edited mp3, but as it often goes, I received no response. As a day or two passed, I decided to just make an arrangement as an experiment to see if I could take the Tango-esque elements in Carla's composition, and give it the flavor of Latin rhythms in the form of an Afro-Bolero. And so now, I think that we could say that, I have created a Tangolero. At that moment, after seeing several beautiful videos by Aca Seca Trio keyboardist and vocalist, Andrés Beeuwsaert and violinist Sara Ryan, I thought to myself that THEY would be the perfect musical and personal combination for this effort. And so, we recorded it. It is my hope that this interpretation will stand as a fitting tribute to Carla Bley and the scope of her works.

For most of the mature years of her life, she spent them with bassist Steve Swallow, and together they became a magical composing couple with an output that few, if any, could compete with. Though I haven't seen or spoken to Steve in years, decades during the times that we have played together I have felt that a kind of closeness was there and that has never changed for me. I hope that this most humble tribute will send out positive vibrations into the cosmos
for Carla's spirt and soul. My deepest sympathies to Steve and to Carla's daughter, Karen Mantler. Rest in Peace dear Carla, you were a giant in our music. Love, Steve

---
Another childhood sports hero of mine has passed away. Yesterday, October 5th, 2023, I learned the sad news that one of the most legendary, iconic NFL football players, Chicago Bears middle linebacker, Dick Butkus had left us. For me, he was the symbol during the '60s & '70s of everything the professional football was and should be. Of course, those years a long, long way back in the rear view mirror,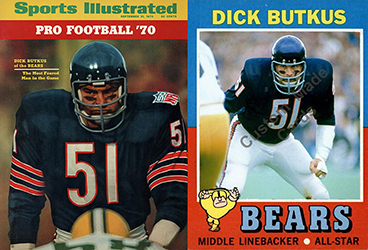 so I had to refresh my memory with some research. I knew that with those Chicago Bears, the George Halas Chicago Bears, Butkus had never won an NFL Championship. But I had forgotten just how awful those teams of his were. Over the course of Butkus' career, the Chicago Bears, from 1965-1973, composite record was: 48-74-4. Goodness, how could he have been such a force, such a powerful player in the middle of a team that just could not win? Yet, Dick Butkus was a 5 Time First Team All-Pro; went to 8 Pro Bowls; was named Defensive Player of the Year, twice(1969 & 1970); was elected to the Pro Football Hall of Fame on the first ballot in 1979; and is a member the All-'60s Team & the All-'70s Team; and he is listed amongst the 100 Greatest NFL Players and ranked #9!!!
He came to the Bears and had to replace the legendary Bill George, and did have some great teammates like: Gale Sayers; Mike Ditka: Joe Fortunato; Doug Atkins; Doug Buffone; Ed O'Bradovich and Richie Petitbon - all players that I certainly remember. But those Bears teams just never had any real great quarterback play. During those years, some of the QBs were: Billy Wade; Jack Concannon & Rudy Bukich; and eventually left-handed Bobby Douglass gave the team some hope - though in 1969, the Bears only won 1 game!!! In another time, like our present, maybe Butkus would have demanded a trade to try to be with a winning team. But, he stuck it out and his persona was like the great city of Chicago where the Bears had previously earned the nickname, "The Monsters of the Midway." And, as a kid, I remember those teams. During his life after football? Butkus appeared in some 62 films and TV shows, often poking fun at his tougher than tough reputation.
I can only say that I feel lucky to have been alive and to have been a kid growing-up and being able to watch Dick Butkus play football - today's players can only wish they could play the game as he did. He was a ferocious player! Rest in peace Mr. Butkus!!! You were absolutely tremendous!!! - Your fan, Steve

---
Once again, it is with a heavy heart that I am sitting and writing, this time about the legendary acoustic bassist Richard Davis who passed away just this past September 6th, 2023, at the age of 93. For me, as a young Jazz fan in the mid-'60s, Richard Davis was a constant presence in my then growing collection of LPs and he remained as such long after I had moved to New York in 1970.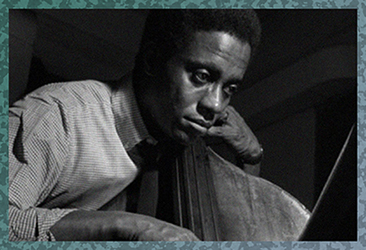 I can't even count how many times that I saw him playing live especially as a fixture in the Thad Jones-Mel Lewis Jazz Orchestra playing each and every Monday night at our cherished Village Vanguard. Seeing him there, right in the middle of some of the most stalwart icons of Jazz in New York with that ever-present Lion's head carved into the headstock of his bass. I had seen it within album liner photos many times, but to actually see it up close was an amazing experience for me as young Jazz musician. Years later, after having played with him on countless but all relatively meaningless jingles for radio and television, it was always a thrill for me to see him sitting there with his soft gig case and eventually breaking out that headstock, ready to play and record. How much I enjoyed just being around one of my heroes, idols.
After living in New York City for 23 years, he moved to Wisconsin in 1977 and became a professor at the University of Wisconsin @ Madison, teaching bass, jazz history, and improvisation. His contributions to albums that I hold in my heart and memory are just about too numerous to begin to mention here, but as this is a TRIBUTE, I am going to do it anyway, and I hope that some of these artists and album titles will resonate with those of you who might be reading this. Richard Davis recorded many albums as a leader and co-leader but, for me, perhaps none was more striking than his 1967 album as a co-leader Elvin Jones titled "HEAVY SOUNDS"(¡mpulse!). Of course, on the front cover we see the ever-present smoke from cigarettes, one of the many trappings of Jazz photography, here taken by the incredible Chuck Stewart. I would also have to mention at least the 1966 debut album Thad Jones-Mel Lewis Jazz Orchestra "PRESENTING THE THAD JONES-MEL LEWIS JAZZ ORCHESTRA"(Solid State). Often times, because of the need to picture all of the brass and reeds, Richard Davis was not even included in the liner photos that were selected. A strange irony not to see him or Sir Roland Hanna on piano in the photos! For me, Richard Davis had a big sound, and a very particular bounce to the feeling and swing that he brought to everything.

He could go from that to being such an integral part of Eric Dolphy's monumental "OUT TO LUNCH" album and those unforgettable doubled lines with Dolphy's bass clarinet on "Hat and Beard." That helped to define the sound and atmosphere of Jazz to come. So, with that said, here's a brief listing of the artists and albums featuring Richard Davis that meant and mean so very much to me.
Some of my favorite artists and recordings of theirs would have to include: Gary Bartz "LIBRA"(Milestone)(1968); George Benson "SHAPE OF THINGS TO COME"(A&M)(1968); Willie Bobo "SPANISH GREASE"(Verve)(1965); Kenny Burrell "A NIGHT AT THE VANGUARD"(Argo)(1959); Eric Dolphy "OUT TO LUNCH"(Blue Note)(1964); Chico Hamilton "THE DEALER"(¡mpulse!)(1966); Johnny Hartman "THE VOICE THAT IS!"(¡mpulse!)(1964); Joe Henderson "IN 'N OUT"(Blue Note)(1964); Andrew Hill "BLACK FIRE"(Blue Note)(1963) & "POINT OF DEPARTURE"(Blue Note)(1964); Freddie Hubbard "THE HUB OF HUBBARD"(Blue Note)(1965); Bobby Hutcherson "DIALOGUE"(Blue Note)(1965); Charles Lloyd "DISCOVERY"(Columbia)(1964); Pat Martino "BAIYINA"(Prestige)(1968); Gary McFarland "PROFILES"(¡mpulse!)(1966); Wes Montgomery "CALIFORNIA DREAMING"(Verve)(1966); Oliver Nelson "MORE BLUES & THE ABSTRACT TRUTH"(¡mpulse!)(1964); Sam Rivers "HUES"(Verve)(1973); Jimmy Smith "MONSTER"(Verve)(1965); Gabor Szabo "GYPSY '66"(¡mpulse!)(1966); Clark Terry "MUMBLES"(Mainstream)(1966); Cal Tjader "SOUL SAUCE"(1965) & "SOUL BURST"(Verve)(1966); Cedar Walton "SPECTRUM"(Prestige)(1968) and lastly, Ben Webster(w/ Joe Zawinul) "SOULMATES"(Riverside)(1963). In making up this partial listing, I am not including any of his credits with a very wide variety of Pop, Rock and R&B artists. Just take a look at his DISCOGRAPHY at you will be astounded.

It is such an honor to share these few thoughts on the great Richard Davis and honor his musical legacy which has touched so many of us in a broad variety of ways. Rest in peace dear Richard!!! You will always be loved, admired and respected!!! - Steve

---
Though the great arranger Don Sebesky passed away this past April 29th, 2023, I only learned about it through a dear friend a few days later and here I sit, trying to put together some kind of fitting homage to Don's spectacular body of work. Not to mention the fact that he was a wonderful person and always treated his fellow musicians with kindness, respect and a warm smile too.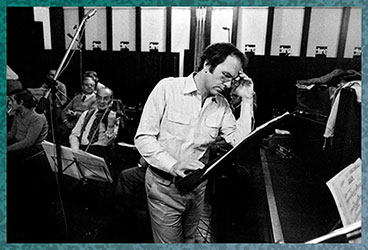 Though Don began as a Jazz trombonist working in the big bands of Kenton, Ferguson, Dorsey and Thornhill, I didn't really become aware of him until his arranger credit appeared for my hero, Wes Montgomery's 1965 album "BUMPIN'"(Verve). Even though I had heard Wes' prior album with strings, "FUSION!"(Riverside), released just two years earlier in 1963, I was caught by surprise hearing Wes with strings after the very brassy, "MOVIN' WES"(Verve)(1964)! From that moment forward, I became a huge Don Sebesky fan too.

His orchestral touches added so much to so many albums, albums by some of the greatest Jazz artists of our time, it is so very difficult to choose just 5 of them to be represented in a collage here. But, I chose 5 albums that, not only have a special meaning for me, but are recordings that I continue to enjoy right to this very day. Those albums that I featured in the collage below are: Paul Desmond's "BRIDGE OVER TROUBLE WATER"(A&M)(1970); the aforementioned "BUMPIN'"; Freddie Hubbard's "SKY DIVE"(CTI);(1972); Airto's "FREE"(CTI)(1972) and George Benson's "THE OTHER SIDE OF ABBEY ROAD"(A&M)(1970).
Why did I choose these 5 albums? The Paul Desmond album was a theme album featuring the songs of Paul Simon all beautifully and inventively done as Don often orchestrated the Rhodes accompaniment of the ever-brilliant Herbie Hancock. Desmond is the perfect voice for these wonderful songs. Freddie's "SKY DIVE"? I could listen to Freddie Hubbard playing ballads all day and here, I had to include this album simply because of the performance on Bix Beiderbecke's classic, "In a Mist." I could have easily chosen Freddie's "FIRST LIGHT"(1971) album which featured "Lonely Town" and "Moment to Moment" - both are exquisite. I chose Airto's album because here, Don orchestrated extended performances of Chick Corea's "Return to Forever" and Airto's beautiful "Flora's Song" - with wonderful brass and woodwind touches. Finally, another album with Pop/Rock roots, George Benson playing and singing The Beatles' songs from "ABBEY ROAD."
If I had been able to fit in more collages here, I would have included these albums with fantastic Don Sebesky arrangements: Chet Baker's "SHE WAS TOO GOOD TO ME"(CTI);(1974); Hubert Laws' "AFRO-CLASSIC" and "THE RITE OF SPRING"(CTI);(1970-71); and Paul Desmond's "SUMMERTIME"(A&M)(1968) which featured the piano accompaniment of Herbie Hancock and unforgettable arrangements of both "Emily" and "Where is Love?" And "FROM THE HOT AFTERNOON"(A&M)(1969) offering gorgeous treatments of Brazilian songs by Milton Nascimento and Edu Lobo.



Under his own name, as a leader, Don Sebesky released several albums, some that I have in my collection would include: "THE JAZZ-ROCK SYNDROME"(Verve)(1968); "DISTANT GALAXY"(Verve)(1968); "GIANT BOX"(CTI)(1973) and "THE RAPE OF EL MORRO"(CTI)(1975). The Rape of El Morro (CTI, 1975). And in the two decades that followed: "MOVING LINES"(1984); "FULL CYCLE"(1984); "I REMEMBER BILL: Tribute to Bill Evans"(1998) and "JOYFUL NOISE: A Tribute to Duke Ellington"(1999).
In addition to all of this, he shared his knowledge and style with all musicians who were interested when he published the book, "THE CONTEMPORARY ARRANGER"(1975) which we all bought and consulted constantly. He also offered seminars where he would go through the materials and arrangements presented in the book. Those classes were even attended by musicians who had actually played on many of those same sessions. That is the amount of respect and admiration that Don's name commanded.

For me, though I was never a part of many of the albums that I have mentioned here, I was fortunate enough to have done a lot of work with Don Sebesky over the years, and was always thrilled when I received a call that signaled that I was going to be working for him again. No matter what the nature of the music to be performed, I loved being there, seeing his beautifully copied-out charts, and trying to play them to the best of my abilities. I always learned something from playing his arrangements and being around him. Rest in peace dear Don!!! You were loved and admired by so many!!! - Steve

---
Why do we always say similar things when a great artist, whose voice, phrasing and music we have loved, passes away? Sadly, I had known for quite some time that singer/songwriter, musician/producer and arranger Bobby Caldwell
was very ill and had been unable to sing for more time than any of us would have wanted.
Often times, in tributes, writers will describe someone as "incomparable" - but here, those of us who loved Bobby's voice, songs and albums know that he could ever be compared to anyone. He was that singular. Though he had a big hit song with "What You Won't Do for Love"(1978), I really didn't become aware of him until 1982, and his album, "CARRY ON," which I just fell in love with. Especially songs like: "Carry On" and "Jamaica." From that point forward, I was hooked, a fan for life, and I couldn't wait to find and hear his next album.
Like a lot of great artists, in many genres, Bobby's recording career owed so much to the good graces of Japan. Why weren't these albums, these great albums released in the USA on time? I'll never, ever understand this. His albums followed "CARRY ON" in a chronology something like this, and leaving some of them out: "AUGUST MOON"(1983); "HEART OF MINE"(1989); "SOLID GROUND"(1991); "WHERE IS LOVE"(1993) and "SOUL SURVIVOR"(1995). In between, in 1985, he did a wonderful one song collaboration with the Yellowjackets that appeared on their album, "SAMURAI SAMBA." That song was "Lonely Weekend," and remains a favorite of mine.
Another element to each Bobby Caldwell production was the impeccable sound and audio - everything, each detail, was beautifully engineered and mixed - and, to be sure, his voice was perfection. He was a multi-instrumentalist and played great keyboards, using very particular sounds that appeared and reappeared giving a wonderful continuity to the albums and the songs. Songs like "Once You Give In"; "Rina"; "Heart of Mine"; "Next Time I Fall" and "Love Lite" become perfect examples of that. Love songs, songs of heartbreak with a voice and phrasing few, if any, ever possessed. So many fantastic musicians appeared on his albums, to name just a few of these great players, you had: Steve Lukather; Mike Landau; Dean Parks; Allen Hinds; Michael Thompson; Paul Jackson, Jr.; Randy Waldman; Russell Ferrante; Jimmy Haslip; Neil Stubenhaus; Jeff Porcaro; John Robinson; Vinnie Colaiuta; Luis Conte; and Lenny Castro! And here is an absolutely fan-tas-tic piece of guitar playing by Steve Lukather that appears on the tune, Sunny Hills from the "CARRY ON" album. It's brilliant!

How could anyone write and sing so many great songs for the broken-hearted? He did it and as well as anyone who ever picked-up a microphone to sing.
He had the courage to do magnificent interpretations of these Soul classics: "Walk On By"; "Until You Come Back to Me" and "Don't Ask My Neighbor." When you are taking on material originally sung by the likes of Dionne Warwick, Aretha Franklin and The Emotions? You had better be sayin' somethin'!!! What Bobby did with these three songs was remarkable. I still listen to them at any given moment when recalling a heartache from some lost corner of my memories.
Though I only met him briefly in passing backstage at a concert somewhere on the long, lost and dusty road - I never had the privilege of getting to record something with him. For a time, during the past few years, Jimmy Haslip and I were in touch with Bobby about singing a song on what would have been a most special project, but in the most cruel twist of fate, Bobby became ill and just could not sing any longer - and so, this adventure in music could never happen.
In the end, Bobby Caldwell leaves behind an incredible treasure trove of classic vocals and songs that we can all access whenever we like. I, for one, actually own all of the LPs and CDs and I'm proud to say that. Bobby, your songs have been a refuge of comfort within the amazing world of your most unique voice. You touched millions of people and will continue to do so. Rest in peace Bobby, I was always to be counted amongst your biggest fans. Thank you for everything! - Steve

---
When saxophone and composing giant Wayne Shorter left the world of touring, most of us in the Jazz community knew that this had to be a health-related issue. Most of us who have yearned to have had 5% of the rich musical life that Wayne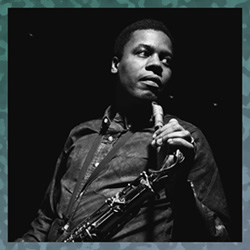 enjoyed understand the importance in a Jazz life of being able to record and then tour - and that cycle, if one is fortunate enough - just continues throughout one's career. Wayne had all of that and, without question, he could have toured as a headlining artist all over the world forever, if he was physically able to do it. It would be stating the obvious to say that his compositions will be played, interpreted and recorded until the end of time. That is just how important his work was for everyone.
Wayne Shorter became a most active part of my own fascination with and entrance into the world of Jazz during the early '60s. As his long and vibrant collection of work as a solo artist was beginning, I was right there to observe it and appreciate all of it. When you just look at and listen to his earliest recordings for Blue Note Records, albums like: "NIGHT DREAMER"(1964); "JUJU"(1965); "SPEAK NO EVIL"(1966) and "ADAM'S APPLE"(1966), these recordings helped to shape generations of players who were around at that time, and studying and learning. You also had all of his work with Art Blakey and the Jazz Messengers and then, his incredible contributions to the great Miles Davis Quintet. One could go on forever talking about, writing about the depth of that body of work alone. And yet, Wayne just kept on going and growing, and exploring. I, amongst the many, enjoyed his recordings and writing right up to the end. I looked forward to the release of each one. That never changed.
Can one say enough about his sound on both the tenor and soprano. How warm and beautiful it was. His phrasing was so economical, as was his choices of notes. He never seemed in a hurry to arrive at any particular place within a song. At times, to me, it felt as though he was dancing with the song and its changes, darting in out, paying hide and seek within the song. As Joe Zawinul used to say to us all, "You're always soloing, and you're never soloing!" That phrase can so perfectly encapsulate Wayne's style and how well he could mesh within any group or any kind of music. I'm certain that for him, trying to emerge from the immense shadow of his good friend John Coltrane, must have been an incredibly heavy weight to carry around, but in the end, no matter what his internal process might have been, Wayne Shorter ended-up sounding like no one else but himself.


The list of the great Quintet recordings with Miles Davis, a group which included Herbie Hancock; Ron Carter and Tony Williams is so historic and so important that I have to mention some of my favorite albums here: "E.S.P."(1965); "MILES SMILES"(1967); "SORCERER"(1967); "NEFERTITI"(1968); "WATER BABIES"(1967) and "FILLES DE KILIMANJARO"(1969) would always top my list. But, it becomes impossible to choose. This music was a mastery of the elements of mood and attitude something that all great music, in my view, must have. I always found it fascinating to hear how Miles took Wayne's compositions and transformed them into something else - often times reducing them to moving lines with no chordal accompaniment. This alone was revolutionary. So, if you heard the Miles Davis version of "Footprints" for example, compared to Wayne's own version, also with Herbie Hancock, on his Blue Note album, "ADAM'S APPLE." Or the tunes that appear on Miles' album, "WATER BABIES" compared to how those same tunes sound on Wayne's album, "SUPER NOVA." The contrast is remarkable!
How could one not mention the contributions of Wayne's collaboration with Joe Zawinul and the formation of Weather Report. How that group and its music changed all of our lives is legendary. Here you had these two great, but very different, composers and each one's writing seemed to fill the small void left by his partner. Joe and Wayne's tempos: fast medium and slow - all fell in different places with that spectrum so not only was each song by Joe or Wayne uniquely different, the tempos were never the same. It was the perfect blending of musical personalities. I chose to present in collage here: "WEATHER REPORT"(1971); "MYSTERIOUS TRAVELLER(1974)"; "BLACK MARKET"(1976); "HEAVY WEATHER"(1977) and "NIGHT PASSAGE."(1980). How much did we look forward to the next Weather Report release? It was seemingly endless.


Sitting here now and reflecting upon how his tunes influenced and affected my own recorded work, I ended-up recording some 9 of his songs, some more than once. It all began in 1974 when Larry Coryell and I recorded both "Juju" and "Footprints" for our live "TWO FOR THE ROAD" album. In 1980, on my "EVIDENCE" album, it opened with Wayne's "Infant Eyes." About 10 years later, I recorded "Masqualero" on "LET'S CALL THIS"(1991) and then "Water Babies" on "HEADLINE" in 1992. Then "Capricorn" appeared on "CROSSINGS"(1994) and that was followed by "Paraphernalia" on "GOT MY MENTAL"(1996). In 2005, I put together a medley of both "Sanctuary" and "Nefertiti" for "THE GREEN FIELD." And lastly, I reimagined and recorded "Infant Eyes" for "SUBTEXT"(2014). On my own recordings and live performances, I always tried to play what I considered to be some of Wayne Shorter's more obscure tunes, and to stay away from the more well-known and popular pieces.
If you will allow me, I would love to add in one personal anecdote involving my own first interaction with Wayne Shorter. This took place on August 26th, 1970, just a few months after I had arrived here in New York. My closest friend then was vibraphonist David Friedman, after all, he was the reason that I moved to New York. As he was helping me to get acclimated here and to view "the scene" at any opportunity, he had been called to record with Wayne Shorter.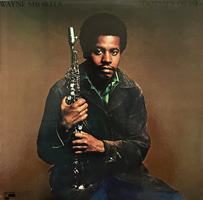 That session was to become Wayne's album, "ODYSSEY OF ISKA"(Blue Note), which was recorded @ A&R Studios, but in the smaller room, Studio 'B'. The session was produced by another one of my heroes, Duke Pearson and engineered by Tony May. David asked me to come along with him to help to load-in his vibes and help out with getting him set-up. How could I not jump at this amazing opportunity to see history being made? Also on the session were: Gene Bertoncini (Guitar); Ron Carter & Cecil McBee (Ac. Bass); and three drummers: Billy Hart; Alphonse Mouzon and Frank Cuomo. We later were to learn that this session was really, in part, a drum "audition" for what was to become Weather Report! Yes, it's true! And just look how things unfolded, Alphonse Mouzon was the drummer for the debut album of Weather Report!!! As it turned out, I knew Billy Hart from his time with Wes Montgomery, and he and I were already friends. Meeting Gene Bertoncini was wonderful for me, and this chance encounter became the beginning of a warm and wonderful friendship that has lasted years. It was an amazing afternoon as I tried to be as inconspicuous as possible - but also trying to soak-up every bit of this musical atmosphere.
When I look at the photo portrait of Wayne Shorter that I selected for this Tribute, that moody Francis Wolff photo and Wayne's facial expression helped to define a period of time in all of our lives. It is remarkable how those Blue Note photos tell such a deep and fulfilling story. It has been said by many who worked closely with Wayne that, he communicated in style that often made it seem as if he was speaking in riddles. It took his various sidemen a bit of time to begin to understand what he was trying to say to them.

If an alien life form landed on Earth and came up to me and asked, "What does Jazz sound like?" In a given moment, I might easily respond by saying: "Just listen to the Miles Davis Quintet playing Wayne Shorter's "Capricorn" which appeared on the "WATER BABIES" album!" There you will hear all that was Jazz' past, what the present was in the late '60s, and what the future was to be!"
In the end, I can only offer a most humble "Rest in Peace" dear Wayne, you will remain forever and always, a most legendary figure in the music that I have loved the most - Steve

---
I just can't believe that Jeff Beck has left us. It happened this past Wednesday, January 11th, 2023, and certainly seemed to take everyone by complete surprise. For me, I just thought that he would be around, playing his own brilliantly unique brand of Rock guitar forever. But, the legacy that he leaves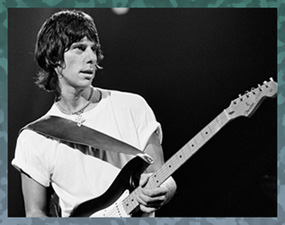 behind is so striking and immense that I don't believe that any of his most ardent fans will ever feel cheated or that they missed something. Jeff was able to coax sounds from the guitar that few, during that time, had even imagined - perhaps apart from Jimi Hendrix - but Jeff Beck attacked the guitar with a kind of ferocity and abandon that stayed with him, and us, for his entire life and career.
My everlasting memory of Jeff's recorded work is associated with what I sometimes had to do to awaken my son Heath from a deep sleep, because there was something that he had to do that morning - like go to school, or some other activity. How would I manage this? Easy! I would turn on the stereo, set it to a full blast-o-phonic level and put on "Rice Pudding" from his 2nd LP as a leader: "BECK-OLA"(Epic)(1969) with the fantastic cover art by René Magritte. Of course, Heath would look at me, bleary-eyed, as if I was completely and totally IN-SANE, crazy!!! But, he knew that he had to get-up, and get after it!
I remember Jeff's first album as a leader, "TRUTH"(Epic)(1968) which featured Rod Stewart's vocals and Ronnie Wood on bass, and songs like: "Beck's Bolero"; "You Shook Me" and "Rock My Plimsoul." Of course to a young guy in his college years in the USA, I wondered: "What the hell is a plimsoul?" It took forever to learn that it came from the soles/souls of one's sneakers. Of course, many albums were to follow, including the wildly popular "BLOW BY BLOW"(Epic)(1975) and "WIRED"(Epic)(1976) which featured the keyboard magic of Jan Hammer.
I know that others will find ways to list countless highlights in their own appreciation of Jeff Beck's body of work. But, I can't leave this tribute without pointing to his guest artist performances on two recordings: [1] Stevie Wonder's "Lookin' for Another Pure Love" from his 1972 album, "TALKING BOOK"(Tamla).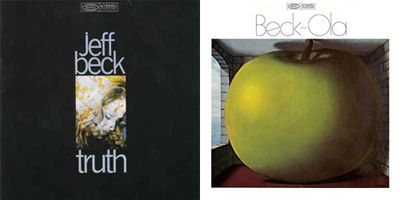 And [2] Stanley Clarke's "Journey to Love"(Nemperor) from his 1975 album of the same title. To some, both of these performances are legendary.
In the end, Jeff Beck embodied everything that Rock 'n' Roll guitar should be, and could be. He was raw, part slasher and, in the most positive ways, completely reckless when playing. Concert goers over the years could describe his mercurial performances as being anywhere from the most incredible things one could ever see - to, and yes this was said many times, really awful. How could that be? I don't know, but these things happen even to the best of players. I greatly admired his go for it attitude and spirit - if it works, great - if not? No big deal. As he grew older and matured, a process that never ends for any of us, his capacity to state any melody with elegance, soul and passion grew to new heights. He was really a fantastically melodic player in his later years. Witness his incredibly moving performance of the classic song, "Over The Rainbow." [Keyboards & Orchestral Arrangement: Pete Murray] 'Nuff said!
Rest in peace Jeff, for you will always be beloved and remembered by so very many. I was proud to be just one amongst your legions of fans. - Steve

---
The passing of Queen Elizabeth II this past Thursday, September 8th, 2022 has become yet another miraculous day and period of time for reflection, and the contemplation of history and the interconnectedness of Great Britain, the United Kingdom, and our own United States of America. As two nations, we are forever linked, just as the USA is forever linked to France, Spain and Africa.
When young Elizabeth ascended to the throne on February 6th, 1952, I was barely 5 yrs. old. So, though she was off in a faraway land, she was to become and to be a figure of great stability and calm throughout everything that has transpired here and around the world for 70 years. I can't explain just how that all works within the framework of this one musician's life, but that's what I have come to feel - especially during these past 3 days.
I can't say or write with any degree of certainty that most of the British people would be or are monarchists, because it does seem so antithetical to contemporary life, our lives, as we know these things today. But the outpouring of grief, sadness and tremendous respect from ordinary people to leaders across the globe speaks volumes about the enduring impact this one woman has had on our lives - even while not necessarily "doing" anything in particular. Yet, it must never be forgotten that she survived 2 months of the bombing of London by the Nazis long before having been thrust into her position shortly after the end of World War II. This is something that none of us can begin to comprehend, but her utterance of these words spoken to her nation on the occasion of her 21st birthday: "I declare before you all that my whole life, whether it be long or short, shall be devoted to your service and the service of our great imperial family to which we all belong," set the tone for the 7 decades that would follow. Few, if any, of us, could remotely declare that we have led lives of "service" to and for others. For this alone, she is a most inspirational figure.
Just 2 days before Queen Elizabeth was to pass away, in a most important ceremonial gesture, she met Liz Truss to officially 'appoint' her as the new Prime Minister. When I first saw the photos of that moment, I was struck by the blue-ish bruising on the Queen's right hand. It spoke volumes to me that she had been receiving intravenous treatments to either prolong her life, or to manage the physical pain that she must have been feeling. For anyone to have the resolve and strength of character, the profound sense of duty like this is beyond remarkable.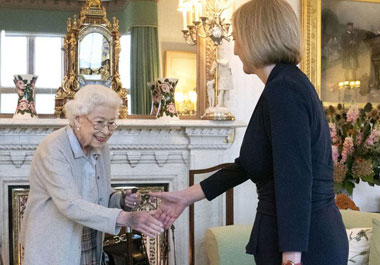 I find this photo to be so very moving.
And so, as the former Prince Charles is now King Charles III and life moves on, and the monarchy moves on, all of the great British traditions rise to fulfill the tasks at hand. All of these ceremonies, as usual, are handled with great precision and grace. I found King Charles' first speech to be incredibly moving and was just the right touch for such a solemn moment as the passing of his beloved mother, and his own ascent to the throne. Despite all of the prior misgivings, I believe that he will do a fine job. There's always something about English spoken with a proper British accent that just makes it sound so much better than our own American version of the English language. I used to always feel that way when listening to Tony Blair speaking in sharp contrast with our President George W. Bush.
As Queen Elizabeth was probably the most photographed woman/person on this planet, not by her own command or desire, I wasn't at all certain that I would or could choose a single photo of her to be the one photo represented here. But, when I saw the very beautiful and touching photo, taken by our own Annie Leibovitz, of Elizabeth with her own beloved 4 dogs, I just knew that this had to be the photo for this small tribute to her majesty, the Queen. According to some, she had two Pembroke Welsh corgis, Muick and Sandy, as well as an older, mixed-breed "dorgi" called Candy. A cocker spaniel, Lissy, reportedly joined the gang in January this year. Again, this single photo speaks volumes about Queen Elizabeth as a warm and sensitive human being. In my way, how very much I am going to miss simply knowing that she was always there - yes, far, far away, but holding down everything with a sense of dignity, grace, and of course, service to all. Rest in peace dear Elizabeth, "You were grand." [As I heard a young Brit say today.]

---
What a day this has been, at once filled with the sadness at learning that England's beloved Queen Elizabeth had passed away, and then, suddenly, I also happened to see that one of our greatest broadcast journalists, and the chief anchor for CNN since its launching in 1980 until his retirement in 2001, Bernard Shaw had passed away at 82 years of age.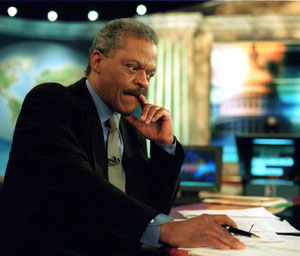 He served in the U.S. Marine Corps from 1959 to 1963, with his professional journalism career beginning as a political reporter at CBS from 1971 to 1977, before moving over to ABC and working as a Latin America correspondent from 1977 to 1979.
For me, Bernard Shaw was always a most calming presence when delivering the national news, no matter what the content might have been. He did everything with great intelligence, dignity and often without revealing any kind of personal agenda. He also possessed the most wonderful speaking voice, unforgettable for its tone and sense of gravitas. Shaw was a constant reminder to fellow broadcasters and listeners alike that, the news is not Info-tainment, and it is NOT a yuck-fest between anchors, reporters and goofy sports and weather people. It is serious business, and should always be treated as such.
Even with the flood of news regarding the Queen of England's passing, the on-air and written tributes by Mr. Shaw's colleagues from all across the journalistic spectrum have been pouring in - and the themes of grace, seriousness, high intelligence, attention to details and dignity seem to occupy a place in all of them. No one deserves this more than Bernard Shaw.
I remember learning that Mr. Shaw was retiring from CNN and feeling, back then, a great sense of loss, because one of our great, great voices of broadcast journalism, a most calming and reassuring presence, would no longer be on the air. Rest in peace, Bernard - a fan and great admirer, Steve

---
Pianist Warren Bernhardt was a giant of a man, in every sense that the adjective conveys - physically huge, and born of an immense heart and spirit. Warren had the most beautiful hands, and when I would watch him play or practice, it was as if I was watching someone who had been born to be a pianist.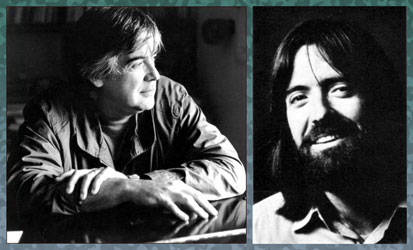 Though I met him early on after my arrival here in New York City in 1970, the depth of our real friendship was solidified in the late '70s and that same friendship continued to this day. It wasn't so long ago that Warren and I had a long phone conversation, catching-up on so many things - because he lived in Bearsville, NY and was rarely in New York City, just as I was rarely there. But the distance dims none of the profound aspects of friendship and camaraderie. Not for us! So today, August 20th, 2022, when I learned that Warren had passed away after battling illness for several years, I was overcome with sadness, and the only cure for that, for me, was to sit down, remember him, and to write this Tribute!
Warren was a superb pianist whose musicianship was on the highest level. He could read anything that was placed in front of him. His idol, like so many pianists of his generation was Bill Evans, and Bill and Warren grew close over the years - so close that Bill actually gave Warren his piano - which resided with Warren until his passing. Warren had a career in music that most people would envy, but his love for Jazz and the elegance and dignity of the piano trio was always closest to his heart. Perhaps it was sometime during 1978-79 that Warren moved into the apartment directly next to mine down in the Chelsea area of New York. That same apartment had been occupied by the great Peter Erskine for about one year. And, as close as Pete and I became during that time, Warren and I were to become even closer during his years there. We saw each other almost every day, and conversed about so many things in life and music.
Though I've written about this in several places here at the website, in early 1980, Warren really saved my life - mostly I'm speaking of my musical spirit. And those same late-night conversations after a gig @ Seventh Avenue So. with Mike Mainieri, Marcus Miller and Omar Hakim - ended-up leading directly to the recording of my solo acoustic guitar album, "EVIDENCE."
How do you thank someone enough for that? What is remarkable is that I feel that I was one of the people who was begging Warren to record a solo piano album, and that recording became his brilliant,

"FLOATING"(Arista/Novus). Around the same time, Warren, Mike Mainieri, the Brecker Bros., Tony Levin, Steve Jordan and yours truly were invited to perform together as the Arista All-Stars at the Montreux Jazz Festival. As part of those performances, these two old and dear friends, Mainieri and Bernhardt recorded an exceptional piano/keyboard and vibes album which, upon its release in 1979, became "FREE SMILES." Mike and Warren had been making music together since the '60s, and later during that decade they became an integral part of the musical experiments which sought to fuse/join disparate genres into one music. The almost mystical nature of the bond between Warren Bernhardt and Mike Mainieri was so special that words fail me. Their friendship, both musical and personal, almost needed no words to produce the most beautiful and poetic of results.
One of my most enjoyable experiences playing with Warren was on Mike Mainieri's 1981 album, "WANDERLUST"(Warner Bros.) which offered some of Mike's classic compositions and featured many familiar names already mentioned here. It wasn't too long after this that, in 1983-84, Warren joined what was to be the 3rd incarnation of STEPS AHEAD, which now featured: Mainieri, Michael Brecker, Eddie Gómez and Peter Erskine. Together they recorded "MODERN TIMES"(Elektra/Musician) and toured extensively. I know that, for Warren, being a part of Michael Brecker's composition "Safari" was incredibly special. Who would not have been proud of that?
Early on in his musical life, Warren spent time playing with singer/songwriter Tim Hardin during some of Tim's greatest work, and was a founding member of flutist Jeremy Steig's group, The Satyrs, which also featured bassist Eddie Gómez. Warren was also a charter member of Mike Mainieri's adventurous monster group White Elephant, which recorded a very futuristic double-album in 1972. For me to try to encapsulate Warren's most important recordings is really difficult.
So in the presented collage, I have tried to put together the covers of some of the albums that meant a great deal to me as his friend and musical admirer. From the mid-'80s through the '90s, Warren returned to the format that he loved most, the piano trio and recorded a series of wonderful albums for Tom Jung's all digital label, DMP Records. Warren's other great love, classical music and the piano, he recorded "TOTALLY AT HOME" which featured works by Chopin, Ravel, and Rachmaninoff. If we fast forward to the recent past, Mike Mainieri chose to re-form the group L'Image which, apart from Mike and Warren, included guitarist David Spinozza, bassist Tony Levin, and Steve Gadd. This rejoining of kindred spirits took them to the Blue Note in Tokyo, Japan in 2009, which resulted in an album that was released in 2011.
In what is yet another moment of great sadness, I am remembering Warren and what an amazing person and musician he was, but also a wonderful and devoted husband to his beloved wife, Jan and all the children that they shared together: Tim (named for Tim Hardin), Dorian, and Nicole. I had spoken with Jan recently, and she confided in me that she felt that Warren's health was again failing him. It was too painful to think about a world in which Warren would not be here. There are really no words to adequately explain just how much Warren has meant to my life and my growth as a person and as a musician. There was no one more generous with his experiences in life than Warren. I love you Warren, and I am going to miss you and think of you always. Your old, old friend, Steve

---
As a young boy, growing in Los Angeles during the '50s and '60s, for most of that time, we never had a professional sports team. Yes, no Dodgers, no Lakers, no NHL. Just the Pacific Coast League for minor league baseball. The first team that I can remember was the Los Angeles Rams in football. So, as a young sports fan,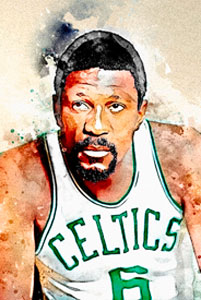 I had to claim my attachments to teams from other cities. Believe it or not, in basketball, somehow I ended-up becoming a Boston Celtics fan. Firstly, as a kid, I had no idea what a Celtic was, I loved their warm-up suits, and, of course, the 3-leaf clover, etc.! But when the great center Bill Russell joined the team in 1956 from the University of San Francisco, he became my hero - and a hero as so much than just basketball. He was a giant of a man, a pioneer within the sport, and above all in our society and our country. But today, Sunday, July 31st, 2022, is a sad day for me, because this great human being has passed away. I was and am deeply saddened by this news.
When I was a lost soul attending U.C.L.A. from 1965 thru 1969, believe it or not, I took a class called "Sports in American Life"! Yes, I swear that it's true. And, one of my classmates was Lew Alcindor (Later to become Kareem Abdul-Jabbar). Yes, that is true also!!! For my term paper, I chose to write about Bill Russell with most of my paper being filled by the experience of having read his biography, "GO UP FOR GLORY."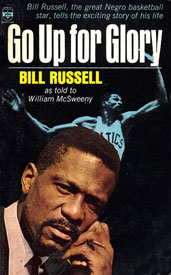 I could go on and on, and on talking about those incredible Celtics teams and Red Auerbach, Bob Cousy, Bill Sharman, Jim Luscotoff, Frank Ramsey, Tommy Heinsohn, Sam Jones, K.C. Jones, Satch Sanders, John Havlicek, and countless others. Yes, Bill Russell might not have been the "greatest" basketball player of all times on the level pure skill, but having won 11 championships in 13 seasons surely qualifies him as the GREATEST CHAMPION of all time - and not just in basketball - in any sport.
As a kid, a teenager, and even as some form of a young adult, I used to think of Boston as this wonderful place where life is good - and everything is just as swell - people get along, etc.! But, when Bill Russell began to open up about the truth of what he had experienced there, it changed my perspective about that city, and much more than that about the United States of America. How could we be like that? How could we unleash such horrifying prejudice, cruelty and racism? But, in the end, that was the greater truth, and Bill Russell shined the light on these dark secrets, to some, in a way that could never be ignored - never again. I have thanked Bill Russell for opening my eyes and giving me a greater and more honest perspective on life - life in the USA. Here we are in 2022, and we still haven't put all of this behind us. It feels as though we are right in the middle of it.
In this moment of sadness, I can only offer to his family and friends, rest in peace Bill. You were a most special athlete, player/coach, philosopher and person. Thank you so much for all of the thrills and memories that you added to my life during those early years. Your fan always - Steve

---
Having grown-up in Los Angeles, California during the '50s and '60s, ice hockey was always "that foreign sport from Canada" and I never paid much attention to it because there was always football, baseball, and basketball. But somehow, when my son Heath was born in 1973, and then being a full New Yorker, lots of things had changed in my life, and there were more changes to come. And so, on one cold winter's day, a Saturday, I was desperately trying to find something to do with Heath and I looked in the newspapers and saw that there happened to be a New York Rangers' game vs. the Québec Nordiques that afternoon. I thought that I would just walk-up and buy a pair of tickets, but I quickly learned that ALL Rangers' games were always sold out!!!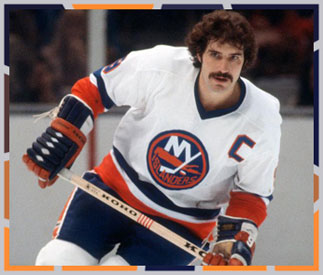 How could that be? So, I took a chance and Heath and walked up to Madison Square Garden and, lucky for me, I was able to scalp two tickets way up top in the "blue seats section." And it was on that day that I fell in love with the game - it wasn't anything like had imagined. Soon thereafter, I wanted to learn everything possible about the game and its history. That playoff season somehow saw those same Rangers make it to the Stanley Cup Finals, where they lost to the Montréal Canadiens. On the way, the Rangers had eliminated the New York Islanders with a crushing loss - because, that year, everyone thought that the Isles were going to win it all. So, I began my fandom with conflicted feelings for the two teams. The next season, I actually bought 2 season tickets in the green seats section, and Heath and I began to regularly attend the games. Along the way, during this journey, the Islanders were to win 4 consecutive Stanley Cups between 1980-1983. It was incredible to witness that. We will probably never again see that happen in professional sports. One of the key people on those teams was left-winger, #9 Clark Gillies. A towering presence of toughness and skill, he was to become everyone's prototype for a left-winger.
Today was January 22nd, 2022, and I was watching my usual morning news program and below, in the crawl, I read that Clark Gillies had passed away! I couldn't believe what I was seeing. I had no idea that he was ill, or might have been ill. I had just seen him in bright and joyful spirits when the Islanders unveiled their brand new stadium on November 20th, 2021. Almost all of the great Islanders were in attendance that night and, of course, Clark Gillies was amongst. Prior to the game and even in between periods, he spoke with such enthusiasm about the current team and the direction in which the Isles were headed. It was wonderful to see him, looking great, and speaking like that.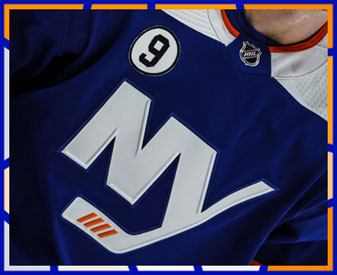 And then, just two months later? He is gone. Apparently, he passed away on January 21st. The current Islanders team was told about this loss after their game that night with the Arizona Coyotes.
Better than anything that I could write here, he was remembered by current Isles General Manager, Lou Lamoriello who said: "The entire Islanders community is devastated by the loss of Clark Gillies." He epitomized what it means to be a New York Islander. The pride he felt wearing the Islanders sweater on the ice was evident by his willingness to do anything to win. Off the ice, he was just as big of a presence, always taking the time to give back to the local community. The New York Islanders have four Stanley Cups because of the sacrifices he and the members of those dynasty teams made for the franchise. On behalf of the entire organization, we send our deepest condolences to the entire Gillies family."
Those sentiments were echoed by present coach Barry Trotz, who said the following: "I think when you talk about Clark, Clark has a relationship with so many guys that have cut their teeth with the Islanders. He was bigger than life. When you thought Clark Gillies, you thought Islander. There is no doubt, there is no gray area. Charismatic, he played the right way, part of the community. Everything that you think about an Islander, being a good teammate, fantastic person, all those things. My heart dropped when I was told coming off the ice. He'll be missed, he really will."
And so, with that having been said, I can only humbly add, rest in peace Clark. You were a one-of-a-kind player and person. Thank you so much for all of the thrills and memories that you added to my life as a fan of your beloved sport. - Steve

---
It is with a very heavy heart that I am using this space to acknowledge the passing of a great drummer and a good friend, Mike Shapiro. Mike was known to many, from coast to coast and around the world, as one of the foremost authorities on Brasilian rhythms and music - especially for non-Brasilians.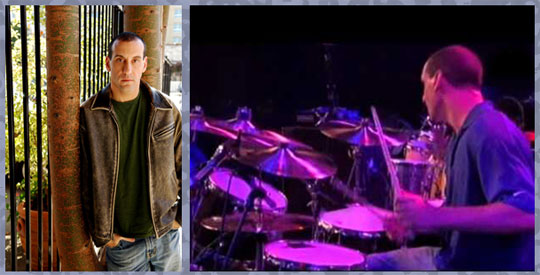 He spent years playing with Sergio Méndes and, in addition, he was one of the founders and principal instructors at L.A.M.A. (Los Angeles Music Academy). Mike played on one of my all-time favorite albums by Sergio, "BRASILEIRO"(Elektra) which still stands as one of the great albums, in any genre! I would also have to mention two albums by the brilliant Dori Caymmi, "BRASILIAN SERENATA"(Qwest)(1991) and "KICKING CANS"(Qwest)(1993). I just love these albums, the songs and the feeling. Mike Shapiro was a huge part of that.
Saxophonist and best friend Gary Meek wrote the following anecdote in his homage: "Mike learned Brasilian drumming and percussion from Airto Moreira by setting-up two drum sets, facing each other, at Airto's house and imitating him precisely. It wasn't long before he was the best American player of Brasilian music. All of the great Brasilian artists wanted him, because of his unmatched feel and understanding of so many different styles of Brasilian music."
Back in 2010-11, I sought Mike out to see if he could possibly help me to get Gracinha Leporace to sing some vocalese on my song "Zancudoville" which was to appear on my album, "PARTING SHOT"(Tone Center). Mike and I tried, using all of our persuasive powers, even begging, but, in the end, all of our efforts failed. For me, it was such a huge disappointment, but one must move on and let it go. However, I was always indebted to Mike for the sincerity of his efforts. We stayed good friends thereafter, and when Sergio would come to New York to play the Blue Note, Mike and I would always meet for lunch or dinner. Those meals were always great fun.
It is strange how the years can pass by so quickly, and it was in 2015-16 that I was able to repay the favor to Mike by recommending him to Brent Fischer to play on the Clare Fischer Big Band album, "OUT OF THE BLUE." Both Brent and Mike were exceptionally pleased with the results. For me, I was just thrilled that I could have made this connection, and in doing so, make two good friends happy, personally and musically.

This past Sunday, November 14th, 2021, I happened to read at a friend's Facebook page that Mike had passed away in the Philippines. Again, some 5 years had passed, and I had no idea that Mike had even moved to the Philippines. And, more than this, that he had recently married singer, Katrina Velarde. All of this was surprising and shocking news to me - though, had I known about the move and the marriage, I certainly would have wished Mike well, and Katrina & Mike well too.
I can't pretend that I knew Mike well or that he and I were "close" friends - but, in the way that musicians often form bonds of friendship with one another, Mike and I were certainly, at the very least, in that place. As I knew him, he was a great person and obviously a great and very knowledgable musician - especially in his area of specialty, Brasil. As it is for all of us, none of us are perfect human beings by any stretch of the imagination, Mike had his flaws and demons too but, that aside, the outpouring of love and sorrow from his friends and colleagues, near and far, brought about by these recent tragic events - that says enough! In the end, he was a beloved person by many. I am just so sad and sorry that his life took this very unexpected turn - at least as many of us are now perceiving it. So, dear Mike, I hope that in the greater cosmos
this somehow finds you at peace, or that peace is coming to you very soon. Sending love to you and your family and all those who cared so much for and about you. Your friend, Steve.

---
It is suddenly Monday, November 1st, 2021, and the news of the passing of one our greatest Jazz guitarists Pat Martino has sadly reached me. It was known, and for quite some time, that Pat had been in failing health, and it was hard to find optimism for his return to live playing. All of those concerns and fears were realized today. Born Pat Azzara in Philadelphia, PA in 1944, he was already playing professional gigs when he was just 15 years old. I would imagine that I first heard him during the mid-'60s, and somehow
I now can't recall exactly which recording came to my attention first. Was it something that he had recorded as a sideman? That's my best guess, but whenever it was, I was immediately captivated by the time feel of his single-note lines, and the relentless sense of self-confidence. These lines always sounded perfectly executed, but with feeling, soul, and always, the necessary blues references.
As Jazz music eventually was morphing and mutating during the late '60s and into the '70s, one thing remained consistent and that was that most of the great players, the ones that I admired in my early years: Wes Montgomery, Kenny Burrell, Grant Green - they had all spent time in the fertile ground of the organ trio. The next 'wave' of great players: George Benson and Pat Martino were also fortunate enough to have spent years playing and traveling in the various organ groups while there still was a Jazz circuit. That being that the top groups could play the Jazz clubs in the big cities from Tuesday through Sunday - and Sundays often offered a special Sunday matinee in addition to the night's performance. Monday was a travel day - on to the next city, the next club, the next motel/hotel. In my way, I always viewed both George and Pat as the "sons of Wes."
In my college years, I began transcribing Pat Martino solos as an aid to help me to better understand the elements of the Jazz language. His playing was, in essence, a compendium of just about all of the phrasing and basic line configurations that one would ever have to know. We became friendly during the early '70s, and that fundamental friendship continued almost to the present. When people started to hear about my transcriptions, it filtered back to Aaron Stang @ CPP/Belwin, and by some miracle, in 1991, they published "PAT MARTINO - The Early Years," which featured solos from his own Prestige Records catalog plus solos from his work as a sideman during that same time period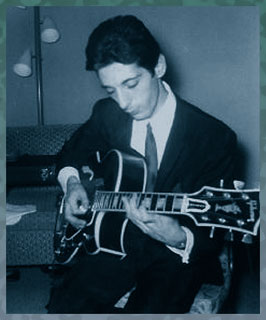 with Don Patterson, Eric Kloss and Willis Jackson. Over the years, 9 additional solos from his own early solo albums plus from his recorded work with John Handy and Jack McDuff were featured at KHAN'S KORNER 1, in addition to solos from his other albums as a leader. All of these solos never quite made it into the book, and there was never going to be a Volume 2, because the publishers had great difficulty dealing with Pat's management - a most common story. No matter, I always felt that whatever one wanted to know and understand about Pat's playing could be found within those transcriptions that reside in the original book. No matter what Pat might have said in interviews or written somewhere, the evidence of greatest weight about how he heard lies within the notes that he played. The truth is right there, and it never changes.
Pat and I had one long afternoon meeting about the book at his mother's house in Philadelphia, where we sat together in almost complete darkness. It was very bizarre. I had a clear plan as to how I wanted to present the materials - which was all based around what I felt that his most ardent fans really wanted to know. I wanted to include, at the back of the book a section that would have been called Martinoisms, which would have included some of his most iconic line configurations. My hope was that he would be willing to share exactly how he fingered and articulated those passages. When I presented this concept to Pat, he looked at me a bit confounded by what I was saying, and he asked me: "Why would someone want to know that?" It was at that moment that I knew I wasn't going to be heading home with what I had hoped to accomplish. I was going to be left completely on my own. When I showed him all of the transcriptions he was really impressed, he loved them, but after looking at them, he held one page up to me where he was showing me the back of the page in the light. And, he asked me, "This is all well and good, but what if you presented the solo the way YOU are seeing it now?" Meaning that a student would have to play the solo in some form of weird retrograde. To that, I could only reply, "Your fans, in my opinion, are not interested in that Pat, they just want to be able to play the lines that you had played - that's it!" In the original book, I wanted to include Pat's solo on "Santa Claus is Coming to Town" from Don Patterson's "HOLIDAY SOUL" album,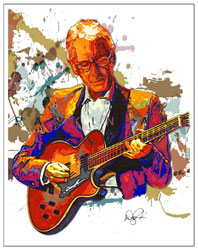 and Pat firmly but politely said, "No! That can't appear in the book!" I asked, "Why? It's such a great solo." And he said to me, "My mom doesn't like that solo!" How does one reason with that?!?!?!
All of these stories aside, Pat Martino was one of the great voices of the Jazz guitar for nearly 6 decades with a recorded output that is almost 2nd to none. Believe it or not, for my personal taste, I still find that his best recorded sound was on his very first album as a leader, "EL HOMBRE." Is it any wonder that it was recorded by the great Rudy van Gelder? Though most of these early albums were recorded when he playing a Gibson L-5, as the years came and went, he experimented with many different guitars - some custom made, others of varying types from Gibson. All those changes of instrument aside, his sound really never changed too much - it was always a pretty straight Jazz guitar sound, born of very heavy gauge strings.
The purity of Pat's art is going to be around for ages and he will be heard and listened to again and again as long as Jazz radio exists. I'm happy that I was granted the privilege of getting to know him for a brief time and that we were friends and colleagues over many years. His influence on my playing, though at times, perhaps not obvious, was profound - and the inspiration of his dedication to his art, especially after suffering a brain aneurism and being forced to virtually learn the guitar again - as if he had never played it before was truly remarkable. How many of us could ever attempt such a thing. But, Pat did it, and returned to live playing, where he once again thrilled fans the world over. That is the kind of courage that few of us will ever possess. With love and great respect, rest in peace dear Pat. - Steve

---
Though today is Tuesday, I just learned that one of the greatest timbaleros, Ralph Irizarry, known to some as "Ralphy/Ralphie" had passed away this past Sunday, September 5th, 2021, at the age of 67. And here I sit, yet again,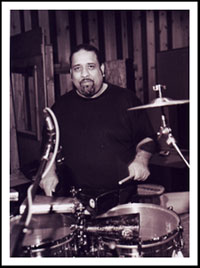 remembering how very special he was as a person, way beyond his attributes as a musician. His incredible smile could light up an entire room - a HUGE room - and his big, booming voice, speaking to me, beginning always with, "Bro'......" was just too much most times. I loved being around Ralphy, it was always so much fun - and, for me, always a tremendous learning experience about Latin music. He was a great teacher for me too! How well I remember going downtown during the late '90s to any number of the great clubs to hear Ralphy and his incredible trailblazing newly formed group TIMBALAYE. For me, and countless others in the community of musicians, this group was taking Latin Jazz to new heights of creativity.
As my studies of Latin music and Latin Jazz were formulating back then and before, it was easy to hear and feel that Ralph had a very particular swing to his playing. Really, there was no one else quite like him, and the difference was always striking. He was also a superb soloist, I loved listening to him creating and inventing - always. How well I recall Ralph's fantastic work with the group, Seis del Solar during the '80s both as accompanists for Rubén Blades and, as a group on their own led by the remarkable Oscar Hernández(Keys). Perhaps NO ONE on this earth is better equipped to have written a stirring tribute to Ralph Irizarry than Rubén Blades. Written in Spanish, it is absolutely beautiful and heart wrenching. Not a dry eye here.

One classic example of Ralph's fantastic timbal playing would have to be his appearance on Ray Barretto's monster album from 1979, "RICAN/STRUCTION" alongside both Oscar Hernández and Sal Cuevas. Probably my favorite tune from that album has always been "Adelante Siempre Voy" featuring the voice of Adalberto Santiago. This one is just too good!
It is impossible for me to write about the feeling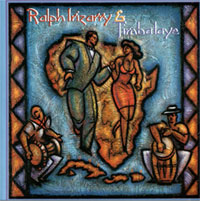 of Ralphy's playing and not mention his appearances on Juan Luis Guerra's remarkable album from 1994, "FOGARATÉ." I would hasten to point out Ralph's immediately recognizable playing on the tune, "Oficio de Enamorado."
From their 1999 CD, "TIMBALAYE" I selected the very striking and dynamic opening track, Oriente López' "Rampa Arriba." At the time, the group included such great players as: Richard Nant(Trumpet)(Argentina); Bob Franceschini(Reeds)(USA); Joe Fiedler(Trombone)(USA); Luis Perdomo(Keys)(Venezuela); Waldo Chávez(El. Bass)(El Salvador) and Roberto Quintero(Conga & Percussion)(Venezuela). Ralphy, who hails from Ponce, Puerto Rico, asked me to be an "extra set of ears" as the recording was headed for mixing, and I was honored to have tried to help out a little bit. It was so exciting for me, and make no mistake about it, this was a HUGELY significant band! I knew how important it was to Ralph to do something in music that represented his concepts for the timbal in a way that had not been explored before. Timbalaye was the best possible expression of these yearnings. For me, Ralph Irizarry did precisely what he had hoped to do!!!
As the new century dawned, Ralph had started another group, much more dance oriented, called SON CAFÉ and their first CD was released in 2004. "A Los Pianistas" was a favorite of mine from that first CD. In 2006, he released "TRIBUTO" which offered fantastic tributes to groups and artists like: Sonora Matancera; La Lupe; Pete "El Conde" Rodríguez; Charlie Palmieri and Ray Barretto.

In 2005, as I was trying to jump start my career with "THE GREEN FIELD"(El Prado Verde) album, Ralph became an immediate part of the effort to combine Latin rhythms and sounds alongside Jack DeJohnette and John Patitucci. Perhaps, my favorite solo of Ralph's takes place on my little homage to Tito Puente's monumental album, "PUENTE IN PERCUSSION" on the tune "Cosecha lo que has sembrado." As the group hits the double-time fade, Ralph and Jack are just killin' it!!! When Ralphy goes to his mambo bell, it's just too much!!! Qué swing!!! Now listen to the sense of swing and grace that Ralph added to Herbie Hancock's "Riot."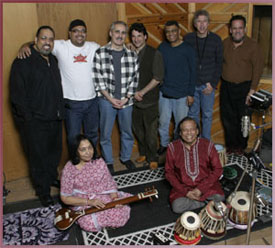 At times, I knew that I was asking Ralphy to do some things that might have seemed musically strange at that moment - but, I did have something in mind, and I always knew that Ralph could do it!
It was just two years later, in 2007, when we all reconvened to record the "BORROWED TIME"(Tiempo Prestado) album, which attempted to take our explorations a few steps forward. The largest and most complex of those tunes was "El Faquir." In addition to Jack, John, Roberto Quintero and Manolo Badrena, we were joined by tabla master Badal Roy, his wife Geeta(Tamboura), and the great Bob Mintzer on Bass Clarinet. For this piece, I was asking Ralph to play paila in 11/4, and then to invent a mambo bell pattern in half-time or 3 and 2/3rds/4. At first, he looked at me as if I had lost my mind - but, after the rehearsal, he came into the session and killed it.

In recent months, everyone in the community of musicians knew that Ralph had not been in the best of health, and when there is an outpouring of support for someone as beloved as Ralph Irizarry was, you just can feel the seriousness of the situation. As it always is, it just becomes too sad to imagine. And so, to Ralph's beloved wife Elizabeth, his sons Ralphie Jr. and Marlon, and daughter Marissa, I send out my deepest sympathies on this incalculable loss. From my humble place, it was a privilege and an honor to have known Ralph, to have worked with him, and to have been able to call him my friend. Love you Bro', ahora y siempre - Steve

---
Though today is Saturday, I was just told that another one of my oldest friends and colleagues, a mentor, Clarence McDonald, known to those closest to him as "Mac" had passed away this past Thursday, July 22nd, 2021, at the age of 76. Yet again, I am left to sit here and to contemplate just how much this particular loss hits home with me. Perhaps, a little storytelling would be very much in order, as my thoughts today are filled with memories of a warm and generous person, who came to be my friend and,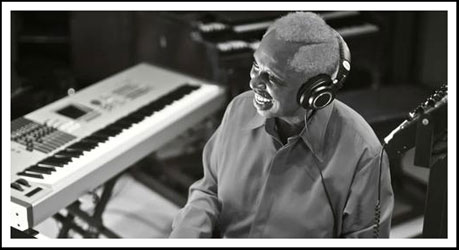 as I mentioned in the opening sentence, a mentor of such a high order.
My recollection is that Clarence and I met at some point in 1968 in Los Angeles - probably at a jam session hosted by saxophonist Ron Finney, and I am almost certain that drummer Michael Carvin would have been there as well. It was from such a brief encounter with musicians who were far, far more seasoned and accomplished than me at that moment - a beginning guitarist who had learned more about the music and its history than he could actually execute and play. But somehow, Clarence and Michael liked me, both as a person and a player - even if we were coming from wildly differently backgrounds. Both Michael and Clarence had just returned home from a 2 year hitch in the army, serving in Viet Nam. How does one, who never served, who was never there, assess what that can do to a human being? I still wrestle with these things to this day. It's also crucial not to ever forget the very turbulent nature of those years here in the USA. Peace, love, hippies, Black Power, discontent, assassinations, and riots were all the order of the day. I learned more about the Black experience in America from Clarence and Michael than I had ever learned or experienced anywhere else. It gave me something, a perspective that I carry with me each and every day.
Musically speaking, their belief in my humble talents led to many wonderful opportunities - opportunities which I was never convinced that I was actually prepared for. Mac and Michael had been playing with a new group called The Friends of Distinction, with Mac serving as their musical director. It was remarkable for me to be in on the ground floor of a group that was to enjoy so much eventual success. When they went in to record their first album, which included hits like "Grazin' in the Grass" and "Going in Circles," I was one of the band members to be replaced by session musicians. Only Clarence played on that album. As part of all of the rehearsals, gigs and modest touring, I met singer Jessica Cleaves, and we enjoyed a powerful connection together.
One day at Mac's crib, we were rehearsing something, and the phone rang, and it was keyboard artist, Phil Moore, Jr.! I didn't know much about him at all. Apparently, he heard me noodling around in the background, and he asked Clarence, "Who is that?" And Mac said, "Oh, it's this kid, Steve Khan!" So, Phil said to Mac, "Tell him to come to the rehearsal for my album with you!" I couldn't believe it - I almost fell over from shock! When I walked in to that rehearsal a few days later, who should I see sitting there? None other than two of the Jazz Crusaders - without question one of our best Jazz groups in Los Angeles. There was Stix Hooper on the drums, and Wilton Felder, normally a tenor sax player, but here he was playing Fender bass. It was beyond surreal. I also have to mention that it was during Phil's sessions for his album, "RIGHT ON"(Atlantic) that I met a young drummer named, Andre Fischer, who would later go on to help to form Rufus with Chaka Khan. If you can believe this, from there, Wilton Felder invited me to play on his 1st album as a leader, "BULLITT"(Pacific Jazz). It was just too much to imagine suddenly being at such a session with virtually all of the top players in Los Angeles. All of this was happening as I was getting ready to spend the summer of '69 in New York with vibist David Friedman, and to be a part of his quartet. It was all happening too fast.
Another treasured experience for me was when Clarence invited me to come with him as he was going to be doing his first big-time Jazz recording session with saxophonist Ernie Watts - for Ernie's first album as a leader. That album became "PLANET LOVE"(Pacific Jazz). It was such a great experience, and I was very proud to be Mac's friend and to see him just kill the session! I will always be so grateful that he allowed me to be there - sitting, listening and learning quietly of course.

Then, I moved to New York in 1970 and sadly, I lost touch with both Mac and Michael Carvin. But, from the great distance I was following their careers, and with each success for either one of them, I was just so happy for them - and so proud to have known them when. You only have to read Mac's BIO to begin to comprehend all that he has done in his musical life.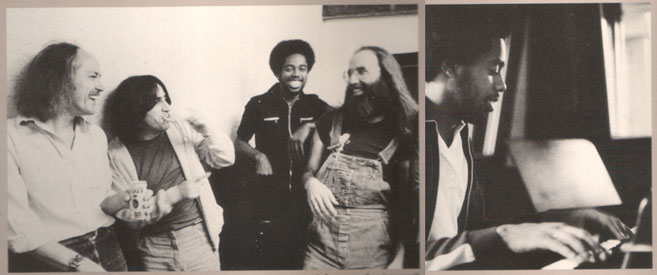 But, two moments really touched me the most: [1] When I saw that Mac was recording with James Taylor on "GORILLA"(1975); "IN THE POCKET"(1976) and "JT"(1977). I was just so thrilled for Mac, that he was getting this kind of recognition for being the player that he always had been. And [2] was when I saw the Clarence had co-produced The Emotions album "REJOICE" which included the smash hit, "The Best of My Love." What can I say? To see these things just had me bursting with pride for Mac!!!
It wasn't all that long ago that I reconnected with Michael Carvin first. That was through his beloved wife, Jazz radio fixture, Rhonda Hamilton. This was so great because Michael had done so well here in New York in the Jazz world. The warmth and respect from the past was still there - it was beautiful to feel that. It wasn't long thereafter that Clarence and I reconnected too. It might have been through something as frivolous as Facebook - but once we spoke to one another it was as if no time had passed at all, and all of those old feelings and memories were solidly intact. And best of all, I was finally able to tell him directly just how proud I was of everything that he had been able to accomplish. We stayed in touch, albeit infrequently, right up until his passing the other day.
Mac, I can only say that I am going to miss you, I'm going to miss knowing that you were there, within reach. Rest in peace dear Mac, you had such a profound impact on my life in every possible way. I'm just glad that I had the chance to tell you that. My deepest sympathies to his beloved wife, Susan. Love, forever and always - Steve

---
It wasn't all that long ago, on a rather nondescript Tuesday morning, January 26th, 2021 that I was contacted by a friend who did not want to convey news of such weight via a message, and so, we spoke by phone, and he then proceeded to tell me about the recent grave diagnosis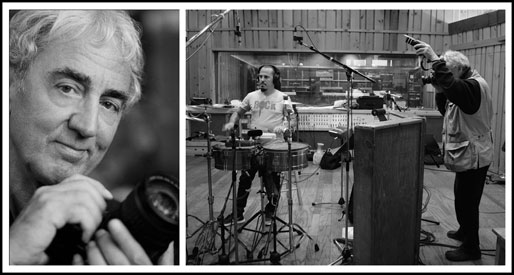 of the health of legendary bassist/photographer/composer, Rick Laird. I was deeply saddened then, and I have remained that way. Rick and I have been musical colleagues and close friends for close to 50 years. Now, it is July 4th, and the worst possible news has become true. Rick passed away early this morning.
I knew him to be one of the kindest, most thoughtful, generous, empathetic and intellectually curious people in my life. Though few knew it, Rick became a great composer in his later years, and would often send me his demos as these pieces were formulating. He had a beautiful sense of melody and gorgeous harmonies. Rick was always overly humble about this area of his work, and I tried to encourage him in this direction, and get some of these tunes to people who might record them, even putting lyrics to them - those efforts sadly never bore any fruit.
In the photographer collage to the right, you can see one of my favorite photos of Rick at work, in action, shooting the great timbalero Marc Quiñones at the "BACKLOG" session @ Avatar Studio 'C' from 2016. His approach to these delicate circumstances was always to be as unobtrusive, invisible as was possible. Being a musician himself, he had great respect for everyone's process of trying to center-in on the task at hand. All the musicians loved seeing him, working with him, and conversing with him as well. It was wonderful to have Rick around these sessions.

Born in Dublin, Ireland, Rick moved to New Zealand when he was 16 yrs. old, later moving to Sydney, Australia, where his love for Jazz deepened. In 1962, he moved to London. I probably first saw Rick playing electric bass on the very 1st gig for the soon-to-be fabled Mahavishnu Orchestra on July 21st, 1971 here in New York City at Greenwich Village's club, Gaslight. I wrote about that experience here at the website, so if you click on the link supplied, it will take you there. How does one ever comprehend being a part of one of the most important groups in the history of contemporary music? From the beginning to the end of this great band,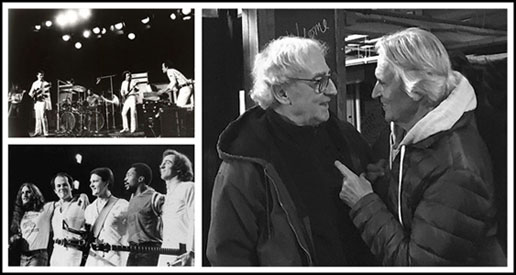 which came on like hurricane, it changed the lives of Rick, John McLaughlin, Jan Hammer, Jerry Goodman, and Billy Cobham forever. How does one assess what all of that meant - depending upon the moment and the day, Rick wrestled with these issues.
In January of 1972, less than one year later, I met Rick for the 1st time at a rehearsal for what was to become saxophonist Clive Stevens' "ATMOSPHERES" album, which brought us together with Ralph Towner, John Abercrombie, and Billy Cobham. From that day forward, Rick and I became fast friends. I remember vividly on another night, this time in 1973, Rick and I went together to Carnegie Hall to see the newly reformed and very electric incarnation of Chick Corea's Return to Forever featuring guitarist Bill Connors. In Jazz-Fusion, I had never heard a better rock/blues influenced guitar sound like that, and I told Rick on that night, THIS is going to change how the guitar goes forward in Fusion. Over the many, many years thereafter, Rick and I continued to be close friends.

In 1980, Rick shot the portrait photo for the back cover of "EVIDENCE"(Arista/Novus). It has become one of my treasured favorites. As the years came and went thereafter, Rick's life and mine took on distinct paths both personally and musically. We probably ran into one another from time to time, but when we really reconnected and became close again, he had become one of the top Jazz photographers around New York. Rick shot the photos for "YOU ARE HERE"(SIAM) in 1998, my 2nd album with the great Rob Mounsey. The next big project we did together was the photo shoot for the 2001 "PARAÍSO"(Concord Picante) album by the Caribbean Jazz Project with both Dave Samuels and Dave Valentín. When my solo career somehow arrived again, Rick shot all the photos for these albums: "THE GREEN FIELD"(2005); "BORROWED TIME"(2007); "PARTING SHOT"(2011); "SUBTEXT"(2014); "BACKLOG"(2016) and most recently "PATCHWORK"(2019). For all of the players gathered, it was always a thrill and fun to see them interacting with Rick Laird, the photographer. Rick did beautiful work on all of these recordings.
As the internet burst onto the scene, and YouTube became a goldmine of information and history with its incredible video archives, even though he had told me about his years in London at Ronnie Scott's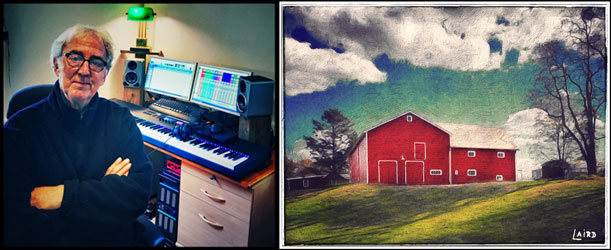 as part of the house rhythm section - it was still astounding to see Rick playing his acoustic bass in a quartet setting with artists like Wes Montgomery in 1965. It must be noted that Rick also recorded his own album as a leader, "SOFT FOCUS" in 1977 and it featured: Joe Henderson, Tom Grant and Ron Steen. I think that he told that they even briefly toured Europe.
As the lives of professional photographers changed with the times and the changes in technology, Rick learned to adapt to it all. He became a master at iPhone photography and even ended-up giving classes to amateurs and semi-professionals. From time to time, he would send me beautiful landscapes that he had shot and then colorized to look like paintings. All of it revealed a most artistic and sensitive soul. As sad as I am, I know that I'm going to miss Rick Laird profoundly, I will miss our conversations about life, relationships, music, art, photography, and yes, politics too. At this moment, it is really hard to write this, but I know one thing for certain, I'm going to miss my dear friend very much. For me, just knowing that he was there, a little north of Manhattan, was a most reassuring thing.
Rest in peace dear Rick, you had an absolutely fantastic life, and you were loved and admired by so many - those near and far. My deepest sympathies to his daughter, Sophie. Love, Steve

---
I was stunned, completely shocked to learn, quite out of nowhere that, on Tuesday, February 9th, 2021, Chick Corea, one of the giants of Jazz piano had passed away at 79 years of age. It is such a jolt, because I had no idea that he was even ill, let alone gravely ill. It is not that I knew him well personally, but the Jazz pipeline of information is always an open one, and musicians talk with one another,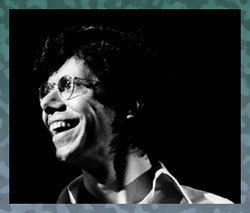 and write to one another about many things, many people. So for this news to pop-up out of the blue leaves me in a state of shock. I guess I thought that Chick would just always 'be around' and continue to be one of the great creative forces on the piano and in music, in general.

In my thoughts and memories, while attempting to narrow down his brilliant career to a single collage of 5 of my favorite albums, albums that inspired and influenced me so much, what I found was that I just could not do it. So, I had to create two collages of 5 albums each - and I still felt that I had left out many important albums. This is but a small testament to just how vast Chick Corea's output of recorded music was. In my first collage, which I tried to adhere to some kind of chronology, but having failed at that, I chose: "NOW HE SINGS, NOW HE SOBS"(Solid State/Blue Note)(1968)-"SOUL BURST"(Cal Tjader)(Verve)(1966)-"JAZZ FOR A SUNDAY AFTERNOON"(Solid State)(1967)-"SWEET RAIN"(Stan Getz)(Verve)(1967)-"THE SONG OF SINGING"(Blue Note)(1970). The choice of "NOW HE SINGS, NOW HE SOBS" is an obvious one, as it will always stand as one of the great piano trio albums of all-time, and launched a kind of modern interplay alongside kindred spirits: Miroslav Vitous and Roy Haynes. This recording set a standard that is so hard to even approach. Then there is Chick's spectacular contributions to Cal Tjader's "SOUL BURST" album, a monumental album in Latin Jazz, and one that helped to shape my sense of the possible in that wondrous sub-genre. Around that same time period, there was Chick's presence on the Jam Session album "JAZZ FOR A SUNDAY AFTERNOON" featuring various artists, where it seemed as though Chick's playing and comping was in another world when placed in the same setting as so many of these respected Jazz giants. I remember transcribing a lot of Chick's comping, because I was desperate to understand what he was doing. Stan Getz' "SWEET RAIN" album was an immediate favorite of mine with Stan, Chick and Ron Carter and Grady Tate, and featured luminous Chick Corea originals like: "Litha" and "Windows," which would be just the beginning of more brilliant compositions to be recorded as the years would come and go.
Finally, I had to include Chick's post-Miles trio with Dave Holland and Barry Altschul and their recording, "THE SONG OF SINGING." They were soon to become known as CIRCLE, and I saw them play at the Village Vanguard on several occasions, as a trio, and later with Anthony Braxton. It was so inspiring, and to this day it was probably the best experience I had had listening to "free Jazz" - where spontaneous improvisation was concerned, this was all of that, and on the highest of high levels.

My 2nd collage in tribute to the recordings of Chick Corea offered these albums: "FRIENDS"(Polydor)(1978)-"PIANO IMPROVISATIONS VOL. 1"(ECM)(1971)-"RETURN TO FOREVER"(ECM)(1970)-"TRIO MUSIC"(ECM)(1982)-"THREE QUARTETS"(Stretch)(1981). I am struck by how much more music Chick Corea would go on to create throughout the '80s, '90s, and right up to the present. The output, the compositions, it is so humbling to think about. It seems as though, Chick could envision a new project, or a new grouping of players, and then simply create an entire album of new music, new compositions - rarely, if ever, sounding anything like something that he had done before. Just imagine trying to do that! Here, these recordings do get a bit out of chronological sequence, but, "FRIENDS" was certainly one of those Corea albums where he put together a new quartet, and wrote new music specifically for that group of musicians - and the results were brilliant. So many memorable tunes and inspired playing with Joe Farrell, Eddie Gómez and Steve Gadd, all close friends and musical colleagues - with Chick on Fender Rhodes for a couple of the most melodically memorable tunes. Then, I had to include Chick's 1st wonderful solo acoustic piano album for the then new ECM label. His interpretations of Thelonious Monk's "Trinkle, Tinkle" and Wayne Shorter's "Masqualero" were very inspirational for me. This album was followed by the surprising first incarnation of "RETURN TO FOREVER" - an album which featured: Joe Farrell, Stanley Clarke, Airto and Flora Purim.

What amazing music this was, and featured compositions like: "Return to Forever," "Crystal Silence" and "Sometime Ago"-"La Fiesta." For me, there has been no greater interpreter of the music of Thelonious Monk than Chick Corea, and "TRIO MUSIC" - once again with Miroslav Vitous and Roy Haynes would set a very, very high bar for the Monk interpreters to come. Finally, I had to list "THREE QUARTETS" which brought in Michael Brecker along with Eddie Gómez and Steve Gadd. Another configuration of players, and more new music - vital new music. If I could have included one more album, believe it or not, I would have added in Joe Farrell's 1971 CTI album, "OUTBACK" - again, with Joe Farrell and Airto, but this time with Buster Williams and Elvin Jones. I love this album. Again, Chick is only playing a Fender Rhodes. And then, there was another CTI album, "FREE" by Airto, which featured a new interpretation of his tune "Return to Forever" with Don Sebesky's brass added. I still love listening to that performance.
In revisiting some of Chick's music from the early '70s, I was listening to the song "Light as a Feather," and I was struck by the beauty of the Rhodes transition chords @ 1:13 just before Flora Purim begins to sing: "There's a place, so easy to be found - if you want, I'll take you there right now......" For me, anyone who can hear harmonies like that, simple and so rich, that person has to have a big and romantic heart.

It just doesn't feel right to me not to mention Chick's presence with Miles Davis. Beginning with his appearance on "FILLES DE KILIMANJARO"(Columbia), And then into the period of great experiments: "IN A SILENT WAY"; "BITCHES BREW" and "BIG FUN" - Chick's presence and style on Rhodes was immediate recognizable and felt. There were also any number of live recordings that were released over time and finally properly credited. Where DVDs are concerned, on "A DIFFERENT KIND OF BLUE," it was amazing to see Chick and Keith Jarrett together for the iconic Isle of Wight concert, but it is the interviews that end-up being worth everything. It is a must have for the stories alone.
I'm still uncertain as to all that I might want to say here in praise of Chick Corea, his piano playing and his compositions - and an astounding output of albums - especially all of the remarkable acoustic piano trio albums. I remember how much I enjoyed his new trio album in 2001, "PAST, PRESENT & FUTURES with Avishai Cohen and Jeff Ballard. Again, he wrote a new book of music and the playing, even with different players, was the same level of improvisatory excellence that one would expect from any Chick Corea piano trio project. There had been and would be so many more acoustic piano trios. I enjoyed them all. For any other artist, that would have been more than enough, but it would only be scratching the surface of Chick's never-ending and vast talents. He was just a once-in-a-generation kind of talent, and I don't know that we could ever expect to see someone like this come along again - certainly not any time soon. I know that it might seem a bit distant, often times when I think of Chick and his relationship to Latin Jazz, I only have to listen to this soundclip of his solo on "Guachi Guara"(Soul Sauce) from the Concord Picante 25th Annivarsary CD alongside Poncho Sánchez and Dave Samuels - he's just playing over one chord, C7, that's it, but Chick's creativity is and was endless. For me, the word that best describes the harmonic feeling that Chick projects here is simply MAJESTIC! Enjoy this with my best wishes to all: How brilliant and unique was Chick? Bravo maestro!!!

Though there were aspects to his personal philosophies that I never embraced or liked, but I learned to ignore those things and just revel in the glory of his wonderful music and playing. Perhaps what I will miss most about Chick Corea will be looking forward to hearing him interpret Thelonious Monk again, and again. Rest in peace Chick, without question, you inspired and enriched my musical life greatly.

About one month after I had posted this tribute, my old and dear friend and colleague Kenny Inaoka actually translated the entire text, with images, for his great JazzTokyo web-magazine, which was launched in 2004. I hope that many of his Japanese readers will enjoy what I wrote, and, if you haven't been able to read it, the link will now take you there.

---
Earlier today, Friday, January 22nd, 2021, my son Heath wrote to tell me that one of my childhood heroes, the great Hank Aaron, the greatest home run hitter of all-time, had passed away at the age of 86.
Of course, there is a very personal and most unusual story here. In 1957, when I was only 10 years old, I remember becoming enamored with the then Milwaukee Braves as they won the World Series over the New York Yankees in 7 games, with pitcher Lew Burdette becoming the MVP. During the following year, 1958,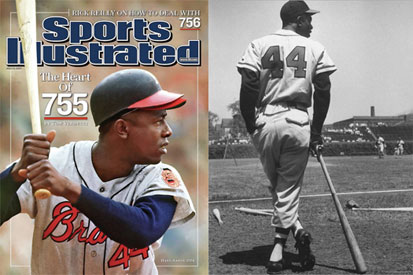 the Brooklyn Dodgers were going to be moving to Los Angeles to play their first few seasons at the Memorial Coliseum - a football stadium that had to be converted into a baseball field - with the oddity of a huge and very high screen in left field. During spring training for that inaugural season, my father was somehow in Texas, where he met some of the Milwaukee Braves, including equipment manager Joe Taylor. It was that same Joe Taylor who said to my father, "Listen we're coming to Los Angeles to play the Dodgers, why don't you bring the kid out to the Coliseum, and he can meet the team, go on the field before the game - whatever he wants to do." Well, what kid could refuse that? It was on that very day that I first met Hank Aaron!
I remember walking down that immense tunnel to the locker room and eventually to the stadium floor. But what I remember the most was how amazingly kind all of the players were to me. I was just some little kid and they were the World Champions of baseball. I guess many of them liked me, perhaps because I was so respectful of their space and their routines - I tried my best to be very quiet and to stay out of the way, and not cause any problems. Somehow, I was invited to spend a part of that summer with the team in Milwaukee. The first time I visited there, I stayed at the home of pitcher Bob Buhl. He and his wife were absolutely wonderful to me, and I would go to the stadium each day or night with Bob, and just hang-out with the players - in the locker room and on the field. The manager at the time was Fred Haney and some of the players included: Eddie Mathews; Wes Covington; Warren Spahn; Bill Bruton; Del Crandall; Johnny Logan; Felix Mantilla; Red Schoendienst; Frank Torre; Del Rice; Joey Jay; Don McMahon; Juan Pizarro; Carl Willey; Eddie Haas; Bob Hazle; Andy Pafko; Gene Conley; Lee Maye; Al Spangler; Charlie Lau; Chuck Cottier and eventually even Joe Torre. Somewhere in here, I remember that Lew Burdette gave me one of the first Rawlings Trapeze gloves, I treasured that glove for the longest time. I remember that the team and especially Johnny Logan presented me with a mini-road uniform with the #7 on it, which was, at the time, the uniform number of catcher Del Rice.
Hank Aaron was so nice to me always, so very, very kind. He was, after all, my idol. The 2nd summer I was there, I believe that I stayed part of the time at Warren Spahn's home. When I think about those times, and how very young I was - I don't remember any racial tensions, no problems between the Latino players and the other players. I remember hearing cursing like I had never heard before in my life. And later I was to learn that some of those words and phrases did not belong in the house.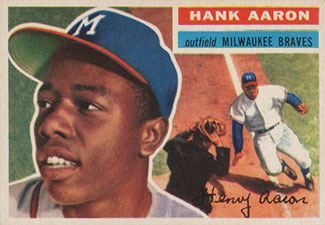 When the Braves lost the World Series to the Yankees in 1958, I remember that I was just devastated. But I was to be a Milwaukee Braves fan forever - though eventually that had to change, because teams moved around, and players get traded, etc.
During those summers, I remember taking the bus with the team and going to places like Chicago to play the Cubs at Wrigley Field, Pittsburgh to play the Pirates at Forbes Field, and Cincinnati to play the Reds at Crosley Field. It was all incredible to me. Later in my life I realized how extraordinarily special this all was - how lucky I was. I saw so many of Hank Aaron's home runs, a couple of Warren Spahn's no-hitters, and many other things. My great regret is that somehow as the years went by I lost my photo of me and Hank Aaron, and other photos with the great players. I would pretty much give anything to have that photo back again.
Though I have strayed far and wide from what is a tribute to Hank Aaron, I never stopped following his career and cried for joy when he broke Babe Ruth's all-time home run record in 1974 at home in Atlanta. Each time I saw Hank Aaron honored, or he would speak somewhere, it was the same man that I remembered from childhood. He always spoke with a sense of great calm, dignity and respect for the game which gave him so much, and he gave so much to. Though I heard nothing of it, obviously, he and the other black players had endured horrible treatment to integrate the game, and drive it forward. I admire Hank Aaron so much for the way that he carried himself through it all. He was a great man, a truly great man. I am going to miss him greatly. Just knowing that he was around was comforting in and of itself. Rest in peace dear Hank, in a short period of time, you taught me so much about just how one can carry oneself through life - through the best of times and the darkest of times.

---
Via the WBGO-FM website, I learned the sad news that tuba virtuoso, baritone saxophonist Howard Johnson, had passed away on Monday, January 11th, 2021 here in New York City at the age of 79.
I have so many memories of working with and playing music with Howard Johnson, and everything tends to run together as I try to compose this tribute to his memory. It wasn't long after I had moved to New York in 1970 that I began to run into Howard at various Jazz and Jazz/Fusion gigs, recording sessions and places where musicians gathered to hang-out and converse with one another. I always felt that he always greeted me with a huge smile, a warm handshake or a big hug, and this was so reassuring in what was a completely new world for me.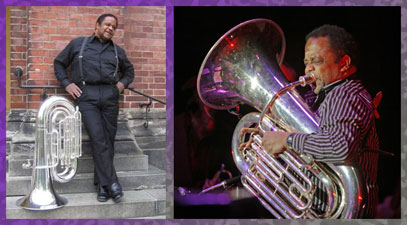 If I was to briefly list some of his impressive credits they would have to include artists like: Charles Mingus, Gil Evans, Archie Shepp, Charlie Haden, Gary Burton, Gerald Wilson, Andrew Hill, Carla Bley, Johnny Coles, Sam Rivers, John Scofield, Chet Baker, Jaco Pastorius, Taj Majal and James Taylor just to name a few.
In the early '70s, John Abercrombie and I were alternating playing in the Gil Evans Big Band @ Westbeth and Howard Johnson was always a part of it, and again his big smile of welcome made me feel at home. In the years that followed, I would see him, and at times it felt like it was almost daily, on various recording sessions of all types and genres - we were all there to do the same thing: serve the music, and do our best to make something out of what was often not much. Later in the '70s, it seemed like I was also seeing Howard @ "SATURDAY NIGHT LIVE" when he was in the house band and I was added to that group when Howard Shore felt that I was needed for something. Again, to be greeted by players like Howard, Alan Rubin, Bob Cranshaw and others was always very special. We had a lot of laughs during those days.
Fellow tuba great Bob Stewart said this about Howard: "He was like Dizzy Gillespie on the tuba. He could play higher than anybody else, just like Dizzy could. He could play faster than any other tuba player. Harmonically, he could hear all the things that he was playing, not unlike Dizzy Gillespie." Those comments perhaps say as much as you need to know about just how respected and great Howard Johnson was as a musician! It should be noted that he fronted several all-tuba groups including those that I saw perform: Substructure and Gravity. Hearing both of these groups was always truly challenging listening - if only for the low register of the notes being played. But, I admired Howard for venturing down that road.
Rest in peace dear Howard, I do treasure all of the times that we spent around New York's music/Jazz scene during better years. With love and great respect, your old friend, Steve

---
I just learned via CNN, this Saturday, December 12th, the very sad news that Charley Pride, one of the all-time great country music singers had passed away today of complications from COVID-19. I can't explain just how saddened I am about this.
I know if might seem a bit incongruous that, if asked the question: "Steve, what's your favorite country music album?" My answer has always remained the same, it was and still is: "CHARLEY PRIDE - IN PERSON" - Live at Panther Hall"(RCA) from 1968. I can't explain to you why I bought this album back then when all I was doing was listening to Miles Davis, John Coltrane, Ornette Coleman, Herbie Hancock, Bill Evans, McCoy Tyner, Wes Montgomery, Kenny Burrell, Grant Green, Jim Hall and all the great Blue Note, Atlantic, Riverside and Verve albums, etc.!

It wouldn't seem to make sense, right? But, I have always been a person who has loved songs and great singing, and singers too - that has never faded away.
So, that album which included classic songs like: "The Last Thing On My Mind"; "Just Between You And Me"; "I Know One"; "Lovesick Blues"; "The Image Of Me"; "Shutters And Boards"; "Six Days On The Road"; "Streets Of Baltimore"; "Got Leavin' On Her Mind" and "Crystal Chandeliers." Believe it or not, I knew all of these tunes, and I can still sing along with Charley through them all. I swear! What made this album all the more special was that I became captivated by the brilliant pedal steel playing of the legendary Lloyd Green. I can't explain how brilliantly Lloyd plays throughout this recording. I can sing all of those classic licks too. I've been one of his biggest fans ever since. On a side note, I just discovered a video of Charley and Lloyd performing "Just Between You And Me" on The Lawrence Welk Show in the late '60s and had to add an image from that to my little collage. The sad love songs on this album can still move me to tears at any moment. Also, Charley's storytelling between some of the songs is full of character, fun and flavor too.
Rest in peace dear Charley, it is a wonderful thing that you were recognized for just how great you truly were. It is often forgotten that Charley Pride was also a great baseball player and, if he wanted to fully pursue, he probably could have been a pro! ON that note, I'll close by stating that everything that I wrote here was done with love and great respect, Steve

---
I was taken quite by surprise this part December 2nd, 2020 when I learned that our USA 1960 Olympic Decathlon Champion, the great Rafer Johnson had passed away at 86 years of age. When he won the decathlon in 1960, I was just 13 years old, growing up in West Los Angeles, very near to U.C.L.A., where I would some 5 years later attend and graduate from. But in my junior and senior high school years, Rafer Johnson was one of our heroes and back then, in the small, quaint area of Westwood Village,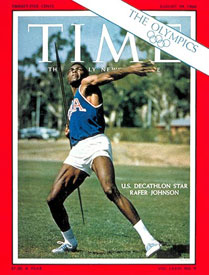 he was a constant presence - easy to be seen around and always very personable and accessible. He wore his fame, national and international, as well as any one person could do that. He was admired and liked by everyone. Perhaps, in his way, he was a foreshadowing of things to come decades later in the United States. Until now, I hadn't really thought of it that way.
I was just reminded that in 1968, it was Rafer Johnson, football great Rosey Grier and journalist George Plimpton who tackled Sirhan Sirhan moments after he had fatally shot Robert F. Kennedy - a moment in our history that is never forgotten. Ironically, I met and knew Rosey Grier and even accompanied him on guitar at a fraternity dinner. Life can sometimes become so small. But, Rafer Johnson was a man of great courage and principles and I admired him greatly for all that he stood for. Yes, Rafer Johnson went on to have a career in films, but he was so much bigger than that. In my little hometown area of Westwood, he was a larger than life hero.
At those 1960 Olympics, held in Rome, Johnson's main competition in the decathlon came from fellow U.C.L.A. Bruin, C.K. Yang (Yang Chuan-Kwang), who competed for Taiwan, with everything coming down to the 1500m event. After 9 events, the margin between them was so very small. Johnson ran his personal best at 4:49.7 and finished just 1.2 sec slower than Yang, winning the gold by 58 points with an Olympic record total of 8,392 points. Both athletes were exhausted and drained and came to a stop a few paces past the finish line leaning against each other for support. It is an unforgettable image that has remained with me for all of these years. For the longest time, the winner of any Olympic decathlon is always referred to as "The World's Greatest Athlete"! Whether true or not, Rafer Johnson embodied that to the fullest.
I can only thank Rafer Johnson for all that he brought to my young life, for things that I have carried with me right to the present. He was a hero, a heroic figure to so many, myself included, and I am saddened that he is no longer with us. Rest in peace, Rafer - Steve

---
Though the brilliant and forward looking recording engineer Jan Erik Kongshaug passed away on November 5th, 2019, I am only getting around to writing this tribute to this great artist now, on October 19th, 2020. I have no idea what took me so long - except,
given the global pandemic and our political woes here in the USA - small wonder that I'm getting to it at all.
Norwegian vocalist Kari Bremnes remembered him this way: "I knew Jan Erik Kongshaug as a remarkably sensitive and talented listener. He had this deep understanding of - and respect for - musicians and every instrument played. Jan Erik didn't talk much and he was a humble man in person. His focus was always on the music and how to make it sound as true and genuine as possible."
Of course, alongside producer Manfred Eicher and fellow engineer Martin Wieland, Jan Erik is one of the prime architects of the "ECM Sound" - a sound that has cast a broad and glorious shadow over the Jazz work since it first appeared in 1969. A partial list of some of the artists who graced their studios would have to include: Keith Jarrett, Jan Garbarek, Pat Metheny, Gary Burton, Chick Corea, Charlie Haden, John Abercrombie, Kenny Wheeler, Dave Liebman, Eberhard Weber, Arild Andersen, Bobo Stenson, John Taylor, Egberto Gismonti, Collin Walcott, Dave Holland, Terje Rypdal, Ralph Towner and Naná Vasconcelos.
Of their artistic collaboration, Manfred was quoted as saying: "We had an influence on each other. He was not an experienced engineer at the beginning, and I was not an experienced producer. We learned to capture sound together, to shape sound together." Jan Erik would add this: "We had the same attitude towards sound; it was very easy. We didn't have to talk. It just worked, and it sounded nice."
As a fan of Jan Erik's vast body of work, it is almost impossible to single out any one particular album as being "the one" that best represents everything that ECM Records was about or that Jan Erik was about.

In a most arbitrary way, I decided to try to select only 5 albums that Jan Erik recorded, and to attempt to narrow the focus, the recordings had to have been recorded in Norway. Even doing that, it was close to impossible. That stated, here are the 5 albums that I selected: "PIANO IMPROVISATIONS" Vol 1(1971) - Chick Corea; "SOLSTICE"(1975) - Ralph Towner; "MY SONG"(1977) - Keith Jarrett; "BATIK"(1978) - Ralph Towner; "PATHS, PRINTS"(1981) - Jan Garbarek.
Sometimes there are people, artists from the engineering side who capture something, often impossible to define, and that something ends up changing the way we all hear and appreciate Jazz. To me, Jan Erik Kongshaug helped to usher in a particular European point-of-view about sound, sound presentation - and music and music-making. How much of it was just the fact of recording in Norway? The cold, sometimes the endless darkness - what kind of impact did those elements have on the music to be recorded? I'm only a listener, I was never there, and I can't say in any first-hand way. But I very much appreciate everything that was created while Jan Erik was seated behind the console. May he rest in peace knowing that his work and artistry changed our world - and so much for the better. Written with great admiration and respect, Steve

---
This afternoon, late in the day, Friday, March 6th, 2020, I received a notification that McCoy Tyner, truly one of the most inspiring and original piano voices of this era, or any era, had passed away. He had arrived at being 81 years of age.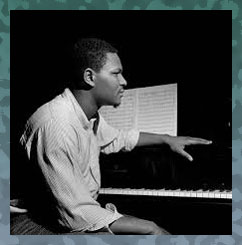 I think that, within the community of musicians, we all knew that McCoy had not been in the best of health in recent years, but to see this day come is just so very sad. He certainly lived long enough to have known, in the deepest part of his being, the impact that his playing and music had upon all generations from the '60s to the present, and, without question, his influence will be felt for as long as they play Jazz on this planet, or any planet!
Of course, his contributions to the sound and feeling of the John Coltrane Quartet, alongside Jimmy Garrison and Elvin Jones will be the source of constant study and infinite moments of spiritual reflection through the art of music. How is it possible that such a combination of people and players could come together? How can that be? One wants to believe that it is so much more than just some kind of cosmic accident - a random gathering of eagles. For those of us who became devoted followers and believers in what those four souls gave us, it really doesn't matter, we had the music, and it was there for us to listen to and to internalize forever. I would imagine that each person who was touched by this group and their music might point to a completely different ¡mpulse! LP/album as "the one." And, one could include some of the recorded work for the Atlantic label as well. But, one could not go wrong by choosing any one of those albums. I don't know why but I often find myself listening to "Brazilia" from "THE JOHN COLTRANE QUARTET PLAYS"(1965).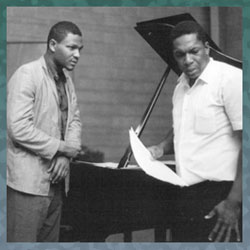 Then I think of the profound nature of the passion and playing on "One Down, One Up" from "NEW THING AT NEWPORT," also from 1965. I was 18 yrs. old then.
How did McCoy Tyner come-up with this style? All of those voicings in 4ths and beyond - all of the parallel harmonies - harmony that seemed to move around in circles while embracing what 'Trane seemed to be searching for. Rhythmically speaking, I have always tried to describe Elvin Jones' playing as these 'huge circles of rhythm' that cross over each other, but never stop rolling forward. You put that together with what McCoy developed, and it was perfection - certainly for anyone who connected with this music from the deepest place in the human spirit. Sometimes, one can find oneself in a musical situation where everything that you have prepared for seems to go out of the window, and you have to find a musical way to survive. In that sense, you have to reinvent yourself or find something within, while not fighting the music. It's right there, you just have to become an active part of the flow. But, as this 'style' was evolving, if one listens to McCoy's earliest recordings as a leader, beginning with "INCEPTION"(1962), his style seemed to be perhaps more connected to Bill Evans or Bud Powell than what was to come? Of those early recordings, my favorite tends to be "REACHING FOURTH, also from 1962, perhaps because of his singular treatment of "Have You Met Miss Jones?" with Henry Grimes and Roy Haynes. And to think that this performance is only 3:48. All that music and great playing in less than 4-minutes!
Of his post-Coltrane Quartet work, I tend to gravitate towards "THE REAL McCOY"(Blue Note)(1976) with Ron Carter, Elvin Jones and Joe Henderson. I never tire of listening to this album. It remains a constant source of inspiration. And then, there is the unforgettable double-LP, "SUPERTRIOS"(Milestone)(1977), which features one trio with Ron Carter and Tony Williams, and then another with Eddie Gómez and Jack DeJohnette. What can I say about these performances? So much fire, energy. passion and creativity.

It wasn't that long ago, in tribute to McCoy and the latter recording, that I recorded both of his compositions, "Blues for Ball" and "Hymn Song" - performances that included Jack DeJohnette. For me, I have spent many years trying to graft on McCoy's style to the guitar, especially his left hand. This is so difficult to do without two hands working together and separately - the left hand coloring the right hand. But with imagination and a suspension of belief - I suppose that one can convince oneself that you are, in fact, doing it. I will never stop trying. Listening to McCoy Tyner playing, one can only come to the conclusion that this was and is a deep commitment to style, and one cannot play within this approach without giving one's soul and complete being to it. There can be no halfway in doing this. You are either completely in it, or not - to me, there is no in between!

Finally, how can one ignore his work as a sideman for other great artists? The list is almost endless, but consider his monumental collaborations with artists like: Wayne Shorter, Freddie Hubbard, Joe Henderson and Bobby Hutcherson just to name a few. McCoy's personality and style were so centered and dominant that he flavored any recording on which he appeared, and so much for the better.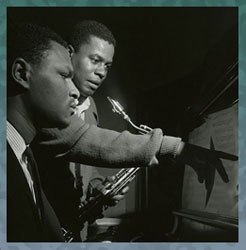 He immediately gave that music a center way beyond whatever the written notes and chord changes might have been.
Of all things, McCoy once allowed my father, Sammy Cahn to put lyrics to one of his compositions, which became known as "You Taught My Heart to Sing" from 1985. I remember my father describing having McCoy Tyner in his home and, in truth, having NO IDEA just who had been gracing his piano. It's a story that remains warm, ironic and even comical to my sister, Laurie and me. But, what a thrill, especially now. I am reminded that it had been only about 10 years before, when I played for my father the version of his song, "Dedicated to You" from the album "JOHN COLTRANE & JOHNNY HARTMAN"(1963). Before I had ever heard that version, I never even knew that my father had even written a song like this. Imagine my pride in knowing that John Coltrane had recorded a song written by my father! So, when writing lyrics to one of McCoy Tyner's songs, my father had somehow forgotten that it was McCoy, who was the pianist on the version of "Dedicated to You"! I remember that I even bought my father an LP copy of that album. But, it was sometime, a few years later, that my father phoned me one lost night, and told me that he had heard "Dedicated to You" on the radio while in his car, and hearing it was so emotional that he had to pull over to the side of road and listen quietly with tears in his eyes.
In yet another twist of fate, the first tune of my father's that I ever had the courage to record ended-up being that very same, "Dedicated to You," and in that sense, with my father's lyrics running through my mind, the imprint of McCoy Tyner's sense of romance and lyrical harmonic colors were just as present within me.

For the moment, I can only close by saying that I feel so lucky to have been alive during a time when McCoy Tyner was playing the piano. His was a most unique voice that will never ever be forgotten - yes, often imitated, but always belonging to this one man. Rest in peace dear McCoy, you are and were one of the giants of our music!

---
This morning, Tuesday, February 18th, 2020, through a good friend in Oslo, Norway, I learned that the visionary drummer, Jon Christensen had passed away one day earlier. I probably first heard him on a Jan Garbarek LP that I purchased while in college in 1969, "ESOTERIC CIRCLE"(Flying Dutchman). That album also featured: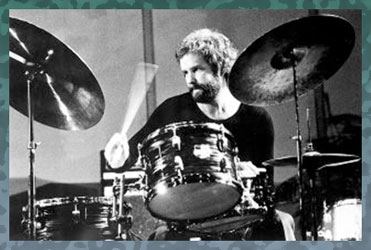 Terje Rypdal and Arild Andersen - all names that were to become familiar to all of us who watched and listened as the incredible influence of Norwegian and northern European musicians and their music was to completely alter the possible in Jazz as we had come to know it. In truth, I never paid much attention to that particular Jan Garbarek album, which was produced by George Russell.
Like many musicians of my generation and beyond, Jon's work with both Keith Jarrett and Ralph Towner during the 1970s struck me immediately as the most profound. But that is in no way meant to diminish his work with other great artists like: Terje Rypdal, Bobo Stenson, Eberhard Weber and many others. When I look at the great depth of recordings like Jarrett's "MY SONG"(1977) or Towner's "SOLSTICE"(1974), it is hard to escape just how profound that music was and is. It becomes impossible to say that the music on those two recordings is this kind of Jazz or that of Jazz because, the end result is that it is ALL of those things - and in approaching music-making that way, the genre and all sub-genres become stretched, and for the better. In the end, musicians like Garbarek, Palle Danielsson/Eberhard Weber and Christensen were able to move in any and all of these directions with passion, ease and grace. One must remember that Keith Jarrett's "BELONGING" was recorded in 1974, about 6 months earlier than "SOLSTICE." I believe that it is important to note this.
The brilliance of this coming together of these two spectacularly brilliant American musicians: Keith Jarrett and Ralph Towner with European musicians who brought to the table a most unique musical point-of-view -
and you mix it all together, and the results quietly changed everything. Jon Christensen's playing and concept of the drums, rhythm, space and elasticity were such a huge part of it all.
I do believe that somewhere, once upon a time, our paths crossed somewhere in Europe, probably backstage at a festival, and I had the chance to tell him just how wonderful I thought that he was - even if it was only in passing. The music that he was a part of enriched my life, and broadened my horizons immeasurably, and I will be forever grateful for that. Rest in peace Jon, I was just one of your many fans.

And, from one great drummer/musician to another, Peter Erskine shared what he wrote a little while ago with me, and I am, in turn, sharing it here, because what he wrote was so beautiful: "Jon managed to redefine and, in doing so, create a jazz drumming vocabulary and approach that built upon what Jack DeJohnette and Tony Williams had introduced to the music. In a large sense, his drumming made it possible for the next generation of drummers to grasp and implement what had until then seemed completely elusive."

---
Via the CNN website, I learned that two days ago, on November 21st, 2019, one of our greatest cartoonists/illustrators, Gahan Wilson had passed away in Scottsdale, Arizona at the age of 89.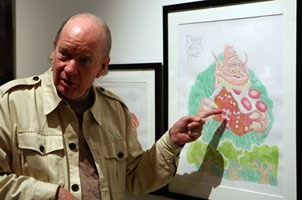 Over his long and brilliant career he earned such nicknames as: "the Michelangelo of the Macabre" and "the Wizard of Weird." His stepson Paul Winters said. "One of the very best cartoonists to ever pick up a pen and paper has passed on." I first became aware of Gahan Wilson and his wicked and most cynical sense of humor when I would see his cartoons as part of my father's subscription to the monthly "PLAYBOY" magazine. Of course, as a teenage boy, my initial interest in sneaking a look at the magazine was because of other artistic photos. But as the years went on, I never forgot about Gahan Wilson. As I was leaving home for college, I even stole from my father a small paper covered book of Wilson's cartoons which I have never let go of.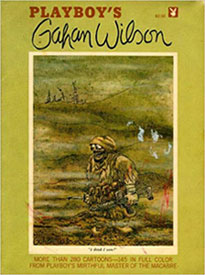 It remains a treasure that I periodically revisit when a wry smile is needed. Wilson's humor stands up no matter how many years have passed.
Gahan Wilson explains just how he got his start: "My big break came when the cartoon editor for COLLIER'S magazine - who, like everybody else, thought the readers wouldn't understand the cartoons I did - left to become the cartoon editor of LOOK magazine. In the interim, the art director took over. Not being a trained cartoon editor, he did not realize that my stuff was too much for the common man to comprehend, and he thought that it was funny. I was flabbergasted and delighted when he started to buy it! He wasn't the editor all that long, about a month and a half, but by that time my cartoons had started to appear. The guy who had gone to LOOK saw them in COLLIER'S, and I guess a great dawning occurred, so he started buying them for LOOK, and that was it. I was now a big-time cartoonist! Absolutely foolish, but that's the way it happened.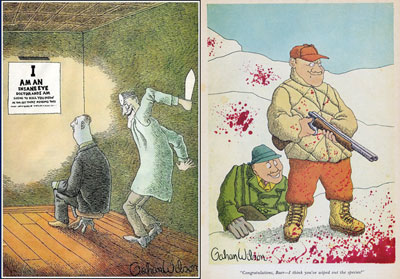 That was the chink in the armor, and I just got through it."
Wilson's cartoons and illustrations are drawn in a playfully grotesque style and have a dark humor that is often compared to the work of The New Yorker cartoonist Charles Addams. But while both feature vampires, cemeteries and other traditional horror elements in their work, Wilson's work has a more contemporary, shocking aspect to its humor, featuring atomic mutants, subway monsters and serial killers. "The daily papers and television news are a much better source of grotesque humor," he said.
Of the countless cartoons in his catalog, how do I choose just a couple of them two represent his work here? Well, it's next to impossible. But, I have chosen two of my favorites and made a little collage. Though, when presented this way, it is pretty much impossible to read the captions, so I will supply you with them here. In the image on the left, it reads: "I am an insane eye doctor and I am going to kill you now....." And, in the image on the right side, it reads: "Congratulations Baer - I think you've wiped out the species!" You should certainly be able to get the idea of his wicked sense of humor from just those two.
As it turned out, Gahan Wilson was selected to be the cover artist for the 2nd Dreams album, "IMAGINE MY SURPRISE"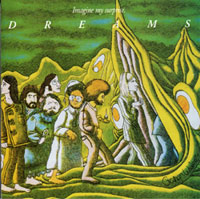 from 1971. It was so wild to see some of my closest friends and musical colleagues immortalized this way. See if you can pick out: Michael & Randy Brecker, Don Grolnick, [Bless his heart, Don absolutely hated the way he was portrayed, maybe as Friar Tuck, in this drawing!] Barry Rogers, Eddie Vernon, Bob Mann, Will Lee - and barely seen, Billy Cobham walking into the head of the monster, because he had left the band to join the Mahavishnu Orchestra! The Columbia Records very artistic art director John Berg had also selected an homage to René Magritte for the 1st Dreams LP cover. Years later, in 1980, Gahan Wilson was tapped to do the cover for Herbie Hancock's "MONSTER" album.
It might sound a bit crazy given the path that the cover art for my albums has taken over the many years, but, had things turned out differently, I had always dreamed about having a Gahan Wilson cover for one of my albums. But, the right moment and the right opportunity just never seemed to come along, however, it was never out of my mind. And, one huge last minute addition, something that I had missed! Tim Weston reminded me of the Steven-Charles Jaffe documentary: "Gahan Wilson: Born Dead, Still Weird" - which I had somehow missed! But now, I just rectified that, and bought it from Amazon!
So, with that stated, rest in peace Gahan Wilson!!! To me, you were unforgettable and one of the greats. Your fan, forever and always - Steve

---
This morning, through a close friend, I learned that, yesterday, July 27th, 2019, one of the world's great artists, Venezuela's Carlos Cruz-Diez had passed away in Paris, France at the age of 95. He is often credited as being one of the "fathers" of kinetic and op art, and "one of the greatest innovators of the 20th century!" Like many,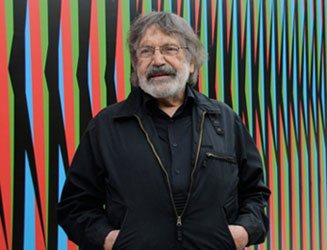 I was just one amongst his countless fans and admirers. I always wanted to have a piece of his, one framed poster in my home as a warm reminder of so many things, but I never found one at the right time to buy it, frame it, and have it here.
There might be those of you reading this who could be wondering, "How did you discover the work of Cruz-Diez?" In May of 1999, when I flew to Caracas to meet one of the great loves of my life, Caridad Canelón, I landed at the Caracas airport in Maiquetía, and upon cautiously walking through the huge glass doors into the lobby, not knowing what to expect, and just hoping that I would see Caridad's face, and feel that I was going to be O.K. - the first thing that I saw was these amazing artistic designs on the floors and the walls. It was an incredible sight, and something I always enjoyed seeing whenever I was arriving or departing - though, for me, departing was always tinged with a great sadness. Of course, Caridad and her dear girlfriend Crisol Carabal were late, really late!!! And so, I spent probably close to an hour or more, sitting on my suitcase, and wondering: "What have I gotten myself into here?" Finally, por fin, they showed-up with expressions of "Ay Steve, qué pena!" on their faces - but all of that stress for me was quickly wiped away, and thus began a wonderful period of my life. Venezuela and all of its wonders became my everything for those nearly 3 years.
At some point, after things had calmed down, I asked Caridad about the floor and the walls at the airport, and she went on to tell me, and with great pride, about Carlos Cruz-Diez. This became one of the first great lessons for me about a wonderful culture in the arts and music, and moreover, a wonderful people. During all the time that I spent in Venezuela,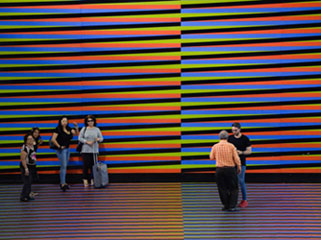 Caridad introduced me to countless people in the arts - sometimes, even now, especially now, it becomes a haze of moments, wonderful moments, and countless faces blurring by - handshakes and hugs - and words, 99% of them in Spanish, of great warmth and welcome. At the time, I wasn't even close to speaking or understanding even the slightest form of 'survival' Spanish. Sometimes I feel that on one lost night somewhere, perhaps at a Bar-B-Q, I might have had the good fortune, the honor of actually meeting Carlos Cruz-Diez - but, maybe, sitting here now, I am just wishing that that had happened? I don't know.
When a country, a people, has gone through, is going through everything that the good people of Venezuela have suffered through in these past decades, it is hard not to feel a sense of great sadness and loss when a great and beloved national icon like Carlos Cruz-Diez has left us, it impacts so many way beyond the country's borders. There have certainly been times when I have referred to myself as an 'honorary Venezolano' - I don't know that I would deserve such an appellation, but, in my heart, I do feel that way. No matter what, I will harbor treasured memories of Sr. Cruz-Diez' artwork, and will continue to make an effort to find that one piece to adorn a wall here forever and always. Q.E.P.D. Carlos!!! With great admiration and affection, Steve

---
With the passing yesterday, April 22nd, 2019 of the great vibraphonist Dave Samuels, he has joined Dave Valentín and for me it signifies that, of the 3 co-leaders of that incarnation of the Caribbean Jazz Project, suddenly I am the last one still standing. This tribute will probably be the most difficult one that I will ever have to write.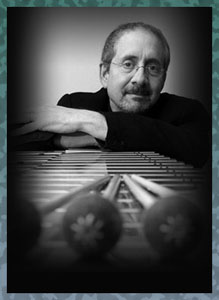 I say that because, when I quit the band in 2002 over a very bitter dispute between the two of us, Dave Samuels and I never spoke again - not a word between us for some 17 years. Sitting here now, I can't say that I am particularly proud my role in that situation now facing this open admission, but, it remains as the truth.
Before that time, Dave Samuels and I had reconnected when he called me to be a part of his "TRIBUTE TO CAL TJADER"(Verve) project. This was to include Dave Valentín as well. We did that album, and a subsequent tour of Japan, and on the long plane flight home, Samuels asked me if I would like to join a new version of the Caribbean Jazz Project as a co-leader alongside him and Dave Valentín. I saw this as a great opportunity to see just what the guitar, as I hear it, could do in the context of Latin Jazz. And so, I joined the two of them, and we would lead this group for 3 years. Together we would log countless miles, and we recorded two really fine albums together: "NEW HORIZONS" and "PARAÍSO"(Concord Picante). All during that time, as each of us, in his own way, tried to best represent Latin music and Latin Jazz, and I came to feel that, without question, Dave Samuels was one of the most fluid improvisors that I ever had the privilege of sharing the bandstand with. You must know that, in my opinion, I NEVER heard him play a 'bad' solo - or an unmusical solo. Never!!! The flow of his improvisations was simply an uninterrupted stream of melodic and rhythmic ideas. It was always inspiring and often difficult to follow such great playing.
Dave was also exceptionally intelligent, well-read, and he was so very, very perceptive about human behavior, and how men and women interact in a relationship. Over those 3 years together,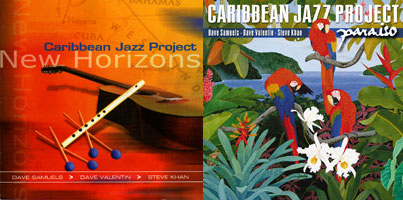 we often drove to gigs in his car and had so many interesting conversations spanning music, the aforementioned relationships - mostly my woes at the time, and, of course, politics, both domestic and international. It was always fascinating and never dull. I missed those conversations a lot, because he constantly supplied me with food for thought. If one is the more objective of the two in such a conversation, it is much easier to dispense opinions and advice. But, being on the other side of it, no matter how well his points were taken, it was hard for me to enact what had been shared.
Dave was also capable of doing things that I did not have the patience, nor the stomach for. He organized all the gigs, booked the flights, arranged for the hotels, it was incredible, and I was in constant amazement that he could do all of these things and then, get up on stage, and play great too. If I had tried to do any one of those tasks, I am certain that I would have had a stroke or heart failure.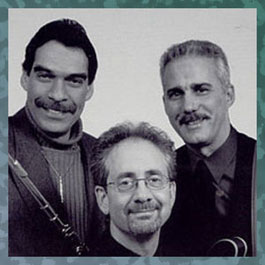 Those things are way too stressful for me!
Some years ago when one of our mutual bandmates related to me that Dave had been diagnosed with Alzheimer's, I was completely in shock. I often thought about reaching out to him just to wish him well, but something always seemed to negate such thoughts or my better and most humane instincts. As time passed, and his condition worsened, everyone would tell me stories about how they went to visit him, and he didn't even recognize them or remember things about the times that they had shared together. It wasn't all that long ago that Samuels' former teacher and co-leader of Double Image, the brilliant David Friedman, recounted his last visit with Dave, and he even sent me a photo or two, and it was just too sad to see. What a horrible illness this is.
For my part in the silence that existed between us for so long, to the spirits in the cosmos I would say how very sorry I am about that, but I was obviously incapable of doing something differently. Again, Dave Samuels was a brilliant musician, truly one of the greats to ever play the vibes and marimba, and he will be remembered that way by so many. Rest in peace dear Dave!!! I am so very grateful for the good times that we did share together. I don't know that I would be where I am now had it not been for our shared experience with the Caribbean Jazz Project!

---
Though George Braun passed away returning to New York on a flight from Tokyo on December 6th, I had no idea that this had happened until I sent a photo that I had come upon to his beloved wife and business partner at PMC International, Junko.
She responded to my e-mail and briefly told me the story. To tell you the truth, I am still in a state of shock about this. Over the course of my career, I have been privileged to have come in contact with and worked with and for many wonderful people, people whose kindness to me, and faith in me seemed to know no bounds. George was just such a person, even though he very much worked behind the scenes - never seeking publicity for himself. In many ways, if one views the arc of my career as something positive and perhaps sees that I have been most fortunate, and that I might sit in a good place at this latter stage of life - well, so much of that is really because of the things that George Braun did for me!
After having done some projects, all Japan-related with George & Junko in the late '70s, after having had only a couple of rehearsals with what was to become known as Eyewitness, I phoned George and told him that "I had something" and that I wanted to record it BEFORE we knew what we were doing. George, solely based upon the sincerity of my words, jumped into action, and it wasn't long before we had an arrangement with Kenny Inaoka and his then young label, Trio Records. Our three albums went directly to Kenny and were released on time and in sequence. The U.S. was much more problematical for us. When Trio Records couldn't survive, Kenny and George helped me by working out a package deal that would transfer my growing catalog, post the Columbia years, to Polydor K.K.!!! This brought me to Yuki Ohmura, and eventually to Hiroshi Itsuno. In part, this took me on a journey that began in 1981 and lasted until 1996. It was an amazing ride!
Most of the time, even if George had set-up a particular tour, he would rarely travel with the group that he was sending over. In 1980, I believe, I was lucky enough to be sent to Japan on the FUSE ONE(CTI) tour which featured: Joe Farrell; Ronnie Foster; Will Lee; Ndugu; and Jeremy Wall. This was a really wild tour! Of course, Will Lee and I had already been close friends and musical colleagues for a decade, and of all things, the great Joe Farrell loved hanging out with us, and was simply fascinated by Will's incredible stage presence - he had never quite seen anything like that - and he used to come over to me in the middle of a song, and look at me with a most perplexed expression and say: "Is he always like THIS?!?!?!?!" It was hysterical to me. On this tour, Will and I became great friends with Joe, and that continued for many years until his untimely death in 1986. Though George tried to treat everyone the same, some of the other players seemed to go off in their own directions seeking out friends from other past tours. So, George, Will, Joe and I did all kinds of things together. It was incredible fun on a tour that, for a variety of reasons, I will never forget - but not so much for any of the music.
One has to understand that during the '70s and early '80s, the U.S. dollar was very strong against the Japanese Yen, and traveling musicians took advantage of this like you would not believe - buying Walkmen, Discmen, cameras, stereo equipment, and getting the Japanese instrument companies to give them instruments in profusion. It was IN-sane!!! When we used to travel there, those remaining in New York would give us a list of things to bring home for them, and often we would try to comply. George Braun was not happy about any of us behaving like pigs, but even with his most polite advice against this kind of behavior, eventually some musicians, in a sense, killed the goose that was laying the golden eggs - and little by little, everything dried-up.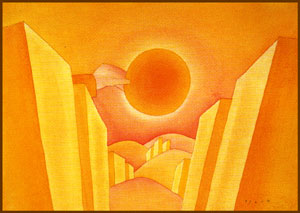 The instrument companies became wise to this and soon stopped giving drumsets, guitars, keyboards, and basses away. Though I can say that I didn't behave like this myself, the temptation, at times, was there. In the end, it was a cultural embarrassment for us all, and when the economic climate reversed and the Yen became stronger than the dollar, all of this plundering stopped.
Sometime in 1986-87, George was involved in producing/coordinating very special Jean-Michel Folon animated commercials for Tokyo Gas. Of all things, I was asked to do the music for the spots. I was so thrilled and honored. Doing such things for Japan, at least back then, was very different than doing a "jingle" here in the USA. Japan wanted you to do your own music and bring it in at whatever length the piece turned out to be. Then, they would take it, and edit it down for their purposes. And so, for each animated spot, I wrote a new piece of music. Then, George made a bit of a miracle happen as he worked out a deal that eventually became "HELPING HAND" which debuted the 3 new pieces, and offered a bit of a retrospective that included tracks from "EVIDENCE"; "EYEWITNESS"; "MODERN TIMES"; and "CASA LOCO"! To restate the obvious, none of this could have been possible without George. He believed in me, he liked the music that I was involved in, and he made things happen with his drive and beautiful energy.
After a 10 year absence from recording as a leader, in 2005, when I began to record again with "THE GREEN FIELD" - Hiroshi Itsuno stepped in and released in Japan my next 6 recordings. Though George was not directly involved - he was in some way, spiritually perhaps, a part of all of this. George Braun will always remain a warm and wonderful part of my memories. Make no mistake about it, George was Japanese, he used to facetiously refer to himself as "a half" because his mother was Japanese, and I believe that his father was a New Yorker of Polish descent. Growing up, and George was a very tall man, he always felt, at least inside, that he was neither here nor there, culturally speaking. That feeling really never left him throughout his life - personally and professionally. But, those of us who were lucky enough to have known him and worked with and for him appreciated him so much!!! He is already very much missed!!! Rest in peace dear George!!! Your friend forever and always, Steve
Oh, and how could I not close by sharing what that irrepressible, and very clever wordsmith Will Lee used to sing when George would walk in a room?: "No guy made has got a shade on sweet George A. Braun!" Yes, I think that George's middle name began with an 'A'!!!
---
It is in the pre-dawn hours of Sunday, December 16th, 2018, that I learned, via a Facebook post from Rob Mounsey, that the spectacular Nancy Wilson had passed away. I am just so saddened to hear this. How can I explain just how much I loved listening to Nancy Wilson sing, to interpret all the great songs? I've been listening to her sing, or so it seems, since I was a little boy.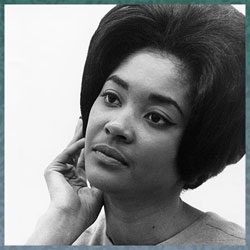 My LP collection is filled with Nancy Wilson albums. How did that happen?
Though I am not so sure that I really appreciated it, one of the great advantages of being the son of songwriter Sammy Cahn was that he had relationships with many of the great record companies during the '50s and '60s, and our home was filled with music and LPs. Because of Dad's relationship with Frank Sinatra, we used to receive everything that Capitol Records released. As "the fancy Miss Nancy" (as she was referred to by our hipster DJs on KBCA in Los Angeles - Rick Holmes in "The Lion's Den" comes immediately to mind) was on that label, that's how I accumulated so many of her albums. I still have them all! I suppose that I have a particular preference for listening to her sing all the great ballads. How much I love hearing her sing the greatest songs by Jimmy Van Heusen and Johnny Burke: "But Beautiful"; "Here's That Rainy Day"; "I Thought About You"; "Darn That Dream"; or "Like Someone in Love." To hear her interpretation of one of my father's songs is so very special, and "The Things We Did Last Summer" will always stand out to me.
Her phrasing was unmistakable, and her ability to mine the emotional depths of any lyric was of such elegance, grace and good taste that she would be impossible for any singer to approach in this way. She could also capture the warmth and humor of a great song like, "Gee Baby, Ain't I Good to You" with a looseness of phrasing that was just out of this world. In recent years, I've been mesmerized by the profound nature of her interpretation of "Too Late Now" which I have been planning to interpret on a future recording - now, more than ever, it will be played with my great love for everything that Nancy Wilson represented. I will hear her voice in my mind. Rest in peace dear Nancy, you were absolutely one of a kind!
---
Now, it is Thursday, August 16th, 2018, and the news of this day is that our glorious Aretha Franklin has passed away. So overwhelming was her talent that, most of us just came to know her as Aretha!!! When one of the giants of our music leaves us, it is always horribly sad, and for countless reasons, personal and otherwise.

Her voice, her songs touched my life as they did countless others. I suppose that I became aware of her during the early '60s when young guys like me, growing-up where I grew up, West Los Angeles, my friends and I had to trek to another part of the city to buy Aretha's singles, because you couldn't find them in our neighborhood. Thank goodness all of that eventually changed. Why are some of us drawn to R&B, or "Soul Music"? I don't know, but once it reaches you, that feeling just never leaves, and you never want it to leave.
If one believes in a "God" somewhere, perhaps the greatest evidence that such a thing could actually exist would be trying to explain to someone, anyone, just how and why a voice so sublime and divine ended-up housed within the spirit of one Aretha Franklin. Anyone who has been alive during her lifetime was graced by the gift of hearing her sing. As an eternal fan of music, it's easy to tell when a younger singer has been influenced by all that is and was Aretha, but, to these ears, I don't know that any of them truly grasped the depth of where her "soul" comes from. Aretha could do amazing things with her voice, but she NEVER sounded like she was trying too hard - it seemed effortless for her. Her phrasing will never be duplicated - it was a gift, and few ever had it in the way that Aretha did. She didn't have to resort to the forced vocal gymnastics of today's female singers. If something unearthly came from her, it was only because it happened in that moment - spontaneous, and enough to touch you in the deepest ways. How do you explain that? I can't. If you asked me who came along and had "the gift" to do similar things? The only person who comes to mind is Chaka Khan.
To effectively write this tribute on this day, I wanted to make a little collage of just 3 of Aretha's albums that meant something to me - but, how could I leave out so many of them? I just looked at all the covers, and seeing her face transported me back into musical memories. Beautiful memories. Some of you might wonder why I would include the album, "SPARKLE" in the collage, but those 3 songs: "Sparkle"; "I Get High"; and "Jump" all just reach me in the most profound ways. I'm listening to them as I write, and I have tears in my eyes thinking about her, and that voice - and lest we forget, she arranged all the background vocals too. She was an incredible musician!!!
I suppose that, if one plays music long enough, you get lucky one day and certain dreams are realized. Most of my early years in New York, Aretha came to town many times to record classic albums, I did not have the good fortune to be a part of any of them. And then, one day, one year, the wonderful Sephra Herman, a contractor and production coordinator for many producers and artists,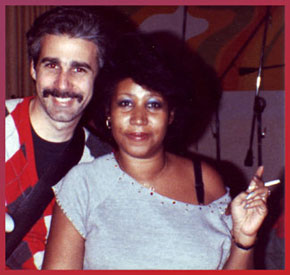 called me, and asked me: "Steve, can you go to Detroit with us to record a couple of tunes with Aretha?" I didn't have to think too hard about that!!! It wasn't long before I was there, and working with her. When her voice came through the headphones, I just got chills all over, it was magical. You never forget a feeling like that - it stays with you forever. They were not songs that many people will remember, they ended-up on the album, "WHO'S ZOOMIN' WHO?." I think that, if I remember correctly, she had been unhappy with the results of many of the other tunes that she had been given to sing - and felt like much of it didn't represent her, who she is - and so, she wanted to do at least two songs that came from her, from her heart, her soul. Period!!! Nothing more, nothing less. So, I was honored to help her, in some small way, realize that dream. The photo of the two of us together at United Studios in Detroit was taken by dear Sephra, and I treasure it. It resides in a permanent place in my living room. I see her face every day, and I feel so fortunate that this happened.
Like everyone else the world over, I am going to miss Aretha Franklin so very much. There are many artists who make me feel exceptionally proud to be an American, to be able to say that, "Aretha Franklin comes from my country - she is one of us!" In a moment in time where there is not too much to be proud of, I am so happy that she graced this planet with her presence. I just heard them playing "Spanish Harlem" on the radio - my God, what phrasing and sweetness. Now they're playing, "I'm in Love" with the wonderful guitar playing of David Spinozza, Cornell Dupree and the drumming of Rick Marotta. Can it get much better than that? My dear sister, Laurie, just sent me this quote from the obituary that appears in the Detroit Free Press, and it quotes Aretha: "(My older sister) Erma was a big fan of "Be My Love" by Mario Lanza," she recalled. "How many times did we hear that in our house?! Sylvia Robinson, Smokey's sister, used to visit Erma and play "Be My Love," pressing their ears against the speakers, just crying." How ironic it is that this song was written by my father, Sammy Cahn. What becomes so ironic to me is that, here I was, a young boy who had to travel to another neighborhood to buy Aretha's music, after she had entered our lives through the radio - and yet, of all things, the music of our father, was being played in her home! Life, at times, is just impossible to figure out.
On this day, I can only thank Aretha for being a part of my life, musically speaking, of course. I am just like the rest of world, mourning the loss of one of the greatest singers, greatest voices to have ever lived. How lucky we all are to have welcomed her into our homes and our hearts. She was simply exceptional. With love and a great affection for a talent that lives on in our hearts and souls. God bless you Aretha!!! And, there just was no way that I could not include Aretha and Stevie Wonder singing his great, great "Until You Come Back to Me" live! Good God, how ridiculously wondrous was she?!?!?!?!? Rest in peace! - Steve

---
It is Friday, June 8th, 2018, and, via my dear sister Laurie, I just learned this morning that CNN's Anthony Bourdain had passed away in his hotel room in Strasbourg, France. Perhaps most well-known for his "PARTS UNKNOWN" programs featuring glorious food, travel,
and honest and probing conversations with local people, residents, for me, I came to "know him" without ever having met him on the countless occasions that I would go downtown to Les Halles, where I would always order their Steak Frites, and then, top of my meal with their sumptuous Crème Brûlée. I loved going there so much. If only I had known that, perhaps, "Tony" was there, behind the scenes, I could have complimented him. How sad I was when I learned that this very simple and very French restaurant had closed several years ago. His time at this restaurant spawned his revelatory book, "KITCHEN CONFIDENTIAL." It is my recollection that I was first told about Les Halles by trumpeter/gourmet Lew Soloff.
Anthony's passing marks yet another sad and moving reminder of the fragility of life. Like many of his fans, I often imagined what it might be like to share a meal with Anthony in some wondrous restaurant - small or large - and to converse about any and all topics involving life, and the philosophy of what it means to be alive - maybe even what it means to be "happy" - but then, after some thought, I would re-think this little 'fantasy' meal, and realize that, perhaps, it was best to just leave dear Anthony in the exalted place in which I hold him so dear, and where he shall always remain! If you care to read it, here is a wonderful piece about Anthony Bourdain that appeared in a 2017 edition of "THE NEW YORKER" magazine.
I can't begin to tell you how many of his shows I have saved on my DVR, and they shall remain there until CNN eventually releases a "BOX SET" on DVD. I'll be headed to Amazon.com to purchase that the minute it becomes available. I wouldn't even know where to begin to recount some of my favorite episodes of 'PARTS UNKNOWN" but his visit to Lyon, France was so incredible to me.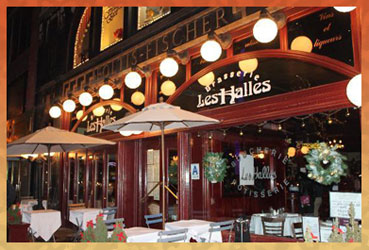 The love of fine food, food as "ART," and the care and detail for its preparation, so beautifully filmed and documented will stay with me forever. And, of course, his great conversation with then President Obama in Vietnam at a most simple little outdoor/indoor restaurant was a highlight for so many reasons. It was reassuring to know that Anthony despised the current resident of our White House, Donald J. Trump, as much as I do!!!
Anthony Bourdain, to most of us, seemed like the consummate New Yorker! One of the things that I admired most about him, and his style of presentation during his programs was that, especially during shows that featured other cities in the United States, he would always remind us New Yorkers that New York City and the 5 boroughs is a world unto itself. One must never be confused that the way that WE might view things has NOTHING to do with the way the greater United States of America views things. And that goes for within the country as well as outside of the country. It was always good for me to be reminded of this, because it can be so easily forgotten or lost on us glorious Manhattanites.
The facts of his death are now beginning to come to light only hours after it had been reported. Whatever ends-up being the final assessment, I will rest easier knowing that, in his way, his life touched me, and touched so many. How I am going to miss his programs, the series as much as anyone. Rest in peace dear Anthony, you left a huge impact on this world, and I hope that, in your core, in your soul, you knew that. Your fan, Steve

---
Now, just 3 days ago, I learned that Felipe Díaz Reyes, who lived in Las Palmas, Gran Canaria, Spain, had left us all too suddenly on February 28th, 2018, I was taken completely by surprise. It was a most unexpected event, and great shock and sadness took over the moment, and it has been like that, and will continue like that for days and weeks to come. Our friendship began in a manner that has become more the usual than the unusual as my life has unfolded. Though my memories are not as specific as I would like them to be, I believe that somewhere between 1998-99, Felipe wrote me via my website to ask me if I could somehow get him a copy of my album "EVIDENCE"(Arista/Novus) from 1981, which had become a favorite of his. I can't recall whether or not he wanted an LP or a CD, or both? And I don't remember if he wanted me to sign them as well.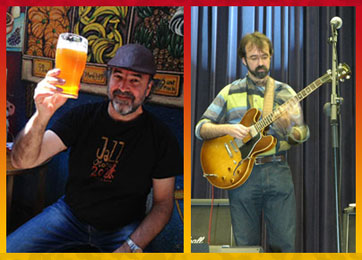 As my love affair with Venezuela was about to begin in 1999, Felipe suggest that, if I could bring the album(s) with me on my next trip to Caracas, his sister-in-law, Eva, would meet me somewhere, and I could give them to her, and, in turn, she would find a way to get them to Felipe in Las Palmas. Somehow, the plan worked, everyone did their part, and a lasting friendship was born between Felipe and me.
At first, we just corresponded with one another, but on July 19th, 2000, I came to Las Palmas to play with the Caribbean Jazz Project, and finally, I met Felipe in person. I remember, and very well, his incredible kindness to me. Please allow me to explain. At that time, i had been engaged to actress Caridad Canelón, and I would send a post card to her and her beloved daughter Angélica from every single city that we played in - always, and without fail. And so, dear Felipe drove me around that day until we finally found some post cards, which I wrote quickly, and we even mailed them. I believe that he also helped me shop for a beautiful scarf for Caridad. It was such a wonderful gesture, and it was never forgotten. NEVER!!! From there, our friendship just grew, and it became far more personal with the sharing of life's beautiful moments, and life's great difficulties. This continued right up to the present. Over the years, he helped me by translating musical interviews into Spanish, and as crazy as this might sound, I helped him by translating passages from his scientific papers into readable English. I know that these exchanges were pleasurable for us both.
One should know that Felipe had become the director of the Aula de Jazz concert series, which brought so much great talent to Las Palmas. In our music, there is never an isolated concert, one concert feeds the rest of a tour. So, all musicians greatly appreciated Felipe for his passion for our music, and the effort that he put in to bring that music to the people! The next time that I saw Felipe in Las Palmas, I was there for a concert with my own trio that included Charles Flores(el. bass) and Joel Rosenblatt(drums) this was on March 12th, 2005. It was one of the most difficult experiences of my life and career! For on that night, the disc problems in my lower back began to act up, and, in the middle of the 1st Set, I was playing, and I could feel these sensations in my left leg, a most serious warning, and it wasn't long before I knew that IF I tried to move one step in any direction, I was going to fall over, flat on my face! I survived until the intermission, where Felipe was waiting for me. He had seen on my face that I was in serious trouble, and he came to my aid. I just laid down on the floor of the dressing room, and tried to put some ice on my back and, I somehow made it through the concert! But, without Felipe's help? I don't know that I could have done that. And, the friendship deepened. Felipe was here in New York in February of 2012, and I tried my best return every possible kindness that he had shown me in Las Palmas. It was wonderful to be his host here.
To me, and I know to many, he was a warm and wonderful man, a scientist, professor, guitar lover, and serious Jazz fan, a husband and father, but above all, someone with great compassion and a huge heart. If you want to begin to understand the great esteem that he was held in by his peers and colleagues, you can read the obituary that appeared in "La Provincia"(Diario de Las Palmas). Of course, it is written in Spanish. Jazz fans should know that Felipe did so much to promote Jazz concerts in Las Palmas, and he was loved and revered by the musicians in our community. I hope that he knew that! In the photo collage that I created to remember him, he is pictured playing my guitar at our soundcheck in 2005. He loved this photo!!!
He is survived by his two greatest treasures, his dear wife, Isabel, and his fantastic daughter, Naima. My heartfelt sympathies go out to them, and to his extended family and friends. I'm just so sad since receiving this news, and I am going to miss him a great deal. He has been so wonderful to me throughout all of these years.
Felipe, hermano, rest in peace, and know that you were loved here on this earth by so many - including me!!!

---
Yet again, I feel so out of it and disconnected sometimes, how could I not have known that drummer Grady Tate, one of my earliest musical heroes, had passed away on October 8th, 2017? Once this sad, sad news came to me, I had to sit down and write this tribute to him.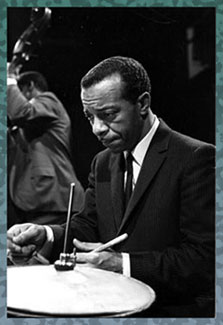 In truth, as crazy as this might sound, Grady is probably the reason that I became a guitarist! You see, as I was drifting towards Jazz and Blues in the mid-'60s, I began to hear albums with Grady Tate on drums and so, driven by his name, I started to buy anything and everything that I could find with his name in the credits. This brought me to "MOVIN' WES" by Wes Montgomery. I remember sitting on the floor in my mother's house, opening the album, an LP of course, and sitting in front of my recently purchased stereo components and being completely blown away hearing Grady's playing on the opening tune, "Caravan." The way that Grady cuts those great Johnny Pate brass figures makes his snare drum sound as if it had been shot out of a rifle!!! After listening, I went in the next room and sat down at my drum set, sticks in hand, and realized in that moment: "I can't play! No one is ever going to want me to be their drummer!" And, in that moment, or shortly thereafter, I somehow made the insane decision that I was going to be a great Jazz guitar player! I must have been completely crazy!!!
It wasn't too long after that, and many, many album purchases later, that one day, an envelope arrived from my father, and he was sending me a photo that he had just taken with Grady at some benefit, or a formal dinner. I was so thrilled to have it, and couldn't believe that MY father had actually met Grady Tate! Several years after I had moved to New York, there came a moment when I walked into a session and there, sitting behind the drums, was that same Grady Tate. I almost died from being starstruck, and full of hero worship. Lucky for me, I suppose that I did a very professional job, and a lasting friendship amongst musical colleagues was born. I was always thrilled just to be in the same room with him. One of my favorite stories of working with Grady happened during a Pat Williams big band session featuring the great Toots Thielemans, which would take place at A&R Studios on W. 48th St. here in Manhattan. Assembled for the recording were stellar players such as: Dave Grusin; Tony Levin; Lew Soloff;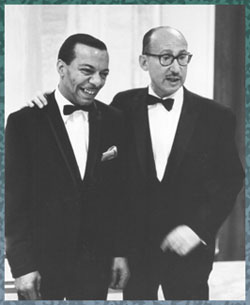 Marvin Stamm; Danny Stiles; Bill Watrous; Wayne Andre; Jerome Richardson; Gerry Niewood; Lou Marini; Ronnie Cuber and, of course, Grady Tate. The date(s) were to have taken place on July 13th-14th, 1977. How could I possibly remember that? Well, as the session was moving along, all of sudden, at around 8:37 P.M., ALL OF THE LIGHTS WENT OUT and THE POWER SHUT DOWN!!! At first, we all thought that Phil Ramone, a great practical joker in his own right, was trying to have some fun with all of us, because he was working next door in his own private room at A&R, R-1. But no!!! It wasn't Phil's doing at all. Little did we know that this was the great New York City Blackout of 1977. After all the mumbling and grumbling had died down, each one of us had to find a way to trudge back home. What an eerie sight it was to find one's way out of A&R and onto W. 48th St., only to see pitch blackness everywhere. In my case, I had to walk down to my then apartment, located at 21st St. and 7th Avenue. Not that bad of a walk. I remember, as I only lived on the 2nd Flr., feeling my way with my right hand down the hallway, trying to find my apartment door, and eventually, I did. The next day, the power was back for a good portion of Manhattan, and we assembled again to finish the recording. I remember seeing Grady Tate come in with a look on his face of complete and total exhaustion because, he lived on the 80th Flr. of his building on the East Side - a much, much longer trek!!! Can you imagine going up and down that many flights of stairs? Somehow, through all of this drama, Grady was ready to play!!!
To list all of my favorite albums that feature Grady's drumming would probably fill this page, but, as I want to pay tribute to him, please allow me to mention just some of the albums that I have where Grady Tate is the drummer that have meant so much to me: "ORGAN GRINDER SWING"; "THE CAT"; "BLUE BASH!"; and "MONSTER"(Jimmy Smith); "JIMMY & WES: THE DYNAMIC DUO"(Jimmy Smith-Wes Montgomery); "SOUL SAUCE" and "SOUL BIRD"(Cal Tjader); "JOYRIDE"(Stanley Turrentine); "GYPSY '66"(Gabor Szabo); "MORE BLUES AND THE ABSTRACT TRUTH" and "SOUND PIECES"(Oliver Nelson); "BUMPIN'"; "TEQUILA" and "GOIN' OUT OF MY HEAD"(Wes Montgomery); "SWEET RAIN"(Stan Getz); "THE RIGHT TOUCH"(Duke Pearson); "AMOROSO"(João Gilberto);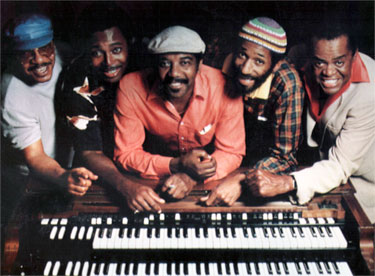 "WALKING IN SPACE"(Quincy Jones); "A GENERATION AGO TODAY"(Kenny Burrell); "UPTOWN CONVERSATION"(Ron Carter); "MUMBLES"(Clark Terry); "ROUND TRIP"(Phil Woods); "JOYRIDE"(Stanley Turrentine); "LAWS' CAUSE"(Hubert Laws); and "PLUG ME IN"(Eddie Harris). This is only a small, small list of the albums that have a personal significance for me, the real list of Grady's credits would go on forever!
What appealed to me so much then, and even now, about Grady Tate's sound and approach to playing, was that I loved the way that he tuned his drums. They sounded a bit higher pitched that say Elvin Jones' sound. Grady's snare drum sound a bit tighter, very funky in its own way. Grady's sense of swing was tight and yet there was a looseness about it as well. He was also completely at ease playing driving, even 8th-note, quarter-note oriented tunes that contributed so greatly to the commercial success of any number of artists, especially those who were associated with Creed Taylor's productions during the '60s. If you look above, I have chosen to share the great album cover photo by David Gahr of Jimmy Smith's album, "OFF THE TOP"(Elektra Musician) showing: Grady, alongside, George Benson, Jimmy Smith, Ron Carter, and Stanley Turrentine. In so many ways, those great players, legends all, sum-up the remarkable career of Grady Tate. I can't conclude my tribute without mentioning that Grady was also a superb vocalist, and made many albums that featured his rich baritone. He was truly somethin' else!!! Thank you Grady for all that you brought to my life, and for showing me that I could never have been 1/1,000th the drummer that you were!!! Rest in peace dear Grady!

---
I don't know that I could be much more saddened than when I just learned that a great artist, a great guitarist, John Abercrombie had passed away after a long and difficult illness. You see, as the '70s dawned, both John and I had moved to New York.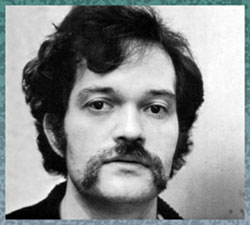 Lucky for me, John, Ralph Towner and I became good friends then, and those friendships have lasted until this day. Each year, right around Christmas time, a bit before actually, on John's December 16th birthday, I would always send him a birthday e-mail, and this was always answered by a phone call, and we would speak for hours, and catch-up on everything in our lives, from the very personal, to of course philosophical discussions about our own musical adventures, and the state of music, and the business of music in general. I looked forward to these conversations each year.
In an analysis that I wrote about a particular Jim Hall melody statement here at the website, I included the following Abercrombie anecdote. It went something like this:

"There are certainly moments in one's life, one's professional life, when one just knows that something of great significance has taken place. Sometimes, that moment can, on the surface, appear to be relatively harmless and inconsequential. I vividly recall one such moment which took place at a rather meaningless rehearsal in the very early '70s. I had just moved to New York, and another recent transplant, John Abercrombie had just moved here as well. Through a number of chance encounters, we became friendly and eventually became good friends, and even colleagues at times. I remember sitting together with John at a rehearsal and speaking about that music. Because of our common roots, influences and goals, our bond in that regard was untarnished by poorly conceived music. I will never forget how, in a moment of peace and quiet, apart from the din of '70s Jazz-Rock Fusion music, John suddenly presented to me his impression of Jim Hall playing "I'm Gettin' Sentimental Over You." As simple as it was, John played that melody with such grace, love, romance and respect, that I knew, in that moment, I was sitting next to a player who had arrived at a far deeper place in music, and within himself, than I had yet encountered. It was yet another instance when I had to face the very painful reality that I was far, far behind everyone else!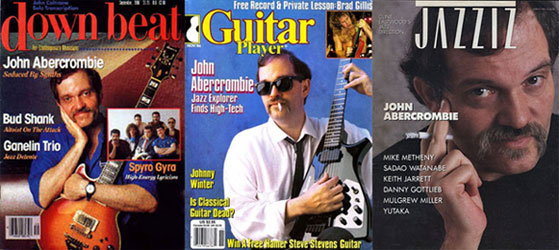 During my first years in New York, there were way too many moments and realizations like that, but I have never forgotten that one - and, over the years, I have reminded John of that moment."
I also shared a 2nd anecdote in a different Jim Hall analysis, and here is what I wrote: "Another of my earliest memories of exchanges with John, was when we were sitting together at a session, and talking again about Jim Hall and his style of playing. As we sat together talking, John launched into his own fantastic version of Hall's comping on the famous version of the Rodgers & Hart classic standard, "My Funny Valentine." He had it completely nailed: the feel, the swing, the sense of a walking bass - well, just everything. It made me immediately feel like I had to go home and re-investigate that recording, and that performance. Of course, the original version appears on the revered recording with pianist, Bill Evans titled, "UNDERCURRENT"(Blue Note), which was recorded in the Spring of 1962."

Believe it or not, the first time that I heard John Abercrombie playing was on the Johnny "Hammond" Smith album from 1968, "NASTY!" which cast him alongside Houston Person and Grady Tate, another one of my early heroes!!! John sounded great to me on this album, polished and ready to go. I remember saying to myself: "Who the hell is THIS guy?!?!?!?!" I was to find out soon enough!
How does one assess the high, high level of quality of his body of work? He was a fearless explorer of musical possibilities, and always done with great taste and vision. Remember that "TIMELESS"(ECM) was recorded in 1975, and his long-standing relationship with ECM lasted some 42 years. In the world of Jazz, how many times do you think that it has happened for an artist to remain with one label? How often I told John how much I envied this. No matter what the flaws might have been in working with Manfred Eicher, in my experience, it is always better to be in one place than to be bouncing around all the time. I told him that his catalog would always stay active, and one can't emphasize how crucial that becomes over the span of one's career. In 1974, Larry Coryell and I formed one of the first contemporary guitar duos, and recorded an album of that work. It was just a couple of years later that John and Ralph Towner formed their duo and recorded "SARGASSO SEA"(ECM). They took the depth of music that a guitar duo could play to a much higher level. It was more about music-making and a musical conversation, about textures, many things, all equally wonderful and beautifully done.
I remember Peter Erskine playing me the live recording that he had done with John in Boston, and with Marc Johnson on acoustic bass, recorded on Peter's little DAT machine.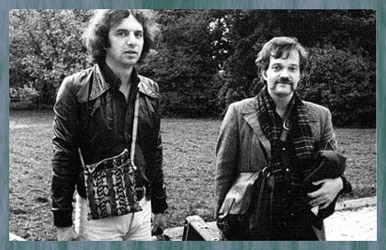 That recording was picked-up by ECM because it was just so damn good, and released as "JOHN ABERCROMBIE MARC JOHNSON PETER ERSKINE" in 1988. To this day, it stands as one of the great guitar trio recordings ever. John's solo intro to "Stella by Starlight" is simply classic, and set a standard for the art of the possible in such a noble setting. How can we forget the magic of the "GATEWAY"(ECM) albums with Dave Holland and Jack DeJohnette? I loved "Backwoods Song"! This format began in 1976, and they convened to record again in 1978 and 1994, the latter resulting in two albums. I could go on and on about the depth and quality of John's recordings, but just spend some time listening and nothing more has to be said.
Of the recent recordings, and because John's great love for the Jim Hall-Art Farmer albums from the '60s, I absolutely loved the album and especially its title song, "WITHIN A SONG"(ECM) which featured beautiful playing by John with Joe Lovano, Drew Gress, and Joey Baron. You need to know no more about John Abercrombie than to hear that one single performance. It is everything that we all hold dear about Jazz and the art of making music with your bandmates! Bravo John!!!

John had a brilliant way of speaking about music, and music as art, and I want to leave you with this quote from the 1978 Julie Coryell-Laura Friedman book, "JAZZ-ROCK FUSION: The People - The Music" Here is John Abercrombie's wonderful quote about his early inspirations:

".......During that period I listened to many musicians, both on records and live. I think the musicians that made the biggest impact on me at the time were Bill Evans, Jim Hall, Miles Davis, and John Coltrane. To me they represented, and still do, a certain quality that transcends the physical part of playing the instrument itself, and enters an area that is much more intellectually and emotionally satisfying."

For me, the above ranks as one of the great quotes about our music and the kind grace and dignity one must strive to attain as the years come and go. To settle for a lesser aesthetic is simply unthinkable. In his lifetime, John Abercrombie was always in this higher place and, for me, it served as an inspiration, and a standard for which one could only hope to experience in part, just to be a moment in that sublime space. Rest in peace dear John, it was an honor and a privilege to have known you, and to have been your friend and colleague over all these years.

---
Like all passings, when I learned this evening that the visionary guitarist Allan Holdsworth had left us on April 16th, 2017, I was taken completely by surprise. Of course, when one knows someone, and many personal details about their life, one can sense that this could happen, but still, you never expect it. You just think that Allan is always going to be around, and always making music.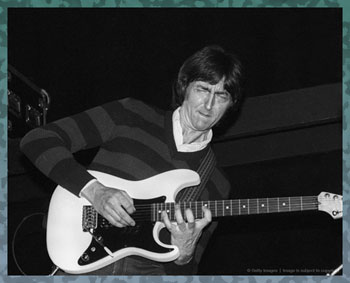 Over the years, especially, long ago in the mid-'70s, I played opposite Allan several times when he was a huge part of Tony Williams' Lifetime.
The first of those gigs took place at New York City's Bottom Line when Larry Coryell and I were traveling around doing our acoustic guitar duets. We also played another gig opposite The Tony Williams Lifetime with Allan Holdsworth at My Father's Place out on Long Island. Again, this was some 40 years ago. Of course, Allan was playing fantastic back then, like no one any of us had ever heard, and his sound was exceptionally beautiful, and thrown out there at an immense volume. At the time, I remember that he was playing a white Gibson SG Custom, as pictured below, through a couple of little pedals. Back then he was using, believe it or not, a Colorsound Overdrive, and the larger MXR Orange Phaser 100. Perhaps a volume pedal too - but, that was it. I'm not sure how it happened, but we actually became friends during those gigs - I guess he liked what I was doing, and we could communicate pretty well. At that time, my favorite tune of his was titled "Fred."
There was another gig opposite Tony Williams awhile later, also at the Bottom Line, where I was playing with Joe Beck and David Sanborn - a group that included: Don Grolnick, Will Lee, and Chris Parker. I remember standing with Joe Beck at the bar while Allan was playing - and you must remember that Joe was one of the great guitarists himself, and quite a cynic, to say the least, and he turned to me at one moment, and he said this: "No one ever plays anything fast that they haven't played 1,000 times before!!!" At that moment, I wasn't sure what he meant - as the years have passed, I came to know exactly what he meant - and, of course, he was right!!! But, that stated, it doesn't diminish in the least bit how great Allan was, and what a unique voice he is, and will always remain!!!
I actually lent Allan a couple of my acoustic guitars for the recording that he did for CTI, "VELVET DARKNESS." I know that he never liked this album. In truth, I don't know that he ever really appreciated this gesture of trust on my part. Years later, while touring in Europe with Anthony Jackson and Dennis Chambers - we did a concert in Italy opening for Allan - and when I arrived at the gig, the promoter had rented the wrong speakers for me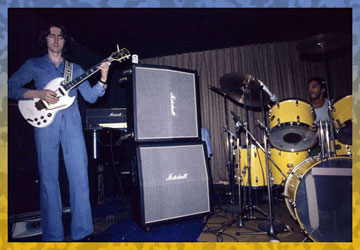 - they were Fenders with JBLs inside - everyone who knows anything about sound, HATES those speakers! They are way too bright and very abrasive sounding. So, through his road manager, and roadie, I asked Allan if I could PLEASE borrow his Marshall bottoms, so that I could recreate my own sound. There wasn't a happy ending to that story, and we haven't spoke since then.
Allan was one of those remarkable people who really understood the inner-workings of the electric guitar in every possible. He could fix and modify his guitars, re-wire his pick-ups, and even make crucial adjustments to his amp heads. To a guy like me, all of this was amazing. Of course, sounds buffs like Bill Connors and Scott Henderson, they can do all these things too.
In the end, forever and always, Allan Holdsworth will be remembered and celebrated for being one of the most visionary voices on the electric guitar that we have ever known. Perhaps it was his early training on the violin that transferred over to the guitar and helped him to create his legato technique, where it seemed that he all but eliminated most picked strokes from his right hand. He also had one of the most expressive vibratos. And then, to top it all off was his very tasteful usage of the tremolo arm to add to the emotional side of his playing. Rest in peace Allan!!! You were simply spectacular and influenced all of us who were privileged enough to have heard you play.

---
It seems that there is just never enough time to recover from one loss within the community and family of musicians, and then, suddenly, someone else, equally close to you, has left us. Just a few hours ago, I learned that the great flautist Dave Valentín had passed away in his beloved Bronx in the early morning hours of March 8th, 2017. I knew that he had been quite ill, and for quite some time, still it is just so sad to know that he is no longer with us,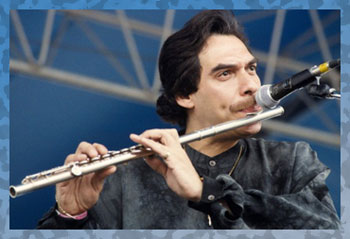 and cannot grace us with his explorations on the flute. In the end, there was really no one quite like him, and in his own special and unique way, he carved out new territories for the flute in Latin music and Latin Jazz. Though we had known one another around New York for many years, I had really never played with him before, until vibraphonist Dave Samuels asked me in 1999 to be a part of his "TRIBUTE TO CAL TJADER" project. This was to include Dave Valentín as well. We did that album, and a subsequent tour of Japan, and on the long plane flight home, Samuels asked me if I would like to join a new version of the Caribbean Jazz Project as a co-leader alongside Samuels and Dave Valentín. I saw this as a great opportunity to see just what the guitar, as I hear it, could do in the context of Latin Jazz. And so, I joined the two of them, and we would lead this group until my departure in 2002.
Together we logged countless miles, and recorded two really fine albums together: "NEW HORIZONS" and "PARAÍSO"(Concord Picante). Of course, when you work that closely together, and travel together, one sees and learns everything about each other, the good, the bad, and the ugly. All during that time, as each of us, in his own way, tried to best represent Latin music and Latin Jazz, I came to feel that, without a doubt, Dave Valentín was one of the most naturally gifted musicians I had ever worked with in my life.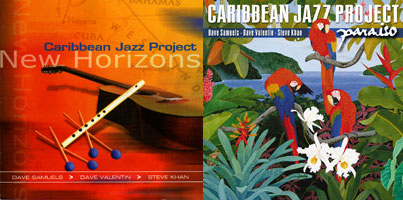 How much talent could one human being have been given? One of his greatest gifts was that when he played the flute, any melody, he had such a beautiful sound, really gorgeous. With that alone, one can go a long, long ways in music. In his solo career, he had the monumental good fortune to be accompanied and guided by two great pianists, composers, and arrangers: Oscar Hernández and later, Bill O'Connell. These two musicians helped to shape Dave's recorded output during and after his many albums for GRP(1979-1994). Dave, as a leader, needed this kind of help to bring his musical visions and dreams into a more focused musical reality, and Oscar and Bill did this work with loving care. In 1999, I had the privilege of recording on Dave's "SUNSHOWER" album, his first for Concord Records.
Traveling with Dave, especially during the endless car and van rides, was like going to Latin music university every day. Dave would break out CDs, or mini-discs back then, and would play the music that he had grown-up listening to in his family home. He knew all the lyrics and breaks to all the classics in the genre. I was constantly asking him, "Who is that? What album is that from?" And, after returning home from the road, with all the notes that I had taken, I would then go out and buy tons of new CDs, and my collection of Latin music grew by leaps and bounds. I owe so much to Dave Valentín for that alone.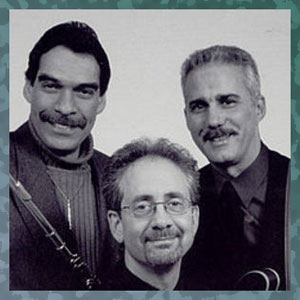 The education that he provided for me went on to inform everything that I have been doing in recent years. I regret that he wasn't a musical part of this journey of mine, but, he was never out of my thoughts.
I often times felt that Dave had no idea just how great his talent was, and he seemed to be content to ride the gifts that he had been given as far as they would take him. Sometimes, under the watchful eye and vision of another musician, he would flourish, and be pushed to find new things within his bag of the familiar. For example, I just love his playing on Don Grolnick's classic album, "MEDIANOCHE." Standing alongside brilliant players like Michael Brecker, Mike Mainieri, and Don, one just has to find new levels beyond the familiar in their own playing. That recording also included: Andy González, Milton Cardona, Steve Berrios, and Don Alias.
Those who knew him well, all knew the size of his heart, and it was immense. He did many wonderful things for various charities in the Bronx, and around the world, never losing sight of where he came from. Can I leave this tribute without saying something about his incredible sense of humor? He certainly did some incredible impressions. Not the least of which was his Jerry Lewis impression, which could make you lose it at any given moment. Of course, sometimes, Dave picked the absolute worst moment on stage to go into that part of his arsenal. That kind of distraction in the middle of serious music used to make me completely nuts!!!
How well I remember telling Dave one day how much I just loved his solo at the end of José "El Canario" Alberto's version of "La Paella" within Isidro Infante's swingin' arrangement. It still kills me every time that I hear it. Dave knew exactly what to do!!! Of course, when I used to tell him this, he didn't even remember it, until I played it for him. Then he would flash that big smile of his at me!!!
In the end, Dave Valentín was a great voice on the flute! He accomplished so much, and became a legend in Latin music and Latin Jazz. Those who play the flute in this incredibly rich genre will no doubt bear his influence. He was that special! Rest in peace dear Dave!!! I am so very grateful for the times that we shared together.

---
Not too long ago, I learned that sadly, one of my great inspirations, guitarist Larry Coryell had passed away here in New York on February 19th, 2017. Somewhere around 1968, I remember being in college at U.C.L.A.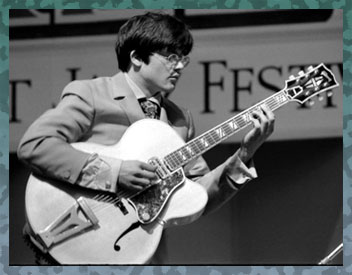 and going a few times to see Larry playing as part of the visionary Gary Burton Quartet. Usually they played at Shelly's Manne-hole. Perhaps the 2nd time that I saw the group they would actually be recording their 2nd album, "LOFTY FAKE ANAGRAM" in the afternoons while playing the live gig at night. I have chosen to share a photo from that time period because I would like to always remember Larry in this way. I remember Larry telling me that that big, beautiful, blonde Gibson Super 400 was actually not his guitar, and that it belonged to Chris Hills. Larry was only borrowing it! He was, without question, the father of the "Fusion" movement where the guitar is concerned. What he did then opened the door for all of us to follow, and each of us, in his own way, did follow.
In truth, I don't know that Larry really ever sounded any better than he did on the first Gary Burton Quartet album, "DUSTER." What an incredible recording that was. Larry's appearance on Chico Hamilton's "THE DEALER" album was also huge. Sometimes, one can have everything about their future right there, right in one's own hands, but, for one reason or another, the moment escapes, and then, those whom one had influenced arrive, and just as suddenly, pass us right by!!! Larry's vision for his own recordings was never focused in the best possible way - they were all over the place - and perhaps because of that, John McLaughlin, when he appeared, he just passed him right by, followed a few years later by Bill Connors and Allan Holdsworth, and the sound of the guitar in Fusion was changed forever. The focus and vision of an artist can be everything when seizing their moment!
During the mid-'70s, Larry and I formed what was perhaps the 1st contemporary Jazz guitar duo, and we would log countless miles touring the U.S. and Europe together. It was an incredible time.
But for a variety of personal reasons, after a couple of years, I just couldn't do it any longer, and I had to leave the duo. It was, of course, the best possible decision for me. Though it was recorded a few years earlier, our live recording, "TWO FOR THE ROAD" became the document of what we had been working on together. It is often hard for me to imagine just how much that recording has meant to so many people. No matter what, I am very appreciative of that fact alone.
Sadly, in the past few decades, Larry and I hardly saw one another at all, but, it wasn't that long ago that we exchanged a few wonderful phone calls and e-mails, and realized just how much warmth and mutual respect still existed. I will always remain grateful to Larry for having come along with a particular vision of just what the guitar could do and be in a Jazz context, and never lose its connections to Rock, Blues, Country, Folk, Classical, and other eclectic influences. It was the moment for Jazz to embrace anything and everything. Rest in peace Larry, you were a true pioneer, and younger players and fans should never forget that!!!
Marc Myers has written a wonderful remembrance of Larry at his JazzWax blog, which features priceless recollections from both Gary Burton and Randy Brecker. I was honored to have been asked by Marc to offer my thoughts and feelings as well.

---
It seems as though it was just yesterday that I was boarding a New Jersey transit bus to take me out to Teaneck, New Jersey where I was headed to the home of the great photographer, Chuck Stewart to view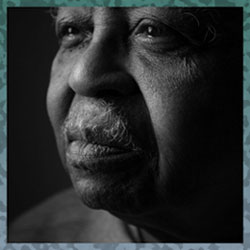 and purchase some photos that he had taken of a session that I was on in the mid-'70s. As we had spoken by phone prior to my visit, he had already gone through his files to locate those session shots. But, while he was going in the other room to find the envelope, I had a moment to gaze around the living room, and to see just some of the photo prints that represented only the smallest portion of his brilliant output. To me, each photo of iconic Jazz artists was truly a work of art, simply beautiful in every detail. I can assure you that IF I had been a millionaire I would have purchased at least 20 photos just to have at home, even if there would have not have been the proper space to have framed them all and put them on display. They were all worthy of a permanent museum exhibition. I will always remember Chuck for his exceptional humility and his great kindness to me on that afternoon, as well as any number of sessions where I happened to see him over the years.
How is it possible that one man could have had such a keen eye for capturing just the right moment? Chuck's photographs, especially for the recording sessions and covers of so many ¡mpulse! and Verve albums,
helped to form a visual impression of most of our favorite Jazz legends. I only have to see one of his classic photos of Eric Dolphy to be reminded of Chuck's unique talents, and his eye for the fleeting instant. You could easily choose any one of 100s of his photos of John Coltrane that became so much more than just a photo to so many of us. That it was someone like Chuck who was present to quietly and unobtrusively document these sessions was no accident. He was, without question, the right man with the proper eye, and the great talent to do this work. All Jazz fans owe him a great debt of gratitude. I am only but one amongst them.
The great Chuck Stewart passed away this past January 20th, 2017, just a few months before what would have been his 90th birthday. I only wanted to mark his passing by expressing my condolences to his family, and to say how very much I admired his great artistry. In capturing images of our music, he was a legend in his own special way. He is going to be missed and just like Blue Note's Francis Wolff, we will not see such artistic photos of Jazz artists ever again. Rest in peace Chuck, you were admired and appreciated by all of us.

---
During the tumultuous aftermath of the election of November 8th, 2016, I learned, and way too late, that the great bassist, Bob Cranshaw had actually passed away on November 2nd! I will never forget how, when I was a very young, impressionable, and scared guitarist just arrived in New York from Los Angeles, California in 1970, one of the first players, who were Jazz heroes to me, that I had the honor and privilege to sit next to during a recording was Bob Cranshaw.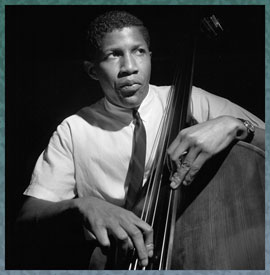 I will never forget how warm and welcoming he was to me - not to mention how helpful he was to me on that day, and many others that were to follow. I remember that it was so strange for me to see him playing a Fender bass, and not the acoustic bass that I had always associated him with from the countless Jazz albums that I owned that he was on. In truth, he was one of the only Jazz bassists to have converted successfully to the electric bass. Great players like Ron Carter, for example, never really felt comfortable making this transition.
Please allow me to list some of the albums that I have where Bob Cranshaw is the bassist that have meant a lot to me: "HAPPENINGS"(Bobby Hutcherson); "IDLE MOMENTS"(Grant Green); "INNER URGE"(Joe Henderson); "THE CAPE VERDEAN BLUES"(Horace Silver); "SKY SHADOWS"(Eric Kloss); "I'M TRYIN' TO GET HOME"(Donald Byrd); "MOVIN' WES" and "BUMPIN'"(Wes Montgomery); "THE BRIDGE"(Sonny Rollins); "INTRODUCING DUKE PEARSON'S BIG BAND"(Duke Pearson); "THE SIDEWINDER"(Lee Morgan); "EVOLUTION"(Grachan Moncur III); "JOYRIDE"(Stanley Turrentine); "A CADDY FOR DADDY"(Hank Mobley); "LIVE AT NEWPORT"(McCoy Tyner); "MONEY IN THE POCKET"(Joe Zawinul); "LITTLE JOHNNY C"(Johnny Coles); and "HOOCHIE COOCHIE MAN"(Jimmy Smith). This is only a small, small list of albums that meant something to me, the real list of Bob's credits goes on forever!
For all of these album credits, you would not believe how many times, on covers of various Blue Note albums, Bob was incorrectly listed as: "BOB CRENSHAW"!!! Imagine that!!! Even some of the classic albums that I mentioned above! I honestly don't know if I ever even noticed these horrifying errors until recently. It is amazing that these things could have happened!
I would also want to offer this great recent "INTERVIEW" with Bob, conducted by Ethan Iverson. It is a wonderful read and offers some great insights into his life, his perspectives on music and people, and the incredible sense of humility that he possessed. Though it has been many, many years since Bob and I worked or recorded together, it feels as though it wasn't so long ago that I used see him at our local musician's union all the time, and I always loved seeing him and stopping to speak with him whenever possible. I feel so fortunate that I was able to know and work with Bob Cranshaw, one of the real understated greats of the acoustic bass in Jazz. Rest in Peace dear Bob!!!

---
What a time this has suddenly been for losing some of our great artists! During the late evening hours on Monday, August 29th, 2016, the exceptionally talented actor/writer/director, Gene Wilder had now been taken from us! How could one choose from his films and select a few as "the best"? I don't know, but, for me, there are three films that I will always remember, and periodically watch on DVD. Those three films are: "YOUNG FRANKENSTEIN"(1974); "SHERLOCK HOLMES' SMARTER BROTHER"(1975); and "THE WORLD'S GREATEST LOVER"(1977).
From these films alone, it's impossible to forget scenes and lines with other brilliant actors/comedians such as: Marty Feldman; Madeline Kahn; Dom DeLuise; Leo McKern; Ronnie Graham; Fritz Feld and Carol Kane just to name a few. Somehow to try to recount the classic lines, out of context, would not seem to do them justice. Though I might have read it somewhere before, I had forgotten that Gene was born in Milwaukee, and in "THE WORLD'S GREATEST LOVER" his character, Rudy Hickman, is a rather neurotic baker from, of all places, Milwaukee. And, at one point, as the story unfolds, he screams: "I'm going crazy in Milwaukee!" Not long thereafter, he gets fired from his job!!!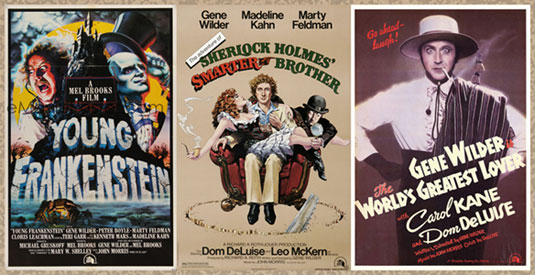 Mel Brooks said of him: "One of the truly great talents of our time. He blessed every film we did with his magic & he blessed me with his friendship." And so, from me, a most humble fan: Rest in peace Gene - how many times you made us all ache with laughter, and smile warmly!!!

---
Then, suddenly on Thursday, August 25th, 2016, another giant in the world of Jazz and the recording of this incredible music, the very brilliant engineer, Rudy Van Gelder has also passed away. How is it possible that one man could actually create individual audio perspectives for so many different Jazz labels?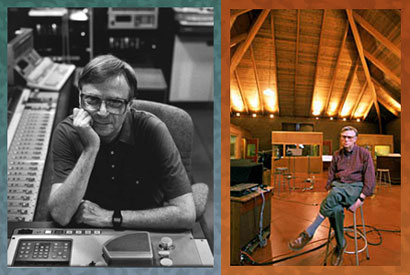 Think about this, and think about it carefully! There was, and without questions, the fantastic sound of Blue Note Records. Then there was the sound of Impulse! Records, Verve Records; A&M Records; CTI Records; and earlier labels like Prestige Records. To my ears, Rudy Van Gelder never had a sound template, and then just applied that "sound" to everything that he did, each label had its own distinctive sound. To me, this is all miraculous.
It seems like players of my generation all grew-up seeing the incredibly artistic black & white photography of Francis Wolff for Blue Note or Chuck Stewart for Impulse! It seems as though all of those musical moments, captured by these photographs, just makes time stand still.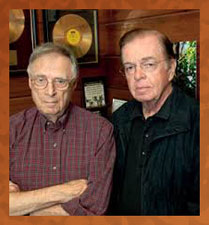 And, for the most part, all of these photos were taken in the converted barn in Englewood Cliffs, New Jersey that was Van Gelder Studios. I would find it hard to believe that there could a single musician who was lucky enough to walk through that door and into that room didn't feel something special, something bordering on a highly spiritual experience. It was as if a world that was in color could suddenly turn into black & white, and you could feel the ghosts of sounds past floating around that room and bouncing off the walls, the large square tiles of the terra cotta floor, and those high wooden ceilings. It probably compares to entering an ancient European cathedral, or something like that. It was that powerful.
The first time I entered the studio was in late 1970, when I went out there with vibist David Friedman, only to function as his 'roadie' for the Hubert Laws CTI album, "AFRO-CLASSIC." I just took it all in, sitting very quietly, feeling the room, watching the great musicians, and Rudy and Creed Taylor too. I had heard all the stories about musicians who had unwittingly moved a microphone ever so slight, and had Rudy throw an ashtray at them for doing so! It was an incredible experience, and I certainly dreamed of one day walking into that room again, but because I would have been called as a guitarist to play on a session there.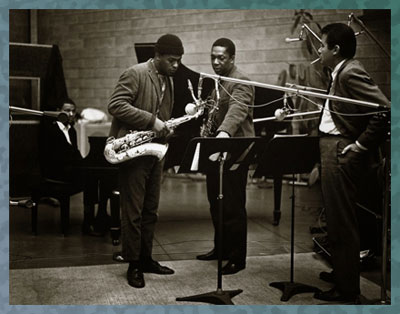 It was probably another 5-6 years before that actually happened, but, having been there before, it was far less intimidating to appear, and be prepared to play music. In those days, CTI would send Babe's Cabs to come pick me up in Manhattan, and transport me to New Jersey. I was always early, and so, often I was in the room completely alone - just me and all those ghosts floating around. The sounds of 'Trane; Hancock; Tyner; Shorter; Hubbard; Lee Morgan; Joe Henderson; Wes Montgomery; Jimmy Smith; Horace Silver; Bill Evans; Kenny Burrell; Cal Tjader; Bobby Hutcherson; Elvin; Tony Williams; and countless others. Of course, by the time that I was actually recording at Van Gelder's the truly great, great years were long behind us all. It was not the same, especially because Rudy had added iso-booths to gain more separation, and to combat the leakage that, in another time, was an integral part of the group sounds that he was helping to capture.
It's hard to write a piece like this about Rudy Van Gelder without mentioning the relationship that he had with Bob Thiele, and all the great Impulse! artists. While trolling the web for images, I found a wonderful Chuck Stewart photo that shows, from left to right, McCoy Tyner, Archie Shepp, John Coltrane and Bob Thiele. What a gathering for a "A LOVE SUPREME" session, one that never ended-up on the album that we all know.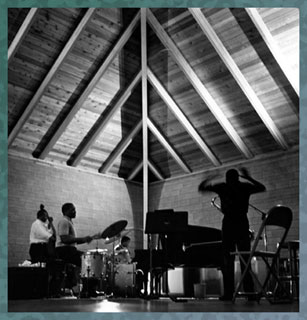 It's fascinating, even though many of us never realized it, on all of these great, great recordings that Rudy made, the drums were always panned hard right, and on a quartet recording, like the great Coltrane quartet, Trane's saxophone was always hard left. And yet, as listeners, we were so riveted by the content and the passion of the music that these details escaped us all.
Though the next photo is from the Blue Note years, I stumbled upon a very moody shot of Stanley Turrentine and The Three Sounds recording in 1960. The photo, while capturing the mood and spirit of that moment, also captures the immense feeling of the size Rudy Van Gelder's very special room. Look at those high ceilings. All of this, from the tile floors, to the brick walls, to the wooden ceilings, each element contributed to that very special sound and feeling. We may never see and hear rooms like this again.
For all the hours and hours and hours of joy countless Jazz fans have been treated to by the recordings engineered by Rudy Van Gelder, there is no "Thank you Rudy!" that could ever seem like a sufficient expression of gratitude for everything that he has contributed to our music. When one is young and collecting LPs, you just see these names on the album jackets and might even dare to think that you "know" these people after awhile, but no, we don't!!! We know nothing about them. When I was finally in the presence of Rudy Van Gelder, Creed Taylor or Bob Thiele, I often used to wonder to myself before, during and after any session something like this: "How is it possible that the cosmos selected these three men to be present to hear some of the greatest, most profound music ever played and recorded? HOW is that possible?!?!?!" I still have no answer for that. But, there they were!!! For everything you've given us Rudy, thank you so much, and thank you for your kindness to me. Rest in peace always!!!

---
What a time this has been, now, on Monday, August 22nd, 2016, we all learned that one of the most unique musicians ever to grace this planet, Toots Thielemans had passed away and left us.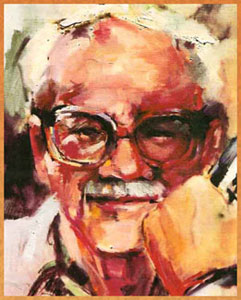 In another time, probably best known to many as the wonderful guitarist/composer and whistler on his most famous tune, "Bluesette," but as time passed the sound of his very emotional and touching harmonica playing reached so many people all across the globe. Toots was beloved and admired by every musician or person whose life he had touched. In the regard, I am no different. I would love to share two little stories from the times that I was privileged enough to have been in his presence.
I had been called to play on a Patrick Williams album with the sessions to take place at A&R Studios on W. 48th St. here in Manhattan. Assembled for the recording were stellar players such as: Dave Grusin; Tony Levin; Grady Tate; Lew Soloff; Marvin Stamm; Danny Stiles; Bill Watrous; Wayne Andre; Jerome Richardson; Gerry Niewood; Lou Marini; Ronnie Cuber; and, none other than, Toots Thielemans. Hearing Toots' sound coming through the headphones was such a pleasure. I remember how warmly he greeted everyone, and his kindness and humility were obvious from the beginning. The date(s) were to have taken place on July 13th-14th, 1977. How could I possibly remember that? Well, as the session was moving along, all of sudden, at around 8:37 P.M., ALL OF THE LIGHTS WENT OUT and THE POWER SHUT DOWN!!! At first, we all thought that Phil Ramone, a great practical joker in his own right, was trying to have some fun with all of us, because he was working next door in his own private room at A&R, R-1. But no!!!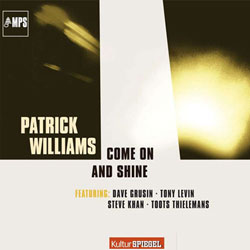 It wasn't Phil's doing at all. Little did we know that this was the great New York City Blackout of 1977. After all the mumbling and grumbling had died down, each one of us had to find a way to trudge back home. What an eerie sight it was to find one's way out of A&R and onto W. 48th St., only to see pitch blackness everywhere. In my case, I had to walk down to my then apartment, located at 21st St. and 7th Avenue. Not that bad of a walk. I remember, as I only lived on the 2nd Flr., feeling my way with my right hand down the hallway, trying to find my apartment door, and eventually, I did. The next day, the power was back for a good portion of Manhattan, and we assembled again to finish the recording. I remember seeing Grady Tate come in with a look on his face of complete and total exhaustion because, he lived on the 80th Flr. of his building on the East Side - a much, much longer trek!!! Can you imagine going up and down that many flights of stairs? Somehow, through all of this drama, Toots was fine, and in good humor as always!!!
Some years later, I was doing a stretch of subbing at "LATE NIGHT WITH DAVID LETTERMAN" and I remember being really excited after reading on a particular day that Toots Thielemans was going to be the guest artist. When he arrived and saw me, he came right over to me, gave me a big smile and a hug, and said to me, "I'm so glad to see you here, now I know that everything is going to be O.K.!"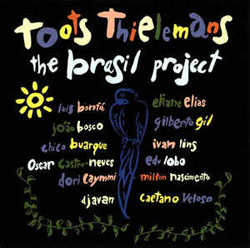 Imagine that! On that particular show, Toots had chosen to play Paul Simon's "I Do It For Your Love." Believe it or not, I hadn't heard the song before, but I will never forget being deeply moved by hearing Toots interpret this song. It was so beautifully done. Toots had a way getting right to the heart of any melody, the meaning behind the lyrics, everything - he could make you feel everything. How very moving is his moment during Pat Metheny's gorgeous ballad, "Always & Forever"? Surely, Toots was a genius.
It's hard to pick out any one piece of work as a favorite of mine that featured Toots, but, if ever an artist was born to interpret a particular genre of music, surely Toots Thielemans was made for playing Brazilian music. He made two wonderful volumes of albums that were titled: "THE BRASIL PROJECT" and you can't go wrong with owning both of them - hours and hours of beautiful listening await you. When you put together Toots with the music of composers like: Ivan Lins; Milton Nascimento; Edu Lobo; João Bosco; Caetano Veloso; and Dori Caymmi, these combinations are pure delight.
To this great musician and beautiful human being, I can only say....Rest in peace Toots!!! I feel so very fortunate to have known you, and to have played with you a few times. You brought so much joy to so many people whose lives you touched in a most profound way!!!

---
On that very same Tuesday, August 16th, 2016, I learned of the passing of one of our great television moderators for Sunday morning political discussions, the incomparable John McLaughlin! How much his program, "THE McLAUGHLIN GROUP," which debuted in 1982, had become a part of the Sunday morning routine for so many people - fans of politics or not.

I suppose that when I began to watch with greater regularity, the panelists often included some combination of: Pat Buchanon; Morton Kondracke; Jack Germond; Fred Barnes; and Eleanor Clift. More recently, panelists like Clarence Page; Mort Zuckerman and Katty Kay added greatly to the festivities. To be a liberal on that panel was never the easiest thing to do.
There are many who would argue that it was not until "SATURDAY NIGHT LIVE" and Dana Carvey
did their incredible and hilarious send-up of the program that the real program achieved a kind of never before imagined popularity. But who could forget John's booming voice and imposing glare when he would begin a program by saying: "Issue One"!!! Or how can one forget his leading questions beginning with: "On a sliding scale of 1 to 10 - with 10 representing metaphysical certitude......" and, as each panelist opined on the topic, he would bellow at their answer, "WRONG!!!" And then offer his own "correct" answer. A segment that was always hysterical in countless ways.
I don't know that we will ever again see and hear anything quite like this program. It was truly one-of-a-kind, and I, for one, am going to miss it very, very much. Rest in peace John!!! You were stupendous!!!

---
On Tuesday morning, August 16th, 2016, I learned the sad news of the passing of the great Bobby Hutcherson, vibraphonist and composer extraordinaire! It becomes hard to put into words the impact that his playing and his compositions had on my musical life, and my outlook on life in the United States in general.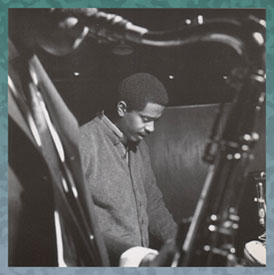 His Blue Note albums alone during the '60s helped to form the soundtrack of what my life was to be. Amongst those classic albums, "HAPPENINGS"('66) remains as my favorite. But, right next to it would have to be: "COMPONENTS"('65); "DIALOGUE"('65); "STICK-UP"('66) and "TOTAL ECLIPSE"('68). How I studied, transcribed, and learned from his tunes on those albums. It was an unforgettable time, and the sound of his vibes with the motor on was unmistakable - a signature.
And then, beyond his recorded work as a leader, his presence as a sideman helped to define the music on such wonderful albums as: Eric Dolphy's "OUT TO LUNCH"('64); Joe Henderson's "MODE FOR JOE"('66); Grant Green's "IDLE MOMENTS"('64) and "STREET OF DREAMS"('64); and McCoy Tyner's "TIME FOR TYNER"('67). But, for me, the album that helped to change my life so much was Archie Shepp's "NEW THING AT NEWPORT"(Impulse!)('65)!!!
Because "NEW THING AT NEWPORT" was a shared release with John Coltrane, and featured his quartet's legendary performance of "One Down, One Up," Archie Shepp's Quartet, which that day featured: Bobby Hutcherson; Barre Phillips(Ac. Bass) and Joe Chambers(Drums) offered performances that, each in its own way, demonstrated a different kind of power in music. It was, for its time, in fact, for all times, a music that signaled everything that was to come in the latter part of the decade! And make no mistake about it, Hutcherson's sound, feeling, and creativity helped to give so much shape, mood and atmosphere to what Shepp might have intended. But, it was Shepp's Jazz poem, "Scag" which left me stunned and speechless. Thank goodness for Nat Hentoff's fantastic liner notes, which included parts of his conversation with Archie Shepp. About this tune, Shepp said: "Scag is a colloquialism for heroin. As you can hear Shepp say, "Where tracks is, the money ain't." The tracks are both needle tracks and also those railroad tracks that have so long been the dividing line in town after town, city after city, between black and white.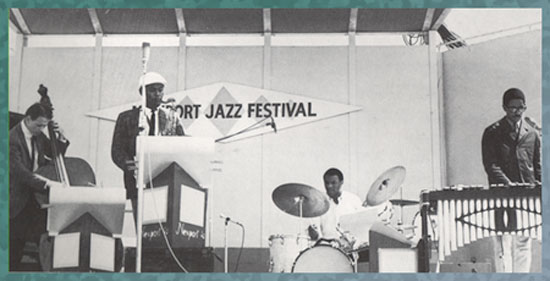 "The divisions," said Shepp, "of class and of economics are, after all, so much a part of addiction. Heroin is not in itself the fundamental problem; it is a horrifying symptom of what's really wrong with the society, of the forces that can kill a man, literally or figuratively, at nineteen." Imagine being a part of such an expression through music, and Bobby Hutcherson provides a cinematic backdrop for Shepp's powerful voice and words. I don't know why, but, to this day, I can still recite this poem word for word. The live photo was taken by the brilliant Chuck Stewart.
Bobby Hutcherson, his music and everything that he brought to it helped to teach me that great music, great art in any form or genre, is often a reflection of the time in which it is, or was being created. In the end, you simply cannot disconnect the great, great music of this period, the '60s, from everything that was being felt in Black America. And now, in the present election cycle, there are many who would draw direct parallels to the '60s - and it is almost as if to say, we have made little or no progress at all in bridging this eternal chasm. I, for one, at the very least, hope that we have fulfilled some portion of our promise as human beings.
For each person who says that they are a "Jazz fan" - what Jazz sounds like becomes purely subjective, and there is no one description that can satisfy everyone. It was not so long ago that I was fishing around at YouTube, and I stumbled upon a live video from the 2002 Vienne Jazz Festival in France with McCoy Tyner's Quartet performing "African Village." For me the sound, the feeling, the fire, the passion in this performance represents everything that I would like to believe that Jazz is. And listening to McCoy and Bobby together transports you to another place, another time, and yet, it sounds like right NOW, as only they can do.
On the very personal side of things, the first tune I ever recorded of Bobby Hutcherson's was "Bouquet," which appeared on the aforementioned "HAPPENINGS" album, and I recorded it in 1975 on an acoustic duet album with Larry Coryell. Fast forward to 2016, and just a couple of months ago, I recorded 3 songs that appeared on Hutcherson CDs. The incredible coincidence of all of this is not lost on me! Rest in peace Bobby! I thank you for everything that you helped to bring to my musical and personal life.

---
Late Saturday night, June 18th, 2016, I learned that José M. Lugo, the great pianist/arranger/producer, had passed away after just 56 years and so much more to give. He had actually passed on Sunday, June 12th. During the past couple of decades,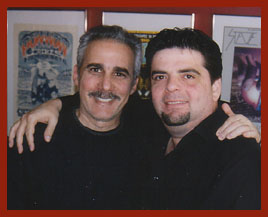 I was privileged to have become his friend, and will always remember his kindness to me.
Since I recorded "BORROWED TIME" in 2007, and my own adventures in Latin music became far more serious, when I would complete a new album, José Lugo was always one of the first people with whom I would share the music. Lucky for me, he always offered encouragement for my efforts and his comments helped to inform my plans for a new recording, if I was fortunate enough to make another one. And, "PARTING SHOT" and "SUBTEXT" followed, and he was among the first to hear them too. In the end, in addition to his friendship, he was a great teacher for me, and a source of enthusiasm and energy for the many musical things that we held in common, including our love for the playing and the music of Clare Fischer. One of his arrangement for the great Gilberto Santa Rosa that will always remain a favorite of mine was "Amandote" from Santa Rosa's 1996 "ESENCIA" CD.
Jos&eacute was not without his own musical dreams and fantasies, and early on in our friendship, he asked me most humbly if I could help him to get in touch with arranger Jeremy Lubbock to see if Jeremy would be willing to write a string arrangement for a forthcoming Santa Rosa album. I was fortunate enough to have had a good mutual friend, and that friend helped me to get José and Jeremy connected, and one of the collaborations of this nature was the very gorgeous ballad, "A la distancia de un te quiero" from Gilberto's 1999 "EXPRESIÓN" CD. José was as happy as a little kid when this dream of his had been realized. And, needless to say, hearing his joy over this small gesture on my part, made me feel so great!
When Michael Brecker passed away in 2007,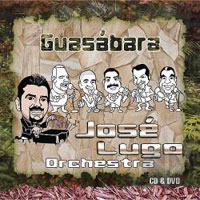 Jos&eacute contacted me to ask if I thought that it would O.K. if he composed and recorded a homenaje for Mike. Of course, I told him to, by all means, go and do it! The beautiful result, "M.B." appears on his "GUASÁBARA" CD from 2008. When he had finished recording the piece, he asked me to please send it along to Randy Brecker, which I did, and Randy loved it, and was very touched by this grand gesture from a great musician from afar.
Another element that I loved about José's arranging concepts was that he often found a way to use the guitar, both electric and acoustic, within the context of Salsa. Too often, in my opinion, the guitar doesn't seem to fit in well with the other more traditional instruments. The role of the guitar was almost always filled beautifully by the great Jorge Laboy, whom I respect and admire very much.
This photo that you see above was taken of us at a studio here in New York during 2004, when he was here doing some overdubs for a project. It was a treasured memory then, and becomes even more so now!!! Rest in peace dear José, you will always be remembered as one of the giants in Latin music, and well beyond. Your humble friend and student, Estifi

---
Late Tuesday night, September 22nd, 2015, Yogi Berra passed away after 90 incredible years on this planet. I didn't learn of his passing until I awakened early Wednesday morning, and I began to reflect on what Yogi meant to me, though I can't even recall if, in passing, I ever actually met him or shook his hand.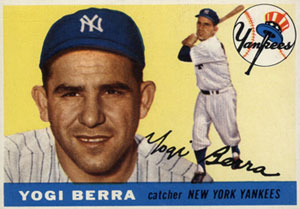 As I grew-up in Los Angeles, California, my only connection to the New Yankees was that my mother was a huge fan of theirs. But, like many people, outside of New York, I grew-up hating the Yankees. Why? Because it just seemed like they always won!!! Always!!! However, in spite of that, there was always something incredibly endearing about the presence of, the persona that was Yogi Berra. After all, how people, how many athletes end-up having a popular cartoon character, Yogi Bear, named after them?
It wasn't until I moved to New York in 1970 that I began to get a sense of just what Yogi Berra had meant to the people of this city, and way beyond that, to the people of the United States.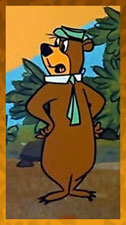 Yogi Berra was really, in his way, a folk hero. Just take a moment and read his Wikipedia page. What an amazing life he led, and speaking of his life outside of baseball, and the Yankees. You could easily feel how beloved he was whenever he would show-up at Yankee Stadium for an Old Timers Day. I don't think anyone received the kind of welcome that Yogi did. It spoke volumes about the man and his relationship to these fans, and baseball fans everywhere. I admired him even more for cutting-off his relationship for a time with the Yankees because of how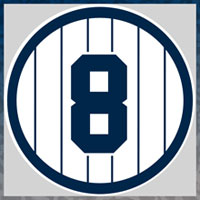 he felt that he had been wronged by George Steinbrenner.
How could I leave this tribute without listing a few of Yogi's famous quotes? Whether they are true or not, or exaggerations, they are so engrained in the memories of baseball fans, and New Yorkers everywhere, it's impossible not to love this guy!!! "I never said most of the things I said." - "You can observe a lot by watching." - "Nobody goes there anymore. It's too crowded." - "A nickel ain't worth a dime anymore." - "Baseball is 90% mental and the other half is physical." And, of course, "It ain't over till it's over." - "It's déjà vu all over again." Hard to argue with this kind of lovable wisdom.
In many ways, I admire him most for his enduring marriage to his beloved wife Carmen, which spanned over 6 decades. I also loved the guy for his friendship and loyalty to Phil Rizzuto. One can't help but appreciate these kinds of character traits. And so, on this sad day, I would just conclude by saying, rest in peace Lawrence "Yogi" Berra, and thank you so much for all the wonderful and enduring memories. You will always remain someone most dear in the hearts of all New Yorkers and beyond.

---
On Thursday, June 11th, 2015, I was greatly saddened to learn of the passing of one of the most visionary musicians in our music, saxophonist/composer Ornette Coleman. I suppose that I first heard Ornette's music during the mid-'60s while attending U.C.L.A. in Los Angeles,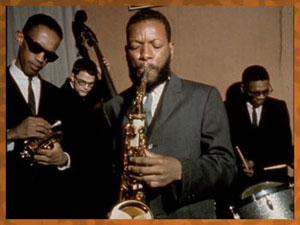 and I remember being immediately struck by just how very different that music was than anything else that I had ever heard before. Quickly, LPs such as: "THE SHAPE OF JAZZ TO COME"(1959) w/ Billy Higgins(drums); "CHANGE OF THE CENTURY"(1960) w/ Billy Higgins(drums); "THIS IS OUR MUSIC"(1961) w/ Ed Blackwell(drums); and "ORNETTE!"(1962) w/ Scott LaFaro(bass) & Ed Blackwell(drums) became fixtures on my turntable. I remember not feeling as though I understood what was going on, but I felt connected to much of it, because I found that after a few listenings, I could actually sing many of the melodies. That was such a positive sign for me. During those years, I tried to keep-up with all of his releases on Atlantic Records, but went back to explore his earlier recordings for Contemporary Records as well.
As the years went by, and my own musical travels increased, I remember buying and reading his biography "A HARMOLODIC LIFE"(1992) by John Litweiler. I was especially affected by the horrific racism that Ornette encountered in his early life growing-up in Texas, and the brutal treatment that he received at countless jam sessions in which he tried to participate. How sadly typical it is that, when someone is just different, or hears things differently, people's first reaction is to reject that person, or that person's music. I don't think that it is all that remarkable that, in the end, Ornette found players, kindred spirits, who all got it and they went on to make some of the most brilliant and unique group music that the genre had ever seen.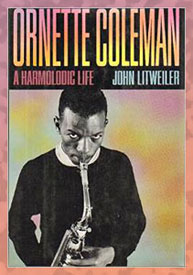 Of course, I am speaking of the great quartet with Don Cherry; Charlie Haden; and Billy Higgins or Ed Blackwell. Who will ever forget the chemistry that existed within that group?
Sometimes it might be best to not have a clear picture of the music that you are about to play. The music of Ornette Coleman brings one to question many things that one had always accepted as being true for music making in a Jazz setting. For example, what is structure? Do we always need it? Are there ways to escape that musical prison? Does this have to be discussed? What about playing melodies in unison with great perfection? Does that really matter? What if each voice, though known, is expressed by the player to the best of his abilities at that moment and is never judged by common standards of excellence? Must there be fixed chord changes attached to any melody? Does an improvisation have to be constantly connected to an older sensibility about chord changes? Can there be flexible bar lines? In other words, can there be an elastic sense of where 'one' is? And the players would just adjust on the fly? Does it have to matter if the pitch of any one instrument is not perfectly in tune? Certainly there are standards for this, but can we bring them into question? The lesson, perhaps, is that maybe we all have to free ourselves a bit and break away from the norm - at least from time to time? This is, in part, the gift that I have taken away from Ornette and his music.
Over the years, Ornette's music has been interpreted by any number of great players. I always loved the Chick Corea-Dave Holland-Barry Altschul version of "Blues Connotation." Without question Pat Metheny is a great interpreter of this body of music. But you can also have an incredible version of "Ramblin'" by David Sanborn, one that is anchored by Marcus Miller and Steve Jordan. When our group Eyewitness was formed in 1981, "Blues Connotation" was one of the first tunes that we played together. Over the run of my own recordings as a leader, it has been my distinct pleasure to interpret some of the music of Ornette Coleman: "The Blessing"; "Turnaround"; "R.P.D.D."; "Congeniality"; "Mr. & Mrs. People"; "Chronology"; "Blues Connotation"; and "Bird Food."
I can only thank Ornette Coleman and all the various participants of his immense body of work for what they have left behind for all of us to enjoy and study for the rest of our days. Wishing Ornette and his family a most peaceful end to this spectacular journey through life.

---
On Sunday, March 8th, 2015, the New York community of musicians was shocked and saddened to learn of the passing of our dear trumpeter, Lew Soloff. I hope that those reading this will believe me when I try to explain just how beloved Lew was amongst his peers and colleagues. He was respected for his musicianship, his overall excellence, his spirit of musical adventurousness, and his personal warmth and sense of humor.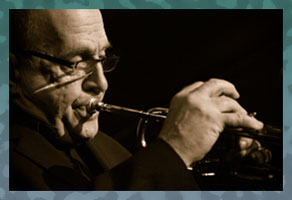 I will always think of him with great love and affection, and recall the countless recording sessions that we did together. Seeing him alongside various brass configurations that would include the likes of: Alan Rubin, Randy Brecker, Jon Faddis, Marvin Stamm, Dave Taylor, Tom Malone, Dave Bargeron and Wayne Andre, one quickly learns that there is a most different kind of sense of humor that exists in the brass world than in the rhythm section world. Still, we all got along beautifully, and a great sense of warmth always existed. From the sublime, to the disturbing, to the downright awful, we were all there together, united in trying to do good work, even if the forces of evil were conspiring to make it a forgettable experience. In any such moment, it was great to look over and see Lew and the other guys, give someone a wink, or roll your eyes, and just keep trying. I will also remember spending many, many nights on the bandstand with Lew as part of both the David Matthews Big Band, and the wonderful and wild Gil Evans Orchestra. Lew was so important to Gil in holding everything together as the cast of musicians was constantly changing.
On the more personal side of things, early on I learned that if you wanted to know about restaurants, especially Italian cuisine, Lew was the man to consult. I remember during the '70s, having a first date with someone, and needing a nice place to go to, one that I could afford, and Lew recommended Il Ponte Vecchio, which was located in Greenwich Village on Thompson St. - of course, that restaurant has been gone for awhile now. But, I loved it so much, and over the years, went there countless times, always thought about Lew - and even bumped into him there a few times as well - and was always greeted with a smile and a big hug!!! As the years passed, sadly, I did not see Lew as much as before, and seeing him was always a reminder of just how much I missed that sense of community that once existed. Now, it only exists in our hearts, minds, and memories!!!
During my personal process of remembering Lew, I stumbled upon a wonderful INTERVIEW conducted by the great trombonist Mike Davis as part of his series of brass interviews, known as the Bone2Pick portion of his website. I found Lew's to be especially moving and informative. I was even stunned to learn that one of the most influential recorded performances in his life was hearing Louis Armstrong singing and playing my father's old, old song, "Shoe Shine Boy," which I always remembered as being written for the great Jimmie Lunceford. On the more emotional side of things, I was very touched to see and hear Lew get so choked-up when speaking about both Alan Rubin and Randy Brecker. These were both beautiful moments. It's a 2-hr. interview, but the rewards for listening are vast!!!
Rest in peace dear Lew, I am extending my deepest sympathies to his two daughters Laura and Lena.

---
This past week, I received a phone call from guitarist Bob Spickard to let me know that our longtime friend, and bandmate in The Chantays, Brian Carman had passed away on Sunday, March 1st, 2015. Yes, that familiar descending guitar slide with all that reverb on their classic hit "Pipeline" was, in fact, Brian playing it.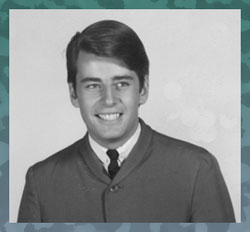 Of course, let me be clear that it was Bob Welch and not me playing drums on that recording. I used drive down south to Newport Beach and the famous Rendezvous Ballroom to see The Chantays playing their music on countless nights during the early '60s when I was in high school in West Los Angeles. Though they were known for playing surfing music, they were much more than that. Of all things, they helped to guide me to blues guitar because of their interpretations of many of the great Freddie King instrumentals: "Hideaway"; "Sen-sa-shun"; "San-ho-zay" and "Heads Up" all became favorites of mine, and early challenges on the guitar when I switched from the drums.
As a young kid in his teenage years, I learned so much from being around Brian, who had a greater maturity than most of us, especially because, at that time, he was already married to his beloved Katie, and had a son, Brett. So, he understood responsibilities on a far deeper level than me - and that's for sure!!! We spent a lot of time together, especially because of all the car travel after I had been fortunate enough to have been chosen to join the band on drums - something that I was, in no way, musically ready for. But, it turned out to be one of the great experiences musically and personally for me, and I would not have missed it for the world. Some years ago, I was fortunate enough to have had one really long phone conversation with Brian, and we were able to catch-up on so many things. He was always a really good person, and I'm going to miss knowing that he was out there somewhere, and still playing the guitar. Rest in peace Brian, and thank you so much for all that you shared with me, and brought to my life.

---
On February 11th, 2015, we all lost one of our greatest journalists when CBS News longtime reporter, Bob Simon passed away. It's impossible to write a tribute to him that could be as heartfelt, elegant, and knowing as those that have been offered by his colleagues. After the news broke of the tragic and senseless car accident that took his life,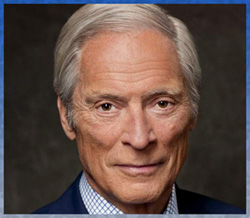 , I watched so many of his co-workers at CBS News try to say the most wonderful things about him, and choked-up by emotion, most of these great professionals could barely make it through a few sentences. In many ways, that says everything that you need to know about the kind of respect and admiration Simon's persona and his body of work generated.
For me, I remember how much I used to look forward to any story on the news that was to be reported by Bob Simon, because I knew that I was getting a very special perspective on whatever that event happened to be. Long before he became part of the "60 MINUTES" family, he had already established himself as someone who represented everything that is good and wonderful about journalism, even broadcast journalism. How he continued to represent these lofty ideals, and survived and maintained such great dignity, when the delivery of our network news has been perverted and undermined by the odious concept of "news" as "entertainment": INFO-TAINMENT remains a testament to his strength of character! Those who remain part of this foolishness should look in the mirror, and think about Bob Simon, and then, just try, and try, and try to be better!!!
I, for one, am going to miss his reporting and storytelling a great deal. It was always something that I appreciated and came to treasure. For a man who valued "irony," it is remarkable that his last piece for "60 MINUTES" will have been produced by his daughter, Tanya Simon. Rest in peace Bob, for you have represented the best of the best that journalism can offer!!!

---
I can't believe that, barely 24 hours later, I am sitting here again, and writing about the passing of yet another dear friend and colleague of so many years. Now, I just learned that the very brilliant engineer/producer, Phil Ramone is gone.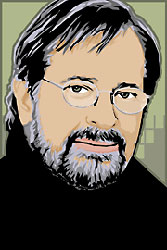 When I arrived in New York in 1970, Phil was already a legend as an engineer, studio owner, and young producer. Everyone knew about A&R Studios, which Phil started with then partner Jack Arnold in 1959. As I familiarized myself with New York, and how it all worked, where the recording of music was concerned, I quickly learned that there was an A&R "799" on Seventh Avenue, and the smaller A&R "48th" located at 322 W. 48th St. Now, the studio is gone and this is the location of Local #802, our musician's union. The Seventh Avenue building was torn town and the Equitable Life skyscraper went up. Sometimes, when I walk by that block, I look up to where the 7th Flr. used to be and it is as if I can see and hear all those musical ghosts floating around. Because of the fame and stature Phil achieved as a producer, his brilliance as a recording engineer has been practically forgotten. Sometimes, I forget too, and then, while looking through some of my classic Jazz LPs collection, what will I see? Wes Montgomery's "MOVIN' WES"(Verve), Engineer: Phil Ramone!!! "THE INDIVIDUALISM OF GIL EVANS"(Verve), Engineer: Phil Ramone!!! John Coltrane, "OLÉ COLTRANE!"(Atlantic), Engineer: Phil Ramone!!! Kenny Burrell & Jimmy Smith, "BLUE BASH"(Verve), Engineer: Phil Ramone!!! Cal Tjader, "SOUL BIRD"(Verve), Engineer: Phil Ramone!!! "PRESENTING: THAD JONES-MEL LEWIS JAZZ ORCHESTRA(Solid State), Engineer: Phil Ramone!!! Stan Getz & Luis Bonfa, "JAZZ SAMBA ENCORE!"(Verve) Engineer: Phil Ramone!!! I think that you get the picture.
During the '70s and '80s, somehow I drifted into Phil's inner circle of core musicians. Sometimes, one never really knows quite why, in one moment, you don't get called by certain producers, and then, for some reason, everything seems to change. Why? Are you doing something differently than before? Who's to say?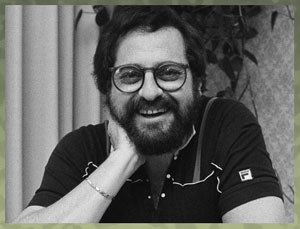 I learned so much each time I worked with and for Phil. Firstly, the great difference in how he treated the musicians as partners in the creative process, how he respectfully depended upon us for ideas. He listened to us. And yet, he was fully capable of making all the big decisions. He was always exceptionally generous and kind with us. However, like all human beings, he had his flaws too. I never lost sight of how badly he sometimes treated his assistant engineers, some of them went on to become brilliant engineers on their own. I remember one time, he was having problems, as a producer, getting the kind of acoustic piano sound that he was looking for. The next thing I knew, he was shouting obscenities, and gently shoved the young engineer aside, and said something like: "NO!!! This is how you do it!!!" He took control of that beautiful old Neve console, adjusted a few knobs here and there, and bingo, there it was, the sound he had desired. It reminded all those present that, we were still in the company of a truly magnificent recording engineer. But, bless his heart, he could be a bully sometimes too!
He could also be amazingly funny, a practical joker, so much so that, I recall the great blackout in New York City during July 13-14, 1977. I was recording in Studio R-1 in A&R(48th St.) with arranger Pat Williams, and a Big Band featuring the most special, Toots Thielemans. Phil was working, I believe, with Paul Simon in the adjacent studio, R-2, his personal room. All of a sudden, on that hot summer night, all the lights went out, and every single musician in our room, almost in unison said: "Damn, that Phil Ramone just made a really expensive practical joke!!!" Then, out of the darkness, came a voice saying, "Boys, I know what you're thinking, but it wasn't ME!!!" That voice belonged to Phil, and he then added: "It's totally dark outside!!! The whole f%&king city is down!!!" We waited a little while to see if the power would return. No such luck. And so we all had to walk home in the dark. What a bizarre feeling it was to see our beloved city like that. The next day, I saw drummer Grady Tate, he told us how he had to walk-up some 60+ flights of stairs to get to his apartment that night!!!
One last story I'd love to share with you all about Phil's sense of humor revolves around a recording that we were doing for Karen Carpenter. It was obvious to all of us that something was very wrong with her health, because she was so painfully thin. Not much was known then about serious eating disorders. As it turned out, she had a great sense of humor, and had no problem poking fun at her squeaky clean image.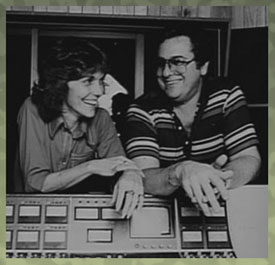 So, one night, it was her birthday, and Phil wanted to surprise her with a birthday cake!!! So, what did he do? At the perfect moment, the band played "Happy Birthday!" for Karen, and out came Phil's production assistant with a huge box. We all gathered 'round, the cover came up, and there was a penis-shaped cake!!! After the hysterical laughter died down, Karen said to us all: "Gee, thanks Phil, this is the closest I've ever been to one of those things!!!" At that moment, everyone practically fell on the floor. In all my years, I don't remember a moment in any studio quite like that one!!! That was Phil's incredible sense of humor!!!

NOTE: I have since been reminded that, Karen was but an onlooker, and the birthday cake was actually for drummer, Liberty DeVitto!!! However, Karen's quote was and is completely accurate!!!

I can honestly say that, when the phone rang, and it was Phil's production assistant, I was always thrilled to know that I'd be working with him again. One thing that you knew for certain, the artist's voice that would be coming through the headphones would be a special one, and you would be surrounded by brilliant players. But, there is always a prescribed lifespan to these working relationships, and when one is useful to a producer, the phone rings. When something happens, and you are replaced by another player, the phone never rings again. It is then that you realize what was going on, and what was always inevitable. But, when you are cast aside like that, it feels like you have become an old brown shoe, to be thrown away, and quickly forgotten. A great warmth may exist, and forever, with that producer, but this is the reality one must be prepared for, and, at times, it's a hard one, a brutal one to accept. Phil remains for me a fantastic producer, and one who always finds the right vision for a song, for an album of songs, and for that artist. I learned so much from him, and I appreciated that, even past our years of working together, he always greeted me with tremendous warmth and affection, remembering all the great moments together. Rest in peace Phil, you are and were one of the giants of the recording industry!!!
Oh, I almost forgot. Hugh McCracken, with a touch of irony and sarcasm would, on occasion, refer to Phil Ramone as: "Phil RAM - ONE!!!" How 'bout that?!?!?!

---
I was so stunned and saddened to learn that, this morning, March 29th, 2013, my dear friend, the great, great guitarist, Hugh McCracken had passed away. This was, to me, completely unexpected, especially because Hugh and I had just shared a long telephone conversation recently, and we seemed to have gotten caught-up on all of life's various events.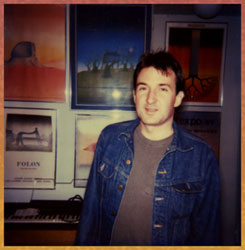 We spoke of so many things, music being the least of them, and never once did he even mention that he had battled with Leukemia, and that he had been in remission. But, generally speaking, men are like that, we don't tend to talk about such things, especially when they concern our own frailty or mortality. I have so many, many cherished memories of Hugh, as I was fortunate enough to have worked beside him on countless occasions. But, beyond a couple of stories that I'll recount, I want you all to know how very much I loved and respected Hughie as a great artist on the guitar, and by "guitar" I do mean in all of its various shapes, sizes, and sounds. He played them all, and played them beautifully. Perhaps, he was not the kind of guitarist who would easily impress someone looking for flash over substance, but his touch on the instrument was superb, not to mention his great time feel, and his sense of soul and good taste was always equal to that touch. The beautiful sound that he produced constantly, consistently was a product of that same touch!
It would be doing Hugh McCracken a disservice to list a few of the great artists whose albums he graced with his presence, for there were 100s of them. You almost can't mention a great singer or instrumentalist that he did not record with. And many of those same artists would never have entered the studio without Hughie being by their side, musically speaking. Of course, it would be hard to define his artistry by selecting just one track,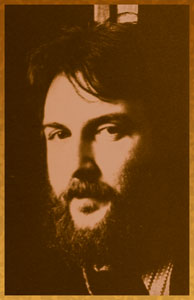 but, I often feel that his essence could be summed-up by his playing on "Hey Nineteen" by Steely Dan. Ironically, I was there when the foundation of this track was created, and I am not at all ashamed to say that, in the end, what I had played got erased, and was replaced by what you now hear. Sometimes, one can bemoan such things, and harbor bad feelings, but, when I heard the finished product, even if I had played something vaguely similar, what Hughie played was perfect, and perfect in every possible aspect of music-making. And, above all, he was just doing what was right for the song, any given song!!! He often worked painfully slow-ly, but who can argue with such results? In the end, I'm honored that I was erased, and that Hughie is there!!! It's strange that I could not locate a great photo of Hugh with his trusty white Fender Stratocaster, but I've done my best to provide some photos that mean something to me.
One of the great traditions of visiting the home of Hugh & Holly McCracken was that, no sooner had the door opened, there he was snapping a Polaroid of you before you could even say "Hi!" or give them a hug!!! As I was trying to reshape my life in the mid-'70s, I decided to adopt Hugh's Polaroid obsession, and bought one for my apartment, and began to do the same thing by documenting all the visitors, people that I cared about and loved. Lucky for me, I still have some of them, including the first photo shared here of Hugh. How very much I am treasuring this photo on this very sad day. The second photo portrait that you see of Hugh appeared within the "WHITE ELEPHANT" album from 1972, and, at that point in time, I don't believe that I had met Hugh.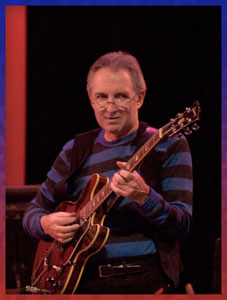 It's a great shot of Hugh's face with his familiar beard, as taken by Lee Marshall. I think that I'll always remember Hugh this way, with that wise and thoughtful look.
To know that I won't see Hugh again is hard to accept. He was fiercely loyal to those whom he cared about most. He supported all his musical friends by turning-up at their gigs and shows. He was a man of very few words, but, one learned to pay attention to what he had to say. How I will miss his traditional birthday song, sung and beautifully played [à la Chet Atkins] to me, usually on my answering machine, each year, right on time!!! Well, maybe a few days late sometimes! He had a great and very dry sense of humor, and he was beloved by all his good friends, and all those who had the privilege of working with him. I'm going to always remember Will Lee calling him "Human Cracker"!!! As Hugh had been a father long before me, I often went to him for advice about any and all fatherly problems I might have been confused about. I will never forget his willingness to listen to me, and to dispense nuggets of sage advice, as he could.
Hugh McCracken was really a New York treasure! Yes, one of countless great artists who live and work here, but one who distinguished himself in most special ways. He represents a part of the fabric of this great city, what makes it such an incredible place. I am going to miss him greatly, but those of you who will only think about the music he left behind, always remember that you are listening to a great artist at work. Pay careful attention, because it is often easy to miss what is subtle enough to go by unnoticed by most!!! I love you Hughie, rest in peace!!!

---
Sadly, I knew that this day was coming, but I really did not want to face the fact that, one day, Clare Fischer would be gone. On January 26th, 2012, that day arrived, and at 83 years of age, Clare had left us. How can I begin to describe just how much his music and his playing have meant to me? Going back to the '60s, I believe that I first learned of his name when, in 1965, I bought "CHILE CON SOUL" by the then, Jazz Crusaders, which included two of his tunes: "Dulzura" and "Ontem a Noite," and he was responsible for all the arrangements.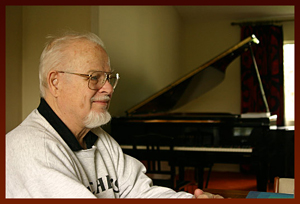 That might have been one of my first Latin Jazz purchases. The following year, I bought Cal Tjader's "SOUL BURST," which included Clare's classic tune, "Morning." Those two LPs served to influence my musical life in ways that continue to this day. It was not long after that that I discovered that Clare had also composed another Jazz standard, "Pensativa."
However, it was somewhere around 1990-91, a particularly dark time in my life, and on one really late night, I happened to be getting a good signal from WBGO-FM in Newark, NJ - which, in Manhattan, on a lower floor in an apartment building, is not often easy to do - and I heard this beautiful electric keyboard, and these incredible harmonies, and I couldn't stop listening. I knew that it would be a miracle if I happened to catch the DJ announcing the name of the song, the artist and the album - so I stayed up, and waited, and waited to learn that I had been listening to Clare Fischer's latest recording: "LEMBRANÇAS"(Concord Picante), and that song was titled, "Endlessly." As it turned out, the song had been written by Michael Asher, and not Clare.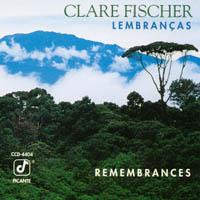 When I bought the CD, Clare's tribute to Charlie Palmieri, "C.P." came on, and when it arrived at the passage that appears between :21-1:00, I was just mesmerized. I kept going back to :21 and playing those two sections over and over, and over again. I couldn't stop listening to it. It was one of the most beautiful passages that I had ever heard in my life, I still feel that way.
After a few days had passed, as I had learned from my father when he said: "If someone does something that you like, tell them, just tell them!" And so, I sat down, and I wrote a fan letter of appreciation to Clare Fischer. It was not too long after that that Clare actually phoned me to tell me how much my letter had meant to him. I recall him telling me that he had been through a dark time too, and that his spirits had been so uplifted by what I had written. It's hard to describe how much his phone call meant to me. It seemed like we spoke for hours about life and music, and I'll never forget it. From that moment to the present, we have been friends in our way, and I have valued that friendship as much as any that I've known in my life.
Over the years at the website, I have tried to present some of Clare's solos at KHAN'S KORNER 1, which now include: "Once Again" and "Gaviota" - both recorded with Poncho Sánchez - where Clare uses the tremolo effect with wondrous results. And, more recently, "Where is Love?" I would urge anyone who becomes fascinated by the body of work of the great Clare Fischer to take a listen, and then begin to expand your horizons, and investigate his own recordings, for there are many of them. I'm so grateful that I lived at a time when I could experience the music and the harmonies of Clare Fischer! Thank you Clare!!! Love, Steve

---
Today, June 8th, 2011, I was given the very sad news that my dear friend and musical colleague, trumpeter Alan Rubin had passed away. I have so many wonderful memories of working with him on countless recordings during the '70s and '80s. Many have described him as a lovable prick, but he was always wonderful to me. I guess if he liked you, you never had to worry about just how cruel, sarcastic, and cynical he could be.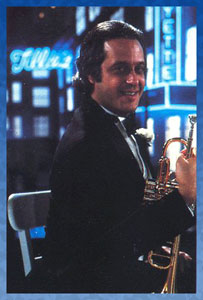 If you were on his good side, he was about as funny, witty, and amusing as anyone could imagine. Watching him sit together with the other great brass players like: Randy Brecker, Jon Faddis, Lew Soloff, Marvin Stamm, Dave Taylor, Tom Malone, Dave Bargeron and Wayne Andre, Alan was always able to phrase beautifully with everyone, and create a blend that was a joy to hear.
I don't recall how it developed, but Alan and I always used to discuss with such great reverence the latest Freddie Hubbard release, and it wasn't long before we were playing certain heads together, and laughing about how fantastic they were. We both loved Freddie's intricate chromaticism. I guess this reached the ultimate level of absurdity when, each time I would walk into a studio, Alan would begin to play the head to "Baraka Sasa" - which was one of our Freddie faves! He could also play, and verbatim, incredibly difficult Freddie solo passages, and, upon hearing them, I would also say to him: "Man, if you can do that, why don't you ever play solos?" And he would just shrug his shoulders and give me a look that said: "Forget it!"
For better or worse, as he was in the "House Band" for years, every so often, when I was added to play with a particular performer, I would see Alan at "SATURDAY NIGHT LIVE." Because of the tedium and the utter boredom of doing TV work, which basically means, sitting around and waiting ALL day to do something, anything, Alan's wicked sense of humor was always on full display. I can't even go into some of the stories because they're just too much, and too vulgar for print. I loved the guy, and always had tremendous respect for his great musicianship and his beautiful sound!!! He was truly a one-of-a-kind character. In recent years, I have missed those times with him very much. Farewell Alan!!!

---
This morning, I was deeply saddened to learn of the passing of my dear friend, Jacques Braunstein in Caracas, Venezuela. Since 1999, when I first arrived there, Jacques was amongst the people who rose to greet me with an open and generous heart. He remained just like that for all the years that passed since.
I can not begin to recount all the wonderful afternoons and evenings spent at his home talking about Jazz, the music he devoted his entire life to. Promoting our music via his famous radio program "El Idioma del Jazz" which could be heard on Radio Nacional, la Emisora Cultural de Caracas and Jazz 95.5 he was truly a crusader for all that is Jazz, past and present. Of course, for those who never heard one of his programs, you only have to know that he concluded each one with his signature phrase: "Paz y Jazz" - "Peace and Jazz" - which sounds so much better in Spanish.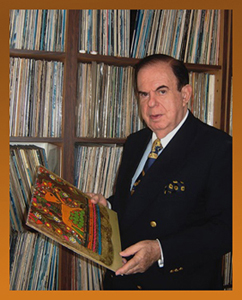 How well I remember having to fumble through my first live interview with Jacques, I felt so ashamed of my non-existent Spanish then, and, had I not had Caridad Canelón by my side, it would have been a complete and total disaster. Fortunately, as the years passed, my Spanish improved to the point where I could offer reasonable answers to his questions. I always asked him to write out the questions first for me, so that I could SEE them. Reading the questions gave me a fighting chance of inventing an answer in Spanish - usually with his help. Mostly, he allowed me to present music that I felt that everyone should hear, and I am not speaking of my own recordings.
When I finally had the opportunity to play my own music live in Caracas at the Juan Sebastián Bar with Roberto Koch and Andrés Briceño, it was Jacques who was there to welcome me to the stage. Those were wonderful nights back then, and I will never, never, ever forget his kindness to me! Never!
My deepest sympathies go out to his beloved wife, Odalys, whom I also came to adore, and loved seeing them together. They were an adorable couple. Rest in peace dear Jacques, you are going to be greatly missed for the kind of human being that you were. But, also for the great crusader that you were for our music. Know how much you were appreciated by those of us who try our best to play. Jacques, you were a great gentleman and wonderful human being, and I'm going to miss you very much! - Steve

---
Ahora, mi homenaje ha sido traducido por mi querido amigo, el ingeniero industrial y periodista de Jazz, Felipe Díaz, de Las Palmas de Gran Canaria, España. Mil gracias de nuevo Felipe, eres un sol!!!

Esta mañana quedé profundamente sumido en el dolor al conocer la muerte de mi querido amigo Jacques Braunstein en Caracas, Venezuela. Desde 1999, la primera vez que fui allí, Jacques estuvo entre aquellos que se acercaron a saludarme con su generoso corazón abierto de par en par, y permaneció así durante todos los años que se sucedieron desde entonces.
Fueron innumerables las tardes que compartimos en su casa hablando de Jazz, la música a la que dedicó su vida entera promocionándola a través de su famoso programa de radio "El Idioma del Jazz" que podía escucharse en Radio Nacional, la Emisora Cultural de Caracas y Jazz 95.5. Para todo lo que es el Jazz, pasado y presente, él fue sin duda un auténtico cruzado. Siempre recordaré su frase concluyendo su programa cada vez, "Paz y Jazz."
Recuerdo muy bien cómo balbuceaba torpemente durante mi primera entrevista en directo con Jacques. Me sentía tan avergonzado por mi casi inexistente Español de entonces. Si no llego a tener a Caridad Canelón a mi lado, hubiera sido un absoluto desastre. Afortunadamente, con los años, mi Español mejoró lo suficiente como para llegar a un punto en el que podía ofrecer respuestas razonables a sus preguntas. Siempre le pedía que me escribiera antes las preguntas de forma que yo pudiera VERLAS. Leer las cuestiones me daba la oportunidad de poder inventar una respuesta en Español - generalmente con su ayuda. Muchas veces me permitía presentar música que yo consideraba que todo el mundo debería haber escuchado, y no hablo de mis propias grabaciones.
Cuando finalmente tuve la oportunidad de tocar mi música en directo en Caracas en el Juan Sebastián Bar, con Roberto Koch y Andrés Briceño, fue Jacques quien estaba allí para recibirme en el escenario. Aquellas fueron unas noches maravillosas, y yo nunca, nunca, olvidaré su amabilidad hacia mí. ¡Nunca!
Mi más sentido pésame para su querida esposa Odalys, a quien también aprendí a adorar. Me encantaba verlos juntos, eran una pareja adorable. Descansa en paz querido Jacques. Te vamos a echar mucho de menos, por la clase de ser humano que eras, y también por tu labor en pro de nuestra música. Te aseguro que eras muy apreciado por aquellos de nosotros que lo hacemos lo mejor que podemos tocando un instrumento. Te quiero mucho Jacques, y esto es para siempre!!!! - Steve

---
Today, April 22nd, just 12 days after he had celebrated yet another birthday, I learned that my dear friend from childhood, Kim Weiskopf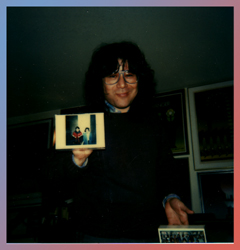 had passed away during the night after a long and brutal bout with cancer. Like his father, the great Bob Weiskopf["I Love Lucy"; "Maude"; "Our Miss Brooks"; "Carol Burnett"; "Red Skelton"], Kim was a great comedy writer. 2nd generation "Old Hollywood" like me! He was a writer and writer/producer for shows such as: "Good Times"; "Married With Children"; "Three's Company"; "The Jeffersons"; and "What's Happening Now" to name a few. We met during our Jr. High School years in Los Angeles through our dear mutual friend, Dan Keller. Yet, despite being divided by his living in the "Valley" - on the other side of "the hill" - we became great friends, and like all youth, participated in some totally outrageous debauchery together!!! We are pictured together below, as we attended Dan's wedding some years ago.
Way beyond his professional life, the "Kimmer" - as he was known to his close friends - was truly one of the most humorous and witty people on this earth. Brutally honest, with heaping dashes of cynicism, sarcasm, and irony, with a single phrase, he could have you convulsed in laughter for hours. I realize that, in our culture, many people can be thinking the same things at, more or less, the same time, but in totally different geographical locations. I swear to you all that, almost all the phrases you now hear associated with the three major sports(baseball, football, and basketball), the Kimmer uttered them all first. I was there, I know, and there was NO ESPN in those days!!!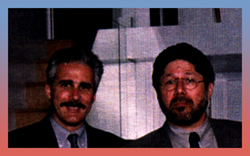 During one of his visits to New York, he stopped by my apartment, and we took the Polaroid you now see. In that photo, he is holding, and mockingly so, my photo of my son Heath on his very first "date" with Krisha Garvey, who is the daughter of former L.A. Dodger great, Steve Garvey, and his talk-show host wife, Cyndy. Kim took endless glee in poking fun at this brief union.
Kim Weiskopf was a most unique and special individual. There was truly no one like him. I am going to miss him so very much. Our e-mail exchanges and infrequent phone calls will occupy my memories until I am no longer here as well. My deepest sympathies and warmest thoughts go out to his dear wife, Jody and their daughter Kate. And to Kim's beloved brother, Walt. I know how very much he loved and adored you all.

---
Today, December 29th, 2008, I am so greatly saddened to learn that one of the greatest voices that the trumpet has ever known, Freddie Hubbard had passed away.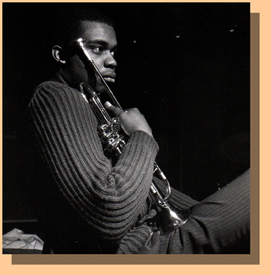 Of all things, I learned this news via a posting on Facebook. I can't explain just how much Freddie influenced my concepts about playing, but especially about the details of playing melodies with feeling and love. Whether alone/solo, or in tandem with another instrument, Freddie's talents in this regard were absolutely without equal. I still can't get over how huge his sound was, absolutely immense. When he appeared on any recording as a sideman, he made that recording just that much better by his sheer presence. And let's not forget that he was a great composer too. His writing style was very distinctive and you always could recognize a Freddie Hubbard tune!
No one played ballads like Freddie Hubbard. No one! During his CTI years, just witness performances such as: "Here's That Rainy Day"("STRAIGHT LIFE"); "Lonely Town" and "Moment to Moment"("FIRST LIGHT"); or "In a Mist"("SKY DIVE"). All were great works of art where ballad playing is concerned. No matter what your instrument might be, these should be models for how to interpret a melody!
During the late '70s, I did some concerts with Freddie, as he felt that he needed to add a guitar after he had recorded "HIGH ENERGY" for Columbia Records. Ever since that recording, and the concerts, I just can't get the head to "Baraka Sasa" out of my mind. I still practice it to this day. Later, I had the privilege of recording with him on his LP, "WINDJAMMER" - also for Columbia, and produced by Bob James. Recently, I became enamored with his interpretation of "You're My Everything" which appeared on "HUB-TONES," one of his first Blue Note recordings. But, how can we forget what he brought to these classics: "MAIDEN VOYAGE"(Herbie Hancock) and "SPEAK NO EVIL"(Wayne Shorter). Or that he played on Ornette Coleman's double quartet recording "FREE JAZZ"; and John Coltrane's "OLÉ"; or, Oliver Nelson's "THE BLUES AND THE ABSTRACT TRUTH." Freddie's recorded output is endless.
As "Little Sunflower" is one of his most memorable compositions, I chose to represent the original recording on which it first appeared, "BACKLASH," which featured many great Freddie classics, including "Up Jumped Spring."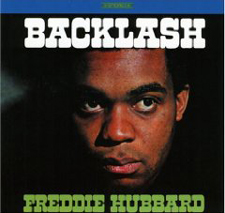 I used to hear him and his quintet playing at The Lighthouse in Hermosa Beach when I was growing-up. A great quintet that always seemed to include: James Spaulding(alto sax), Louis Hayes(drums) and pianist, Kenny Barron.
One of my favorite personal memories of spending time with Freddie was on a long flight back from Tokyo in the early '80s. I had been there playing with Eyewitness, and Freddie was probably a guest soloist with some Japanese artist. I can't recall. But, we were both flying home by ourselves, along with some of the Windham Hill artists, who had been there on tour as well. I was especially happy to see Michael Hedges on the flight. But, lucky me, I was seated next to pianist, Liz Story. Freddie, who was seated in First Class, noticed this, and, throughout the flight, he kept coming back to the economy section to hang-out with me. It was really fun, and I was humbled and honored that he considered me a 'friend' on this long, lost flight home. Freddie, I'm going to miss you - but, you have left behind so much fantastic music that I can always feel that you are close by. Rest in peace!!!

---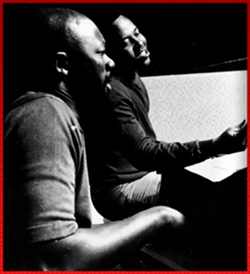 On this day, August 10th, 2008, I was saddened to learn that yet another one of my earliest musical heroes, Isaac Hayes had passed away. How well I remember, growing up in West Los Angeles, and listening to Wolfman Jack's radio show, and being introduced to the songs of this great Stax/Volt, Memphis, Tennessee-based songwriter/pianist. And yes, that is how I am going to remember him, not for "The Theme from Shaft" which will linger most in the memories of his many fans. But, where do I begin to recount some of the songs which formed, in part, the soundtrack of my adolescence?
How about songs and artists like: "Hold On, I'm Comin'", "Soul Man", "You Got Me Hummin'", "I Thank You", "You Don't Know Like I Know" or "When Something is Wrong with My Baby"(Sam & Dave); "Never Like This Before"(William Bell) [Which is one of my all-time obscure R&B faves!!! Check it out!!!]; "I've Got to Love Somebody's Baby", "Little Bluebird" and "Toe Hold"(Johnnie Taylor); "Sister's Got A Boyfriend"(Rufus Thomas); "B-A-B-Y"(Carla Thomas); "When You Move You Lose"(Rufus Thomas & Carla Thomas)!!! Need I say more?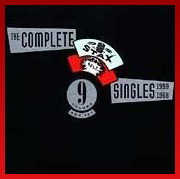 And that rhythm section: Booker T. Jones(piano/organ); Steve Cropper(el. guitar); "Duck" Dunn(el. bass); and Al Jackson(drums)!!! Just about as incredible as all this is, if you go through all the tunes in the super-fantastic "STAX/VOLT - THE COMPLETE SINGLES 1959-1968"(Box Set), just look at how many of these tunes the great guitarist Steve Cropper co-wrote!!! You won't believe it!!!
Above, in the photo, I have chosen to picture Isaac Hayes at the piano with his songwriting partner, David Porter. For me, this is how I would love to remember him. Oh, and how about that fantastic speaking voice? Is it any wonder why, later in his life, he could have been such a great success at radio? Or, as the chef on "South Park"? Rest in Peace, Isaac Hayes, you were one of our greatest soul songwriters!!! I, for one, will never forget you and your songs! Thank you for all these wonderful memories!!!

---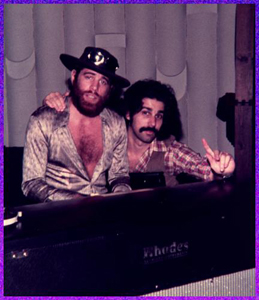 Today, I mourn the passing my dear friend and most respected colleague, guitarist Joe Beck
, who passed away last evening, July 22nd, after his own battle with cancer. He was a masterful musician, one who happened to play the guitar. I don't think that I have ever known anyone who knew more standards, more tunes than Joe - and, beyond that, at the drop of a hat, he could play any one of them, in any key that any crazy singer would throw at him. In theory, a great musician, a great Jazz musician should be able to do that. But, many of us cannot!
When I moved to New York in 1970, I only had two friends here: vibist, David Friedman and bassist, John Miller. At the time, both Larry Coryell and Joe Beck were the titans of New York guitar players - each for different reasons. I knew of them both, of course, before arriving, because they were amongst the pioneers of the new "Jazz-Rock Fusion" movement, which was probably born around 1967. One night, as I was still trying to get settled in this huge damn city, John Miller encouraged me to come down to C.B.'s, which was a small restaurant/bar/club on the East Side of lower Manhattan, where John was playing with drummer Chico Hamilton, saxophonist Arnie Lawrence, and, of course, Joe Beck. I was a bit terrified, but I went anyway. When I was invited to come up and play a set, no sooner had I unzipped my first Manny's gig bag which housed my Gibson Super 400, the music had begun, and I was already completely and totally lost. Without saying a word, they jumped from a standard, to a vamp, to another standard, to another jam vamp. There was never the slightest break between pieces, one thing just segued seamlessly into the next. I had NO IDEA what was happening, and that stayed with me for the entire humiliating exercise.
After the set, I packed-up my guitar, and was seated, head in hands, at the bar. Joe sauntered over to me, and, in his no-holds-barred, brash manner said something like this: "You know kid, you really ought to know what you're doing before you get up and sit in with people!" That was it! I hated him, I wanted to kill him!!! He went on to tell me about his recording sessions with Miles Davis and countless others. Of course, I didn't believe him about the Miles sessions, because I had every LP Miles had ever made, and I never saw the name "Joe Beck" on any of them! But, as history has now revealed, Joe Beck was actually Miles Davis' first choice for guitar. Long before, John McLaughlin had ever appeared here. On the recent Box Set re-issues, you can now hear Joe's work with Miles, as Miles searched for this new direction that would find itself in "IN A SILENT WAY" and later, on "BITCHES BREW." But Joe was there first!!! Let us not forget that today!!!
Unfortunately, relative to his perceptions of my playing, and my readiness to be in New York, he was right! 100% correct. Well, to make matters worse, when I grabbed my gig bag w/ my guitar, and made my way back home - tail between my legs, I was about to make a most terrifying discovery! I arrived home, and I immediately wanted to practice and study, so I took out my guitar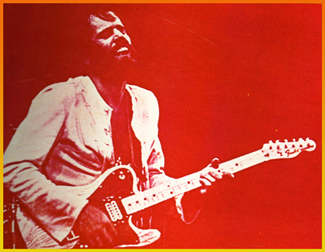 - but something felt very wrong - without seeing it, I reached inside the bag, and the neck felt all gunky and filthy. I pulled it out of the bag, and to my horror, it was Joe Beck's Super 400, and not mine. This meant that I was going to have to contact him quickly, and exchange the guitars in person, because, no doubt, he had mine at his home. And so, the next morning, I went to his place, and we exchanged guitars, pretty much in silence!
Many, many years later, when somehow we had become respected colleagues, and even bandmates at times, I told him this story. He looked at me, shaking his head, and then said: "I said that to YOU?!?!?! I can't believe that I did that. I'm so sorry, and I'm ashamed!" I looked at him and said, "No, you were just telling the truth! And, you were right! It was the best thing anyone ever said to me. And, whatever I might have become, all or in part, I owe it to that one night, and what you said!!!" From that moment on, we were even closer friends.
My other favorite Joe Beck anecdote comes from another gig during the mid-'70s when we were playing together in one of his groups which included: David Sanborn; Don Grolnick; Will Lee; and Christopher Parker. We had the daunting task of opening at the Bottom Line for Tony Williams' new Lifetime which featured, the then relatively unknown, Allan Holdsworth. Joe and I stood at the bar together listening and, of course, after Joe had listened for awhile, he turned to me and said, with all due cynicism and some degree of respect: "No one plays anything fast that they haven't played 1,000 times before!" I wasn't sure just what to make of that comment on that night, because like just about everyone else, I thought Allan was pretty remarkable. But, as the years have come and gone, as usual, Joe was absolutely right about great velocity, and great speed around the fingerboard. But, I always laugh when I think of this story, and Joe's amazing 'tude!
Joe Beck was much, much more than a great guitarist, or a great musician. Despite his very gruff manner, despite his intense cynicism and sarcasm in expressing it, he was one of the warmest people I have known, and I'm so grateful that we met and became friends. Rest in peace dear Joe, I'm going to miss you very much, but I will never, ever forget how much you helped me to find myself in music!

---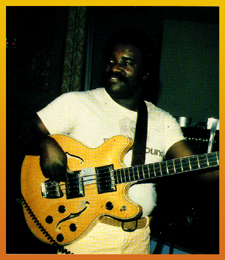 Believe it or not, I am writing this on Saturday, August 2nd, 2008 because I wanted to acknowledge the passing of a good friend, most respected colleague, and, above all, a warm and wonderful human being. I'm speaking electric bassist, Gary King
. What is so striking about all this, at least to me, is that Gary King passed away on July 22nd, 2003! Yes, five years have now passed by, and I did not know about this until yesterday.
Somehow, I was looking around the Internet for something, or someone, and I came across a MySpace page for "Kinyatta." Well, in my life, I have only known one person with this name, and he was Gary and Christine King's very young son, when I first met him. So, I went to his page, and lo and behold, my eyes were greated with a blog that he had written about his dear father. I can only say that it made me so very sad. And, on top of knowing that Gary was gone, I was struck by the fact that this news had somehow completely escaped me. How did this happen? How could it have happened?!?! In retracing my steps for 2003, the only thing that makes sense is that I must have been out of the country, in Caracas, Venezuela and performing and doing some clinics at the time. But still, I was in e-mail contact with everyone.
I came to know Gary through our work together for Bob James, both as an artist, and as a producer. It goes without saying that Bob's faith in us both meant a great deal! From that initial connection, Gary and I also were fortunate enough to work on a variety of projects for Creed Taylor and his CTI family of labels. It feels as though we must have played together on about 50 projects. But, in reality, it was probably a bit less. Still, Gary's bigger-than-life persona left a most lasting impression on me.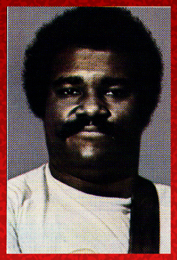 Of course, one was always struck by the fact that, for recording, his instrument of choice was most unusual, a Guild semi-acoustic electric bass. The exact model name and number now escape me. He had a most unique sound, and it was always full of life, and energy, just like his very own ebullient personality. One very memorable recording, on which we appear together, was the 1976 George Benson-Joe Farrell collaboration titled, "BENSON & FARRELL." Gary appears on my favorite track, which was a Latin-style version of the Lane-Harburg classic, "Old Devil Moon." Tito Puente's longtime pianist Sonny Bravo contributes the arrangement, and it is a monster, check it out!!!
What is most important for me to say here and now is that Gary King was an absolutely great person, a loving and devoted husband and father, in addition to being a superb bassist and musician. Over the years, long after we were not working together directly very much, we always remained in contact, even if only once per year to just catch-up on things. Those phone conversations were always fun and interesting, and I always ended-up sending him down to Pennsylvania, where he lived for many years, CDs of whatever I had recorded recently. I just wanted to honor his memory here before too much more time had passed. Sometimes, if we are fortunate, we meet someone, who enters our life, and they are just such a kind and decent person that this impression stays with us forever. Gary King was just such a person for me. Though I have expressed these sentiments to them both personally, I send my love and belated deepest sympathies to Christine, his beloved wife, and to his dear son, Kinyatta, of whom he was so very proud. Rest in peace, Gary!

---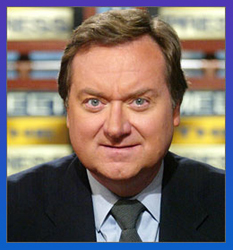 I just wanted to take a moment to express my great sadness upon learning of the passing NBC's longtime host of "MEET THE PRESS," Tim Russert! Apparently, he passed away today, Friday, June 13th, 2008 from a heart attack. He is mourned by countless colleagues, and by admirers and fans just like me! In the hours after his passing, I don't believe that I have ever witnessed a greater outpouring of admiration, affection, and appreciation for one single human being. This was obviously a very fine man, one who has deeply touched the lives of those around him, those closest to him.
In a world where the "news" is delivered to us daily in the most odious of notions: "INFO-TAINMENT" - Tim Russert stood apart from this, and served as a reminder to us all that his way, his style, was the way things used to be. His sense of dignity should have served as more of a model than the dictates of today's news 'producers' who obviously see us all as a legion of fools and idiots.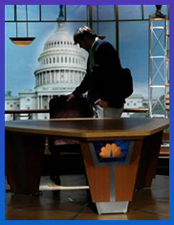 During the coming elections, I am going to miss his presence, and his insights greatly. He will be almost impossible to replace, and my Sunday mornings will certainly not be the same for the foreseeable future. To have listened to today's tributes heaped upon Tim Russert by his colleagues and friends says everything that needs to be said about the depth and character of this great man. Rest in peace Tim, my sympathies to your son, Luke, your wife Maureen, your beloved father, "Big Russ" and your entire family!
Addendum: It's Monday morning, June 16th, and I just watched Luke Russert speaking with Matt Lauer on the "TODAY" Show. Obviously, it was very, very moving. What a fine young man! To witness someone so young speaking with such composure was truly remarkable. I honestly don't know, even at this latter stage of life, how anyone in the immediate family has the courage to speak about someone they loved so much after such a sudden loss. It's easy to see why his father would have been so very proud. I have added the very poignant photo of Luke touching his father's chair on the set of "MEET THE PRESS" just after Sunday's special tribute. "Go get 'em Luke!!!"
---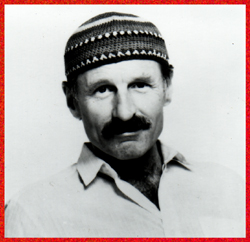 On this day, I mourn the passing of my dear friend and most respected colleage, Josef Zawinul. Working with Joe and Weather Update (which consisted of Victor Bailey on bass; Peter Erskine on drums; and Robert Thomas, Jr. on percussion) was one of the great musical and personal experiences of my life. But also, one of the great, great disappointments! It all came and went during 1986, just after Weather Report, then really just after Wayne Shorter had finally decided to go it alone. Joe had recorded "DIALECTS" as a solo artist, and the last Weather Report CD, "THIS IS THIS" had just been released as well. I decided to join this group, and with great hopes. Hopes that we might actually be a band for many years to come. But our 7-week tour(four in Europe, and three across the U.S.) turned out to be our "maiden voyage" and our "swan song" all in one!!!
The truth is, in my opinion, we were NOT a very good band. Fundamentally because we did not have a very good book of music to play then, and Joe insisted that we NOT do any of the 'old' Weather Report music. The rest of us wanted to do a lot of it because we knew that, what we did have, was not going to be truly competitive with the best music out there then. On the U.S. tour, where we shared the bill with an incarnation of John McLaughlin's Mahavishnu Orchestra(then w/ Bill Evans on sax; Jim Beard on keyboards; Jonas Helborg on bass; and Danny Gottlieb on drums), we were pretty much blown off the stage each night because John's presentation was much more organized and together. The pace of their set was beautifully done, and we were a raggedy-ass mess by comparison. It was some sad shit believe me! Though in stark contrast to what I'm saying, I run into people here and in Europe who thought that the band was great! Go figure!
Joe had come to hear "Eyewitness" when both groups were on tour in Japan during '83. That he was so knocked out by our group's music and approach was such a thrill I couldn't believe it. For him to sit there through two long sets of keyboardless music was amazing.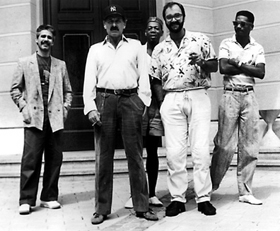 However, I don't think he wanted a "clean" guitar sound for HIS group.....and we had a lot of conceptual disagreements. In the end, Weather Update was SO loud that I found myself drifting back towards a sound and style of playing I had long since abandoned. Not long after the tour, as things turned out, when Joe disbanded Weather Update and started the Zawinul Syndicate, Scott Henderson was the guitarist, and I don't think that Joe could have made a better choice! Scott is one of the great guitar voices, and had just the right blend of grit and blues to go with his own jazz vocabulary. I think it also should be said that Joe initially wanted John Scofield for Weather Update, but, John wisely chose to stick with his own music, and to develop being a bandleader himself.
But, and bless his heart, Joe is a most difficult man to work with.....and anyone who has "served time" with him would tell you the same. However, he is one of the most uniquely gifted musical minds ever and it was an honor to have worked with him. My best musical memories are simply jamming at the soundchecks.....and, at times, just standing next to him at soundcheck while he played duo with the great, Peter Erskine. Wow, the two of them sounded, to use some past contemporary horrifying slang, "stupid ridiculous good!" When Joe sits down at his keyboard rig, within a note or two, you know instantly WHO is playing and setting the mood and tone. I would not use this word without great care, but HE was truly a genius!
One of the great things I learned from Joe comes from the following story. As our tour began in Europe, and remember this was just after the demise of Weather Report, there were actually some very serious "press conferences;" and, the jazz writers wanted to know everything. What happened to the "old" group, and what was to be the direction and purpose of this new group. Of course, Joe was asked some pretty ridiculous questions too. Here's a rough sample:

Reporter: Mr. Zawinul, what do you think about "rock?"
Joe: I don't think about it!
Reporter: Well, who do you listen to?
Joe: I listen to MYSELF!

When I first heard this, I suppose I thought to myself, "geez, what an arrogant asshole!" But, believe it or not, I used to actually think about this response often. And, somewhere, during the middle of the tour, I realized: Wow, this is why he is who he is! Yes, it's a great thing to have an open mind, and to listen to all the music that's out there, BUT, in the final analysis, if you don't hear YOUR OWN MUSIC, the music which exists INSIDE OF YOU, then you will never "hear" a damn thing of substance.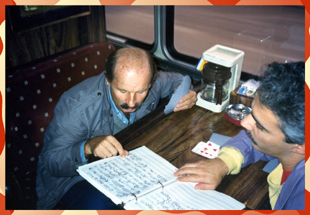 And, you will never have a musical personality or style. When you look at Joe's body of work, it is rich with personality and style. So, the lesson is: LISTEN TO YOURSELF! HEAR YOUR OWN MUSIC!
Beyond all the arguments, and there were many, we came away from it all with a deep and lasting warmth, and a great respect for one another. When my father died in '93, and I was away in California performing with one of my trios at the time, amongst the first messages of sympathy on my answering machine at home was Joe's voice saying beautiful things. For this, and many, many other moments, I will always love Joe, and treasure my times with him. Thanks to my dear friend, Peter Erskine, I can share with you all this shot of Joe and me playing Gin Rummy on our tour bus. You should know that I kicked his ass all over Europe, he wouldn't let me leave the table!!! And, we were obviously discussing my transcriptions of older Weather Report tunes which he refused to play!!!
Rest in peace, Joe! I'm going to miss seeing you here in New York.

---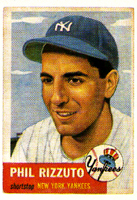 For those of us who had actually seen him play baseball as the shortstop on some of the greatest New York Yankees teams, for those of us who were lucky enough to have heard his calls on countless Yankees broadcasts, Tuesday, August 14th was a very, very sad day. I learned that Phil Rizzuto, "The Scooter" had passed away via an e-mail from my dear son, Heath. Phil Rizzuto was a one-of-a-kind broadcaster because he had played the game, but never lost that 'little boy' inside and he brought all that enthusiasm and spirit into 'the booth' with him. He never lost sight of the fact that baseball is, in the end, just a game, and the players and the fans should have fun. He made every game fun for those of us who had the pleasure to listen to him and his "huckleberry" of a colleague, the great Bill White. Rest in peace Scooter, since you left the Yankees booth, you have been missed every single game!!!
Here it is, 2013, another season is about to begin. The style of 'broadcasting' that Phil Rizzuto brought to each and every game, for those of us old enough to remember, we are never going to hear his brand of honesty, sentimentality, and sincerity again.

---
For those of us who knew him, who were lucky enough to be counted amongst his friends, this was a day we all feared might come. And, on January 13th, 2007, I learned that Michael Brecker had passed away.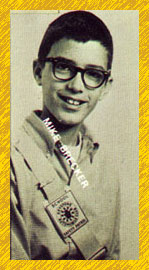 He had lost his brave and courageous fight for life, in the end, to leukemia. It would be easy to sit and express just how much his playing and his music have meant to me since I first heard him play in the early '70s just after we had moved to New York, but, that would be the story for so many whose lives Michael touched. As a saxophonist, as a musician, he was a true master. And like all such masters, his greatness even served to torture him, as to be constantly dissatisfied with his efforts. However, I never saw anyone work harder at their craft than Michael did, and the results of all that hard work were always evident to the rest of us.
He was such a great friend and bandmate. What most people wouldn't know, for the intense seriousness of his playing and music, was that he had an incredible sense of humor. He was very funny!!! And, he was a great practical joker. I can't tell you how many nights I would come on stage, as part of the early Brecker Bros. Band, and during the first tune, look down at my little pedals on the floor, step on one of them, and suddenly, I would hear the wrong sound coming back at me. A-ha! Of course, before the set, Mike had sneaked on stage, and changed all the knobs on every pedal. Wow, I wanted to kill him. After months of this, it inspired me to place little colored dots on my pedals so I could remember the settings. I still do it to this day!!! Another example of his rich sense of humor is the above photo that I've chosen to share here with everyone. It appears on the inside sleeve of an old B.J. Thomas album where all the players and production team were asked to submit a childhood photo. Of all things, Mike turned in a photo of himself as a Jr. High School Safety Patrol Guard. Can you believe that?!?!? And, if you want to see and be moved by a great, great photo tribute to Mike, please take a moment and visit Peter Erksine's site. The photos, which Pete shares there, truly capture everything that words will miss, especially the bond and love between two amazing brothers.
Michael was also a really funny amateur cartoonist, sometimes in the style of Don Martin from MAD Magazine. In the infinite boredom, which sometimes surrounds the process of recording, Mike would sit at the console and doodle cartoons on any writing surface available.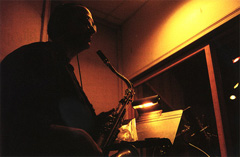 Most of them were devilishly witty. I recall the cartoon he did of my "TIGHTROPE" LP cover, with me(as a Don Martin character) walking across the tightrope surrounded by lots of disgusting 'flies' everywhere. Of course, there were many other such cartoons, but the subject matter is not suitable for discussions here!
Mike also had a wicked jump shot in the game of basketball! During a certain period of his return to a healthier lifestyle in the '80s, we used get together at the McBurney YMCA in lower Manhattan and steal a few moments to shoot some hoops. He had great form and a great touch. If he had a more aggressive personality on the court, he could have been quite a player.
I realize that I haven't mentioned that Mike was also a great jazz drummer! In those days, everyone wanted to play like Elvin Jones. It was almost required because all the tenor players would get together and play duo: tenor sax and drums. So, one of them always had to be prepared to play drums, and you had to play well, and for a long, LONG time. Like 'Trane!!! Mike, as you would imagine, did a great Elvin. However, truth be told, brother Randy, even with his unorthodox left-handed, weird lookin' approach, did the best Elvin! Another humorous example of the battle between these two fantastic brothers!!!
I'm not sure just why, but several weeks ago, Michael and I began corresponding again via e-mail, and those 'conversations' were warm and wonderful. He asked me how my son, Heath, was doing, and after sharing some thoughts with him, Michael wrote back with great sensitivity and care. It made me feel wonderful about the depth of this friendship, which had spanned over 35 years. As much as I, like everyone else, will miss his playing, his artistry, I will miss his friendship, and his great intelligence and sense of humor. He was a great, great artist, and his work will live on through his incredible body of work, but also through all those whose musical lives he has touched. That number would be inestimable. He fought these horrific battles towards the end of his life with great resolve and dignity, if only to try to be around longer for his beloved wife, Susan, and his two dear children, Jessica and Sam. My heart, my thoughts and my prayers go out to all of you. And, of course, to his dear brother Randy and sister Emily, I send out my love and those same thoughts. Rest easily and safely now Michael, you have been an inspiration in every regard. God bless you and keep you!

---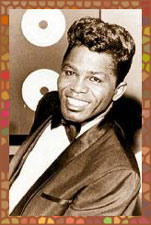 On this day, December 25th, 2006, I was saddened to learn that another one of my earliest musical heroes, the amazing, James Brown had passed away. Growing up in West Los Angeles, and listening to the radio, hit single/45 after hit single, "JB" became a legend to kids like me. I remember, after one of us could actually drive, going down to the Shrine Auditorium to see him perform with "The Famous Flames" including Bobby Byrd. It was incredible, an unforgettable night in my adolescence. And of course, "the cape"....that "cape." As he was introduced on his recording, "LIVE AT THE APOLLO" I like to remember him as "the hardest working man in show business!" Surely, he must have been!
How does one begin to recount the memories of each single? Just look at all these great tunes: "Please, Please, Please"; "Try Me"; "I'll Go Crazy"; "Night Train"; "I Got You"; "Papa's Got a Brand New Bag"; "It's a Man's Man's Man's World"; "Money Won't Change You"[a personal favorite!!!]; "Cold Sweat"; "Get It Together"; "I Got the Feelin'." How can one stop listing them all? One is greater than the next. How well I remember having to drive down to "Dolphin's of Hollywood" to buy each single, because they were not sold in my local record shop. But perhaps the big "crossover moment" happened when "JB" performed as part of the "T.A.M.I. Show" which reached young people of all ages and ethnicities.


If you've ever seen the Barry Levinson film, "LIBERTY HEIGHTS" in some ways, the story of the younger son mirrors my experience as a young person. As a musician, after failing at the drums, I remember spending hours trying to figure out all the various Jimmy Nolen guitar parts on those classic tunes. It was considered essential, and still should be. And what an education I received while trying to learn and imitate every word, every inflection, every mannerism, those screams. Most of the time, I had no clue as to just what he was really saying, but it didn't matter because, in some way, it simply reached me. His sense of time, just where he placed each shout and grunt within the beat. Impeccable! In his later years, I had the privilege to record with him a couple of times, nothing of great significance; and, to have appeared with him on "LATE NIGHT with David Letterman" during the '80s. That was incredible!
These memories bring me back to time when everything seemed to be so much less complex, and perhaps the world did not seem to be such a dangerous and terrifying place. We have learned that this was never the truth anyway! Rest in Peace James Brown, you were really, seriously too much, way too funky, and way too soulful!!! I, for one, will never forget you and your recordings! You made this world a better place for us all and you helped to bring many of us together!!! Thank you so much!!!

---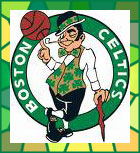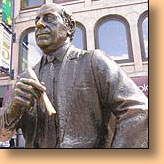 Today, I mourn the passing of the great Arnold "Red" Auerbach
(1917-2006), who was, at varying times, the coach, general manager, and the prime architect of the great Boston Celtics dynasty. Since I was little boy, growing-up in Los Angeles, California I have been Celtic fan, I loved their name, the uniforms, the little clover, etc., but mostly because, in those years, there were no professional teams in Los Angeles, except for the then Los Angeles Rams. So, the Lakers were still in Minneapolis then, and I have never in my life rooted for them! Never!!
"Red" Auerbach was a real character, beloved by many, loathed by all non-Celtic fans. I loved the Celtics of the Cousy-Sharman era, but when Bill Russell arrived basketball teamwork went to an entirely new and higher level. I remember all the great players: Sam Jones; K.C. Jones; Tommy Heinsohn; John Havlicek; "Satch" Sanders; Paul Silas; Frank Ramsey; Larry Siegfried; "Jungle Jim" Loscutoff; and countless others. All these great individual talents aside, if you were in a Celtics' uniform, you understood that the 'team' came first. A lesson for everyone!
When Michael Jordan retired after 3 championships and said that, there was 'nothing left to accomplish.' He only had to look to Bill Russell and the Celtics to have known that there was so much more to accomplish. And this why, to me, Bill Russell is the greatest champion of all-time. And, for having the courage and foresight to have been behind all this, I will never forget "Red" Auerbach, because he was such a fantastic and fun part of my childhood sports memories. Rest in peace Red, I guess it's time to light-up one last cigar?

---
Today, February 17th, 2006, I was greatly saddened to learn that the great conguero Ray Barretto had passed away.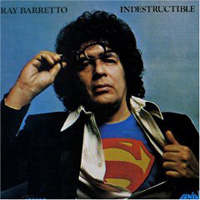 I happened to be listening to Gary Walker's show on WBGO, and just after he had concluded playing something from my new CD, he announced to his listeners the passing of this legend in our music. Though I feel hardly qualified to write of his greatness or his contributions to what became known as Salsa or to the marriage of Latin music and Jazz, his presence is forever etched in my musical consciousness because he appears on so many of my favorite recordings in the Jazz idiom. It was as if he was "on staff" for any Verve, Riverside, or Blue Note recording session that required congas. It's pointless to try to list the names of everyone he recorded with because he recorded with everyone!!! However, I can't help but mention Kenny Burrell's "MIDNIGHT BLUE"; the countless Wes Montgomery recordings on which Ray appears; and let's not forget the 'swing' he brings to "Billie's Bounce" with George Benson and Ron Carter!
Every time I pick-up my güiro and begin to play my one groove, a cha-cha-cha, I can't help but begin to sing, "Cocinando" from his "QUE VIVA LA MÚSICA" CD. Rest in Peace Ray Barretto! You were one of my great heroes. Te quiero mucho maestro y gracias por todo tu trabajo tan bueno!!!

---
On this day, January 19th, 2006, I was saddened to learn that one of my earliest musical heroes, the great, the 'wicked' Wilson Pickett had passed away. How well I remember, growing up in West Los Angeles, and listening to Wolfman Jack's radio show and being introduced to the music of this great Atlantic-Stax/Volt "Soulman." I couldn't wait for the release of each new single. When you look at "WILSON PICKETT'S GREATEST HITS" you are struck by the lasting nature of all these songs, and his vocal performances. A note or two, and you immediately recognized his voice. His phrasing, his sense of time, impeccable. Just look at all these great tunes:

"In the Midnight Hour"; "634-5789"; "Mustang Sally"; "99-1/2"; "Don't Fight It"; "Funky Broadway"; "Land of 1,000 Dances." Need I say more?
I recall spending countless hours trying to figure out Steve Cropper's guitar parts on all these classic tunes. And what an education I received while trying to learn and imitate every word, every vocalization. Every time I listen to "Soul Dance Number Three" and I hear him say: "Y'all hoyd(heard) about that one, ain'tcha?" It brings me back to time when everything was so much less complex, and perhaps the world did not seem to be such a dangerous and terrifying place. We have learned that this was not the truth anyway! Rest in Peace Wilson Pickett, you were absolutely too much, too funky, too wicked, too soulful!!! I, for one, will never forget you and your recordings! Thank you!!!

---
Today, a day in late October, began just like most days here, a quiet morning, with everything seeming to be in order. And then, I went to check my overnight correspondence, and found an e-mail via the CONTACT STEVE page from a fan in France. He was writing to inform me that my dear friend, and frequent collaborator, Jean-Michel Folon had passed away in Monaco on October 20th at the age of 71.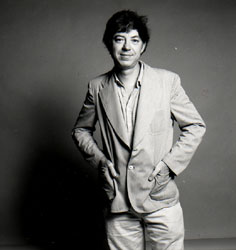 It is so very hard to express just how sad I am feeling about this great loss.
My relationship with the work of Folon began quite by chance. In 1976, I had moved to a new apartment in the Chelsea section of New York to begin life anew, and my new walls were totally as blank as my life seemed to be then. I was working one day, recording in midtown Manhattan and, on a break, I went downstairs to a poster art gallery and, my eyes were drawn immediately to the posters of someone named Folon. I browsed, thought, procrastinated, and then, finally, I bought 2-3 of them, brought them home, and put them up on the walls. It wasn't long before virtually my entire apartment was covered with his artwork. A fact lamented, and with good reason, by my dear ex-wife Nancy. One year later in 1977, when I was lucky enough to be recording "TIGHTROPE"(Columbia), art director, the great Paula Scher, asked me what I wanted for the cover. Of course, I shyly asked if I could possibly have a Folon on the cover. And, she smiled and happily said that she would make this happen.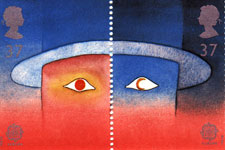 At that moment, I had no idea that this would develop into a wonderful friendship and countless collaborations that spanned nearly 30 years. Two years later, Paula sent the two of us to the studio of the great photographer, Jim Houghton, where we took countless portrait photos. I have always been grateful that I have retained the contact sheets and some prints of those sessions. How lucky can one man be? Folon's artwork now graces 12 of my LP/CD covers, and this is something I have always considered as one of the great, great honors of my life. His productivity, his output have always served as a great inspiration for me, and an ideal which I never believed that I could achieve with my own work.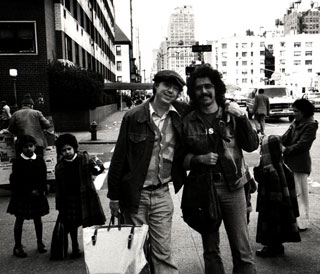 During his infrequent visits to New York with his girlfriend Paola, we would almost always find a moment to get together. And, he always made a point of inviting me to his exhibitions, which was a true thrill for me. I will always remember him for his great kindness and tremendous sweetness. It was touching to view his sense of wonderment at the insanity of human life. His images often projected the sense of the very small individual lost in a sea of frantic activity, as the world went spinning on around them, out of control. How much I enjoyed watching his changes of style and technique, yet the themes remained familiar. Firstly, I was attracted to the bright colors of air-brushing, then water colors brought on a much softer sense. Aquatint etchings came, and suddenly there was a new character to his work. More recently, his work with sculptures gave us another view of his immense and prolific talents.
From here in New York, a city Jean-Michel loved so very much, I send my love and strength to his beloved wife, publisher and manager, Paola, his son, François, his dear sister Danièle and brother, Christian. Peace eternal to you dear Jean-Michel, and thank you so much for having graced my life with your friendship, your art, and your perspectives! You were a beacon of light for me!

---
Who can ever comprehend the twists and turns of fate in life? No sooner had I written a very special page for Steve Gadd's new "Official Website", concerning our time playing together with Steve Marcus than the phone should ring, and another dear friend is telling me that Steve Marcus had just passed away, died in his sleep, but a few days ago.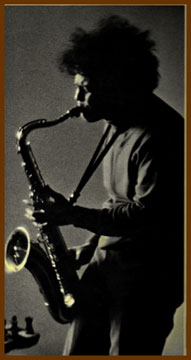 Though I hadn't seen nor spoken with "The Count" in years, he was always close to my heart, and a very, very special part of my musical memories, of my growth, both musically and personally.
Apart from being a great, great player, he was truly an unforgettable human being, a true 'character', and a dear, sweet soul who will be deeply missed by all those who knew him. Not to mention those of us who were lucky enough to have shared the stage with him. I will always think of him with a warm smile. He had the best smile, and a great laugh. And, as you can see from the photo, he had the best "Isro" too! That, of course, is the Jewish version of an "Afro"!!!
We spent many great times together as part of his Count's Rock Band in the early '70s, especially our gigs out on Long Island at the club, My Father's Place. I recall driving out there with "The Count" in his little Volkswagen on those icy January nights, and listening to him extoll the virtues of how a White Castle hamburger should be devoured as though it was a fine oyster. The description was complete with a two-finger approach to holding these comestible jewels. We even made a recording together for Flying Dutchman in 1976 titled, "SOMETIME OTHER THAN NOW" which featured: Don Grolnick; Will Lee and Steve Gadd. I recall once, asking The Count, "If you can improvise like that, why don't you ever write tunes?" To which he replied, "Well, when I start to write something, and place a note down on the paper, I then think to myself, Why that note? What right do I have to write THAT note? Mozart wrote that note, Beethoven wrote that note! 'Trane wrote that note!!! And by the time I've done that, I've talked myself right out of the process!!!"
From this humble page, we all send our love and strength to his beloved wife, Eleanor and their daughter Holly. Peace eternal be with you dear Count!!!

---
No sooner had I returned from Los Angeles, and written about my earliest memories of the place of the organ trio in the history of "Jazz" and then, today[Wednesday, February 9th], I read on the internet that one my great heroes had just passed away, organist, Jimmy Smith. And so, this loss cannot pass without a tribute!


I don't know exactly why, but it seems that my earliest memories of hearing Jimmy Smith, and his Hammond B-3 organ, were while attending University High School in West Los Angeles during the mid-'60s. My dear friend Paul Horvitz, I believe, was the first person to come-up to me raving about the LP, "WHO'S AFRAID OF VIRGINIA WOOLF?" and so, after hearing the title track one time, I had to go out and buy it. But, this was considerably later in Jimmy Smith's career and, a move to Verve and the production leanings of Creed Taylor took his music to bigger and brassier musical settings, away from the intimacy of the classic organ trio[organ; guitar; and drums: OGD]. Still, it was impossible to deny the appeal of his many Verve recordings, which I still have, and listen to, to this day.
This was all part of my romance with "Jazz".....its history, its language, and its brightest stars. One recording, one artist, would lead me down the path to others. But, more than likely, I was led back to Jimmy Smith, after hearing drummer Grady Tate on Wes Montgomery's "MOVIN' WES" LP, and this brought me to Jimmy Smith's musical relationship with the great Kenny Burrell. And the cycle went on, and on, and on, and on!!!
With its roots firmly planted in "the blues" the classic organ trio seemed to bring a new "sub-genre" into the rich history of "Jazz"......one which might be called "Soul Jazz." A music which also embraces Gospel and R&B roots. It exists in its own special savory melting pot. And, hearing Jimmy Smith playing with saxophonist Stanley Turrentine on "PRAYER MEETING" solidified that sense. In the end, from his Verve years, without question, my favorite recording was "ORGAN GRINDER SWING" which featured Kenny Burrell and Grady Tate. I was always more of a fan of "small group" playing rather than the "high-gloss" production values, which were so very appealing, and usually associated with Creed Taylor's productions. Recordings like this, which featured some classic tunes, caused me to want to research Jimmy Smith's earlier recordings for Blue Note Records.
It was here that I entered into a world which seemed so very, very far away to me.

A young boy, growing-up in West Los Angeles, and the images on the covers, the names of clubs, the places, even the food, just seemed like something I would never know. But, that was all to change, and I feel lucky that I actually have been able to experience being in, and even playing in some of those famous clubs. Perhaps it was part of this sub-genre, perhaps it was just Jimmy Smith's personality, but I always smiled when seeing his LP covers in those years, because it seemed that he had such a great sense of humor and could laugh at himself a bit. Now, when I sit at home, in my living room, I feel lucky to have copies of both volumes of: The Cover Art of BLUE NOTE Records. If you are fan of this music and you don't own these books, you must seek them out for your coffee table because they will serve as the most wonderful reminders of the music and the people who brought it to you!!!
Right now, it is time for us to remember the great Jimmy Smith and all that he gave us over the many years he was with us. In my way, I just wanted to celebrate all that he has meant to me. It was only a couple of days ago, after my gigs in Los Angeles with Larry Goldings and Harvey Mason, that I had mentioned the Tommy Tucker classic "Hi-Heel Sneakers" which appeared on Jimmy Smith's "GOT MY MOJO WORKIN'" recording, life is so strange at times. Rest in peace Jimmy, your fantastic legacy lives on through your recordings!
---
Some of my earliest memories of growing-up around music, growing-up around my father's songs, Sammy Cahn songs, were hearing the unforgettable voice and piano style of the great Ray Charles. Over the years, he sang and recorded many of my father's songs, but without question, my all-time favorite was his interpretation of "Guess I'll Hang My Tears Out to Dry" which appears on "SWEET & SOUR TEARS."
To this day, Ray captures something in the lyrics that even Frank Sinatra could not claim. When I was finally lucky enough to record with him, I stole a moment to sit and talk with him, and to tell him how much his version of my father's song meant to me. I will never forget sharing that with him.
As a teenager, how could I forget songs like: "What'd I Say?"; "Tell the Truth"(w/ the amazing Margie Hendrix); "You Are My Sunshine"; "I Gotta Woman"; "I Can't Stop Lovin' You"; "Georgia on My Mind"; "Hit the Road Jack!"; and "One Mint Julep."

How well I remember hearing, of all things, "Alabammy Bound" from "THE GENIUS HITS THE ROAD" during times spent at a vacation home in Palm Springs. They formed a vital part of the soundtrack of those years, and, in some unconscious way, made me aware that there was "another" America out there, an important America, and one I was determined to understand, and to grow closer to. Who will ever forget his interpretation of "America the Beautiful," made all the more moving because of the 'the two Americas!' Separate and unequal. During my college years, while lost in a "Purple Haze" of my own making, I can't begin to recall how much time I spent listening to and digesting every nuance of the LP, "CRYING TIME." I also have to mention his incredibly moving performance of "Ruby," the title song from the 1952 film, "RUBY GENTRY," which starred Jennifer Jones and Charlton Heston. For me, there is no better soulful portrait of heartbreak than Ray's 1961 performance with a sublime arrangement by our Marty Paich!
I want to say for always and forever, and with reverance and respect, that I loved and adored the voice, and the style of Ray Charles. I feel so very lucky to have been alive during a time when he could have touched my life. Here's to you Brother Ray, peace eternal! "Sing the song children...."
---
I know that it might sound a little strange to some of you, but sometimes, in my small music room, amongst all the LPs and CDs, I can feel the presence of my greatest heroes.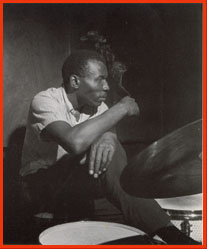 Like so many musicians of my generation, those before, and those yet to come, Elvin Jones has been a constant source of inspiration. The intense 'swing' he possessed was unrivaled by anyone, and his contributions to the incredible John Coltrane Quartet were incalculable. In 1988, I wrote a tune, a tribute to Elvin entitled, "Butane Elvin" and, what I wrote at the analysis page can also serve as a fitting homage to how I loved his playing. I only have to listen to: "A NIGHT AT THE VILLAGE VANGUARD" by Sonny Rollins; Wayne Shorter's "SPEAK NO EVIL" or "JUJU"; to Joe Henderson's "INNER URGE"; to Larry Young's "UNITY"; to McCoy Tyner's "THE REAL McCOY"; or the unforgettable duet with 'Trane on the tune "Vigil" which appears on "TRANSITION," and I am immediately transported to a better place.
As one grows up, and grows older, one would like to believe that our heroes are just going to be around forever, unchanged by the passage of time. Sadly, this is never so. With his passing, I just wanted to take a moment to again acknowledge all that this great master drummer has added to my life and my appreciation of what it takes to do something special in any area of life. How much I will miss the sound of that ride cymbal with the rivets!!! How many great artists ever rise to the level, where the simple mentioning of their first name alone, conjures up the immediate image of all that they are, and all that they've done? When you hear the name "Elvin" who do you think of? Rest in peace Elvin, we are all going to miss you so very much!
---